She's Back To Run The Boston Marathon After Losing Her Leg
After the Boston Bombing changed her life, Adrianne Haslet-Davis decided to run.
Heading out the door? Read this article on the new Outside+ app available now on iOS devices for members! Download the app.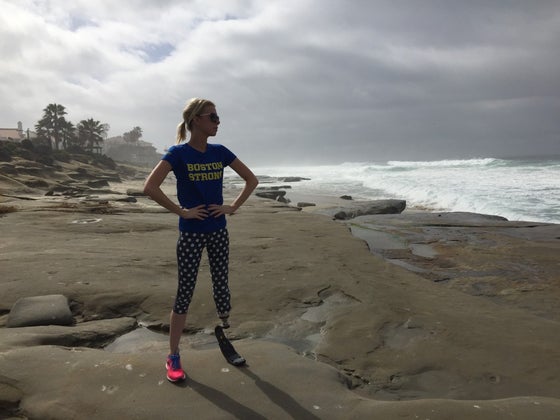 "The time is a bit fuzzy. I was there for maybe a minute. I literally just turned onto Boylston Street when I heard a blast. I was on the ground—my foot and ankle were gone on impact."
In life you always try to prepare for the worst, but no one can prepare for a life-changing event, especially one of this magnitude. Adrianne Haslet-Davis, professional ballroom dancer, had only attended the 2013 Boston Marathon to check out what the race was all about.
"I was not a runner before. I always joked with people that if they saw me running, then they should run too because something is clearly wrong," says Haslet-Davis. "I couldn't even believe [the bombings] had happened and the idea that I wouldn't be able to pursue my dream as a dancer any more was very real. I didn't think I would dance again—in fact, I didn't think I would even live."
As an active person who relies on her legs to dance, the mental damage was almost worse than the physical toll when she lost part of her left leg in the tragic finish-line bombings nearly three years ago.  
"You know you don't get past it. You face it every single day. I'm a firm believer in the stages of recovery, which are very similar to a break up or losing a loved one. There's anger, sadness, depression. There is acceptance, and there is helping others," says Haslet-Davis. "I believe you have to go through all of those to come out on the other side to normalcy—if that even exists. The new normal. You have to face it every day; you can't bury any stage."
After thinking she would never dance again, Haslet-Davis was able to get a prosthetic and eventually continue what she loved. But she took her goals a step further—she promised to run her first-ever marathon in Boston.
Related: This Double Amputee Gained Confidence Through Running
"I think my stubbornness told me 'Oh heck no, I'm not going to let this stop me.' There's a little bit of stubbornness in all of us athletes," chuckles Haslet-Davis. "I said this early on, before I had ever run, but I said I was going to run Boston. I was on vicodin [laughs] but I did really mean that. I didn't know the mental or physical capacity that it would take to run, but I'm doing it."
As soon as she got her prosthetic, she was ready to set out and run. This journey is no easy task, but running for foundation makes it worth the challenges.
"Prosthetics are expensive; it bridges the gap of having one or not having one. So when it came time for me to run, in the back of my head, I always knew I was going to run. I run so others can have the dream to walk or run again," says Haslet-Davis.
Taking it one mile at a time, her incredible sports medicine team from Boston University is helping her train for the Apr. 18 marathon in Boston. Her training schedule includes boxing, weights, planks (especially to make sure her thighs and core muscles have enough stamina to do long runs), cycling, yoga, dancing, aqua-jogging and, yes, running on the streets.
Haslet-Davis also has to get her prosthetic fitted regularly. "I didn't know you had to do that until I became an amputee—it's a lot of maintenance. It's worse than bleaching your hair!" she laughs.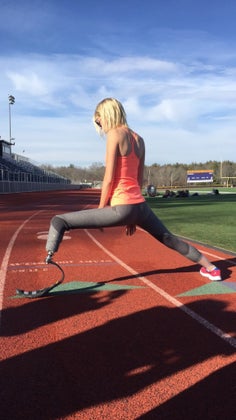 As Haslet-Davis runs more, her legs and body of course change shape. "Your bones push down on the prosthetic, so you have to make sure it fits right—otherwise it will set you back weeks."
"As I up my mileage, we find things that I need to adjust. People think you just put on your blade and run, but you don't. I actually have to lift my left leg higher than my right to get my blade through, so it causes muscles differentials. So listening to my body, eating right and working with my team is what is helping embark on this journey."
Related: The Boston Marathon Changed Her Life Forever
Her training and marathon efforts are all to benefit the foundation that helped her move again, which brings up emotions every time she thinks about it.
"I'm super emotional about it, about what it's going to be like getting to the start line, going to bed the night before, running and crossing the finish line. I've already cried while running. It's going to be an emotional 26.2 miles, for everyone. It will be a true test of running and crying—I hope I have enough oxygen to do both," Haslet-Davis expresses.
"On April 18, 2016 I will run along with my #AdrianneStrong team. We will run and raise funds for Limbs for Life, which is such an amazing organization for amputees."
To learn more about the #AdrianneStrong team, and to donate to The Limbs for Life Foundation, please visit Limbs for Life Marathon. For more information on Adrianne, please visit www.adriannehaslet-davis.com.