This Is How One Actress Does A Million Workouts
Ok, maybe not a million, but Erika Christenson certainly does it all—sometimes for 5 hours!
Heading out the door? Read this article on the new Outside+ app available now on iOS devices for members! Download the app.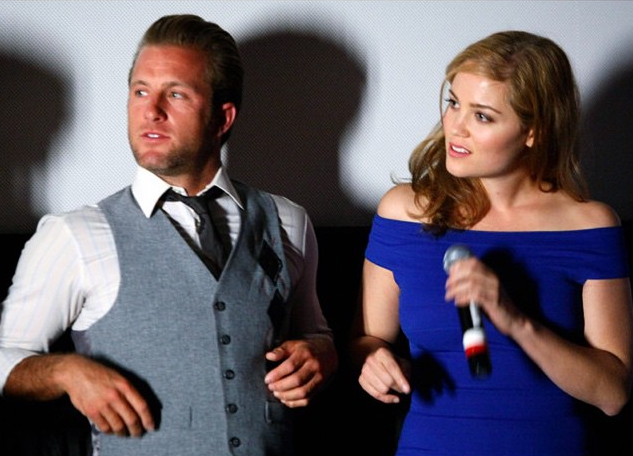 Erika Christensen. You may recognize her as the competitive, smart, attractive lawyer and mom, Julia Braverman-Graham, from NBC's former hit show Parenthood. Or, if you're a '90s kid, Leave It To Beaver. While portraying a career-driven mom (making it look all to easy) on camera, off camera the down-to-earth, hard-working actress makes time for fitness, family and fun. With a 12-plus-hour day on set, running around town for work engagements, it's hard to squeeze in exercise time and maintain good eating habits, all while making time for family. We all can relate with a busy work schedule, training time and family.
"I love the gym. It's a really good investment because it's kind of an inertia that sets in if you go too long without exercise," explains Christensen. "Your body just gets heavy; it's not running at the same speed. My body feels that. I need my body to support me when working long hours."
Working out is her savior. It keeps her mind sharp, energy up and moods in check, whether she has to wake up before the sun rises or well after it sets. We caught up with the actress to ask her about that fitness routine of hers.
Women's Running: With a busy career and making time for family, how do you make time for fitness?
Erika Christensen: Well it depends on my day. Example: Work started at 7 a.m. for me today, so I thought it would be more valuable for me to wake up before 6 and run a few miles than it would be for me to sleep that extra 40 minutes. So I just have to bite the bullet. But I feel like once you get into playing the game of fitness then it becomes that integrated whole lifestyle thing. But I love the gym! I think it's a playground. And my body feels it when I don't work out. I need my body to support me when I work long hours.
WR: Do you have any tricks to squeeze in a quick workout?
EC: My fiancé and I do push-ups during commercial breaks while we watch TV. It sounds silly, but it's real life and I really do that. And any time we can ride our bikes some place instead of driving, we'll do that.
WR: There's a lot of pressure to look a certain way in Hollywood. Do you feel that pressure since you're on screen?
EC: You know, crazily enough, I don't. I don't have anyone telling me anything about that. I have my own ideals and goals, and they change, but my ideals are I want to do a certain amount of push-ups or run for a certain amount of time or miles. When I was a cyclist, it was really a weight-to-power ratio. I would geek out. I really just wanted to be as efficient as I could be as a cyclist. I needed to keep up with my group.
And you know there is a generalization that actors don't eat. I think that's untrue. Actors eat for functionality. Food gives you energy. So you eat with a purpose. You have to eat clean.
WR: Speaking of eating clean, with your crazy schedule, how do you maintain a balanced, clean diet?
EC: Whenever I can, and when I'm home, I cook dinner for myself. And I pack lunches at home for the days that I'm not working on the set or if I'm running around. Like I'll make egg salad and put it in an empty jam jar. But when I'm at work, I know what fuels me best is more of a high-protein diet, I stay away from sugar. When I'm working, I stick to green tea. That's the simplicity of it. When I look at food, I see what they are at a macro breakdown. When I look at a burger I'm like, carb. Meat is protein. Cheese is protein. There's a vegetable and a carb at the bottom. I see carbs and protein. Everywhere I look, this is how I see food. If I get too many carbs or sugar, it will ruin my day. I feel like I've been hit with a tranquilizer dart. It will ruin your scene [chuckles].
WR: OK, everything in moderation, right? So what's your favorite thing to indulge on?
EC: Oh, I love good coffee, good chocolate, good cheese. I love all the alternate dairy products like coconut yogurt, almond milk. If that doesn't sound too indulging, then almond butter and massive indulgences on coconut ice cream. But if I were to do suicide by food it would be tortilla chips and guacamole.
WR: What's your favorite go-to workout?
EC: If I didn't have crunch time, I would probably ride my bike. A proper bike ride is a few hours. If I were really being indulgent, then it would be 5 hours.
You know, I also said the gym is like my playground. It is. I will just go, decide what I want to work out, lift weights, and try all the machines, and just work out for an ENTIRE hour—or 2!
If I am in a time crunch, I'll take a spin class or a run. Or, I do a pre-meditated routine that focuses on one area, like an ab workout and do all the ab exercises.
WR: Do you have a love/hate relationship with one move?
EC: I hate the ab workout where you put your arms through the hanging straps and you hang (where your elbows and shoulders are in a line and parallel to the ground) and then you lift your knees up toward your chest. Like that to me just makes me want to scream! But it's really good.
Also, squats. Squats are the perfect whole-body exercise and I definitely love them. But there are definitely times I hate them.
WR: How do you motivate yourself to get up and go for a run or work out?
EC: I don't give myself time to think. If I schedule it in, then I have to pull the trigger and do it. What I do is I set my alarm without any leeway time. This way I can't hit snooze and stay in that dreamy, warm, delicious, "ah" cozy bed. I have to get up. My alarm is my start line. I dread it, but once I get going I'm like this isn't so bad. And then I finish my work out, which is like the finish line. And then I feel great, like I've accomplished something.
WR: Speaking of busy working, you have a new partnership with Lean Cuisine, which is not a diet brand anymore. Can you explain how it's now embracing modern eating and wellness?
EC: Yes! It's great. I love how easy Lean Cuisine is making it for women to stay healthy with quick, convenient meals that are filled with good-for-you nutrients. They're really giving women a new approach to wellness and healthy eating. It's a great option for busy people who want to whip up a healthier dish within minutes.
WR: We loved watching you on Parenthood and were sad to see it end. But, we are excited to see you in your new, completely opposite role as Betty Smith in Wicked City. Can you dish any inside secrets?
EC: Yes. This role is totally different. [Chuckles] It was fun finding the dark side. Betty is a single mom, and she meets this guy, she falls for him. And then this beautiful relationship evolves, and she becomes in love with the terrorizing that happens on the Sunset Strip. I'm excited to see how it unfolds. Wicked City follows a unique case set in a noteworthy era of L.A. history, starting with a murder case from 1982 centered on the rock 'n' roll, cocaine-infused revelry of the Sunset Strip. Alliances are formed between detectives, reporters, drug dealers and club-goers to solve a serial murder case.
Wicked City premieres in October.