There Was Plenty Of Action At Day 2 Of Olympic Trials
During the second day of the Olympic Trials, Olympic dreams were made—some made their first team!—and people stopped to tie their shoes.
Heading out the door? Read this article on the new Outside+ app available now on iOS devices for members! Download the app.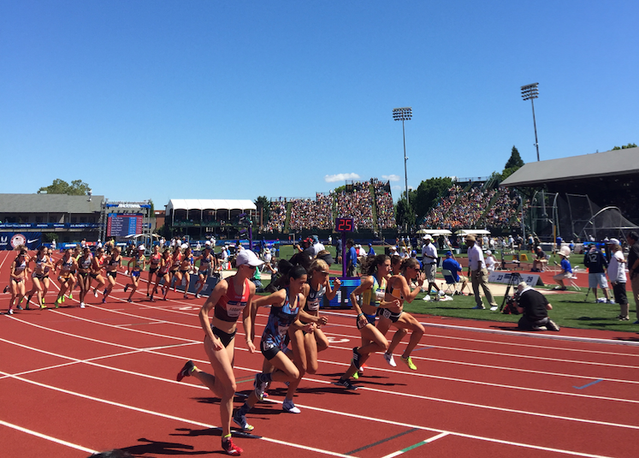 We heard the weather got a bit warm…what was it like?
It was cool in the stands but getting pretty toasty on the track! Just estimating, it was probably in the 80s.
The women's 10,000 meters was today—who made the team?
It was a great race! Molly Huddle won, followed by Emily Infeld and Marielle Hall for second and third. The winning time was 31:41.62.
What were some of the noteworthy moments of the race?
Well, first, Emily Infeld and Marielle Hall made their first Olympic teams, which is amazing for them! If you forgot, Infeld squeezed by Huddle at the line last year during the world championships, but she didn't get a chance to do that today. Huddle led a tight pack of women, which shaved down to about five women in the final laps, but her signature turnover and closing kick took her through the line first. Kellyn Taylor finished fourth after running off and on with the leaders.
Kim Conley made up some time after stepping into lane 3 to tie her shoe, but she ultimately did not finish the race. However, she made one major effort to catch back up, and it was hard not to root for her!
Stephanie Bruce didn't have her best day; we caught up with her post-race to ask what went down on the track. Says Bruce, "I'm just probably not ready for this level yet after having the baby. My Stanford race where I got the qualifier was stars aligned, and then I think what happened is you start to build fitness, and when you get to a race like this at the highest level, you also need those years behind you, and I just don't have those." She said she was optimistic, which, in our book, is the staple of being an inspiring, badass runner, and everyone was cheering for her.
If you've never watched a 10,000-meter race on the track, it is known by many to be a snooze fest. However, it is one of the most drama-filled events—no one wants to drop the lead pack, everyone wants an optimal spot but, at the same time, not worry about it too early, and a solid kick can make all the difference.
Talk about the 800m semi-finals—we saw on Snapchat that Kate Grace and Brenda Martinez placed well!
They did! Kate Grace finished second in heat one, and Brenda won heat two. Alysia "Flying Flower" Montano finished third in heat two, behind Molly Ludlow. All four ladies advance to the finals to see which three will punch a ticket to Rio.
There were some really fast sprinters competing in the women's 100m first round too, right? 
It means they are running for around 11 seconds to make it to the semi-finals! Just like other events with first rounds, the top-3 of each heat automatically advance, plus the next six fastest times. ZOOM!
And the 400m semi-finals?
Another fast group of women in two heats! Allyson Felix successfully made it to the finals by placing second in her heat, second overall. It is still yet to be seen if she will make it through the rounds for the 200 meters.
What would you say was the most inspiring moment of the day?
For this writer, the entire 10,000m is inspiring. Think about it: 25 laps around a track in the boiling heat, and you have to use everything you got to not fall off from the pack or let the heavy thought of running 25 laps consume you. And in case you're wondering—even the pros get lapped! There was a large chunk of women who got lapped, including Stephanie Bruce, and they still muscled through and ran really outstanding races. To me, their grit, integrity and insanely focused training to step to the line should inspire every age-grouper who has a bad day.
Another moment was when Emily Infeld stepped over the line with the biggest smile on her face! She said later, "I don't know, I just love smiling!" She said upon finishing she was just excited that we are "going to Rio!" and waited to see who else made it.
Okay, and one more—Brittney Reese did a helluva jump in the long jump. She made it the farthest for an American since 1998 and the farthest in the world in 12 years. There was a roaring crowd when she was awarded her gold medal by none other than Jacki Joyner Kersee.
Want to keep up with everything Olympic Trials? Follow all the action on our website, Twitter, Instagram and Snapchat (@womensrunning)!
Coverage from previous days: July 1