Check Out This 9-Day Endurance Challenge In Morocco
Two women took on a multi-day running adventure, where participants explore Morocco on two feet.
Heading out the door? Read this article on the new Outside+ app available now on iOS devices for members! Download the app.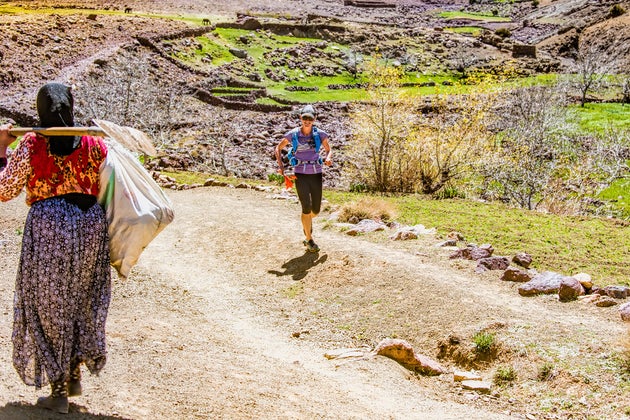 Behind the scenes. Unassuming. Overlooked.
To the casual observer, this is the impression drawn of Berber women in rural Morocco. On the surface, society is dominated by men and, as a traveler, men are primarily who you interact with. They are the guides, the drivers, the shopkeepers. They are the ones to greet you at your riad, assist with your bags and present you with a steaming tagine at dinnertime.
But, the women aren't hidden away. They're everywhere. You see them out and about, decked out in beautiful djellabas and hijabs of every imaginable color. Pay attention, and you'll soon notice something: your lack of interaction with women isn't because they are shy, or suspicious, or repressed. It's simply because they're busy. Busy serving as the very foundation of Berber life.
They are in the home: raising the kids, baking the bread, preparing the meals, serving the tea and washing the dishes. They are in the gardens: doing the laundry, harvesting the crops, hauling the crops. They are on the roads, bent under heavy loads of firewood, often with small children in tow. They are steady and strong, and they get it done.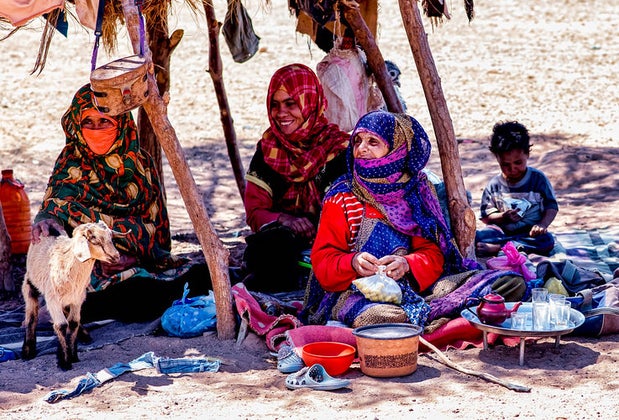 When we arrived in Morocco for Endurance Adventure, we met a diverse group of men and women with a range of experience levels. On paper, the guys dominated with a cumulative running resume that would impress anyone, running the gamut from Ironman finishes and obstacle racing to survival runs, Antarctic stage races and technical mountain summits. The women were no slouches, but experience levels fell more into the road racing and trekking realm. As we embarked on nine days of challenging runs and hands-on travel experiences, it was easy to make assumptions about who our strongest participants would be.
But, we all know what they say when you assume. When it was all said and done, just three participants had successfully taken on absolutely everything that we put in front of them. Two of them were—you guessed it!—women.
Here is what they did with 9 days in Morocco:
THEY RAN. They covered 100 miles in 7 days. On pavement and dirt roads, across grassy meadows and rivers, up and down technical mountain single track. Through heat, wind, freezing temps and altitude. Few people in the group had ever covered such distance before, much less over such challenging terrain. Even with our drivers providing an easy out for the first few days, these women didn't take it. They ran every last step.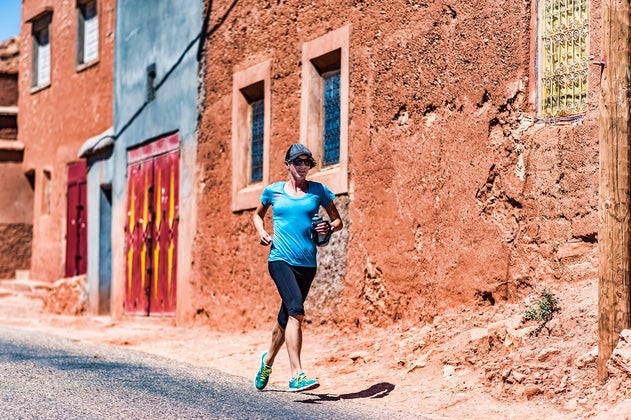 THEY CLIMBED. There was the first-day finish line atop of the dramatic Ksar of Ait ben Haddou. There was the magical 17-miler in the High Atlas that finished with a not-so-magical 6 mile push to the finish, a mountaintop village that we called home for the night. There was the Toubkal ascent, which began at 4 a.m. on tired legs and finished at 13,665 ft. And then there were the endless flights of stairs to be conquered at each and every guesthouse—no small feat at the end of these runs!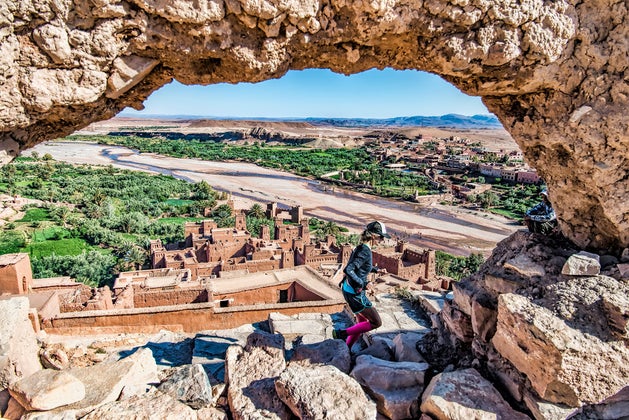 THEY LABORED. No, not that kind. Endurance Adventure was full of hands-on experiences and learning opportunities, most of which involved manual labor; after all, this is what village life entails! They mixed piles of mud, straw and stones then shoveled it into forms, making the bricks used in Berber construction. They crouched down to chop alfalfa with a small scythe, then carried it to the village cow. They hauled firewood up many flights of stairs to heat the water in their showers, and again mid-run to assist local women with the daily chore. They loaded luggage onto mules, cracked argan nuts, served tea.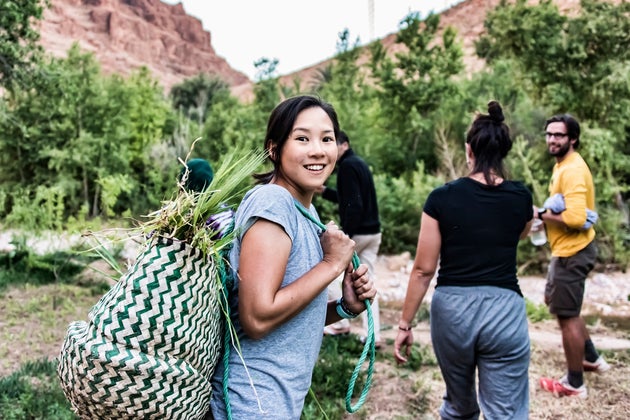 THEY OVERCAME. This didn't all come easy, of course. Although there were elements of a holiday (unique guesthouses, topnotch hospitality & amazing food), this was first and foremost a challenge. These women pushed boundaries, not just physically but also mentally. They arrived in an exotic, unfamiliar country, set to spend 9 days with complete strangers immersed in an event that was the first of its kind. They traversed vertigo-inducing ridgeline trails despite a fear of heights. They took off down rocky, never-ending descents, despite an aversion to that very thing. They summited a mountain, despite hesitations over altitude. It wasn't about being fearless, but it was about working through those fears and coming out stronger on the other side.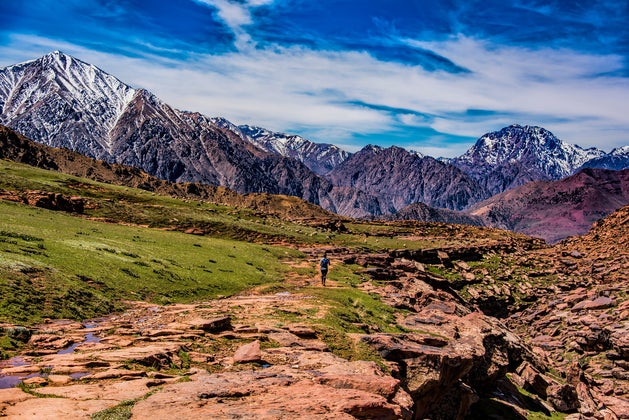 THEY CONNECTED. The "complete strangers" thing didn't last long. The intimate and challenging nature of these trips always lead to quick, and usually long-lasting, friendships. But it wasn't just other runners that they connected with. It was also our crew – the drivers, the chef, the guides. The women cheering from their doorways as we ran by, and the kids who high-fived us and posed for goofy photos. The mule-drivers who served as support "vehicles" in the mountains. The shepherds in the meadows who woke from their naps to wave at us, and the newborn goat that was held. Perhaps the most valuable aspect of travel is the realization that people are just people. There is no "us and them" – we are all connected to this earth, and to each other.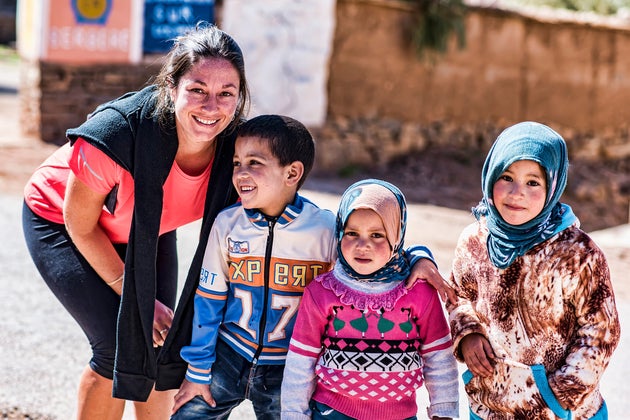 In the beginning, the women of Endurance Adventure were unassuming, and perhaps a bit overlooked. But in the end, it didn't matter what their running resumes said or what their list of physical accomplishments included. They were steady, they were strong and they got it done.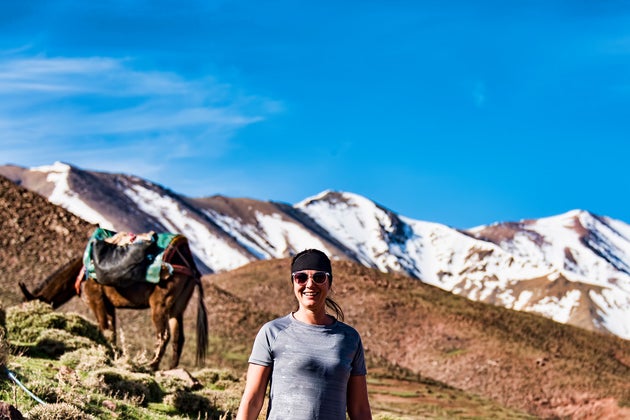 Endurance Adventure: Morocco is co-produced by Rogue Expeditions and Fuego y Agua Endurance and will happen again March 26-April 1, 2017. You don't need to be an ultrarunner to join, but strong running abilities, a sense of adventure and an itch for authentic travel experiences are a must! Find details here.