8 Ridiculous Things Runners Are Seriously Thankful For
Sometimes it's the little things.
Heading out the door? Read this article on the new Outside+ app available now on iOS devices for members! Download the app.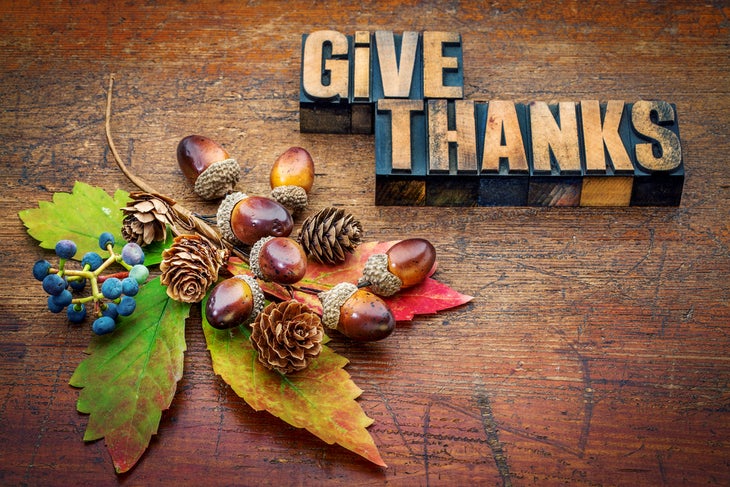 With Thanksgiving finally here, we're all thinking about what the holiday is truly about. No, not stuffing (yes, stuffing)—it's all about what we're thankful for. There's plenty of things I'm grateful for this year, both big and small, and that includes all things running. While I'm obviously thankful for my health, being able to afford my gear, and just the fact that I can run, on this Turkey Day I think that some of the littler things deserve some recognition too.  So during this special time of year, here are my thanks for the things that make running a little more special.
Related: 5 Exercise Hacks To Make It Through The Holidays
Treadmills
Oh treadmill. You are the good-on-paper boyfriend I just don't feel a spark with. I know you're good for me and I should spend more time with you, but I keep flirting with the great outdoors until I'm suddenly left out in the cold and come running back to you. Thank you for always taking me back and being so reliable, boring as you may be.
Public bathrooms
Even the best run in the world can go down the toilet when you suddenly need one. Without the sweet relief of the public restroom, I would be condemned to a life of black pants and under-3-mile runs. So thank you, kind coffee shop owner. Thank you, park restroom. And thank you even to you, stinky porta potty. You will never know the embarrassment you've saved me.
Dark nail polish
My feet are gross. Whatever. And in the winter, I so don't care. But come summer, I like to wear a cute pair of sandals as much as the next gal. So thank you crimson reds, midnight blues, and deep purples for letting me hide my toenails and break out the peep toes. And while we're talking about it, a special thanks to all the celebs who made the black nail polish trend so fashionable.
Runderwear
A hot little number you are not, but what you lack in sex appeal you more than make up for in practicality. You keep me dry, comfy, and panty-line free. Thanks for always having my back (side).
Sneaker fittings
I don't like to talk about this, but there was a time when I picked out my own sneakers. Shameful, I know. But then one day I ventured into a running store and was treated to the most magical experience of my life. He measured my feet, watched me run, and slipped the perfect shoe on my foot. So thank you, prince charming of the running store. I promise to never leave one of my sneakers behind at the ball.
iPods
There are more days than I'd like to admit that I've stood in the doorway, fully dressed, sneakers laced, but unable to make myself actually start running.  Were it not for new playlists, audiobooks or podcasts to tempt me to start moving, I may still be standing in the doorway to this day.  So iPod, even though I'm still not speaking to you after that time you died 3 miles from home, I thank you for distracting me enough to keep me going on my slowest days. And for somehow always knowing the right moment to play Flo Rida on shuffle.
Target
Like every human woman on the planet, I love me some Tarjay.  There's no place I'd rather fork over $100 when I only have toilet paper on my list. And while I think a conservative estimate would say I do 95% of my shopping there, I do like to splurge on sneakers and sports bras from the running store. But! When I'm craving some new workout clothes there's no better place to get a tank top cheap enough to buy in each of the eight different colors it comes in.  So thanks Target, for selling the perfect combination of cute and affordable running clothes so I can spice up my wardrobe whenever the mood strikes.  Or you know, when I need toilet paper.
Jogging strollers
Running post-baby is a tricky business. Finding the time and energy is hard enough, and when I do, I have to convince a persnickety toddler to join me. Thankfully my stroller is comfy enough to persuade him to get in and easy (ish) to push fast enough to keep him entertained. And a special shout out to the fancy drink-holder attachments—thanks for keeping me and the little prince hydrated.