Book Excerpt: The Moment I Decided To Run A Marathon
In this excerpt from the book, Run, Big Lady, Run, here's when author Stephanie Brochinsky let her friends and family in on her plan.
Heading out the door? Read this article on the new Outside+ app available now on iOS devices for members! Download the app.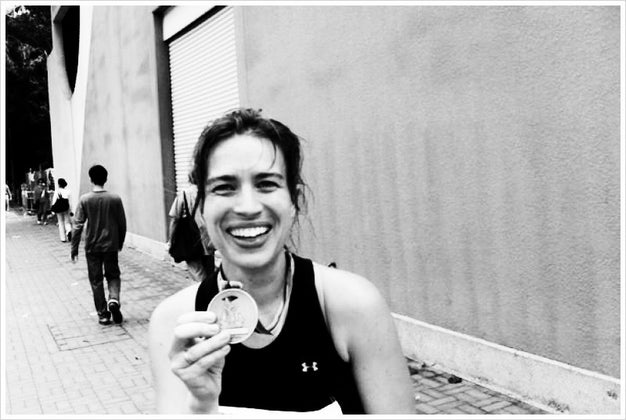 *This is an excerpt from the book Run, Big Lady, Run by Stephanie Brochinsky.
Mile 5: Typhoon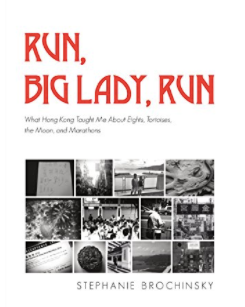 I'm not exactly the most athletic person in the world. I wasn't really a chubby kid but definitely didn't need the help of a strawberry magnetic belt to keep my bell-bottomed pants up. That said, if those were the only two available categories lit up before me on a game show, my belt was more decorative than not.
I was pretty good at volleyball, but the logistics behind game time directly conflicted with Ukrainian language school; so, merely thinking about the possibility of playing on a JV team for five minutes out loud with my mother one Thursday night before dinner was the closest to group athletics I ever got.
During college I worked out just enough to make sure my pegged, stonewashed jeans buttoned up right underneath my neatly tucked-in flannel shirt with the obligatory white T-shirt underneath (pre-low-rise days, of course).
It wasn't until law school that I really started to run. The stress of that program was so great I knew if some sort of habit was going to develop thanks to backstabbing classmates and the very unkind Socratic method, I should try a positive one first. I laced up my sneakers one unseasonably cool fall afternoon, headed to Audubon Park, and never wore running shoes for errands again. The laps were easy. If I ran at peak times, the area was safe and the people watching was great. (When you can't afford basic cable to get any TV reception, the world is your TV, right?) The course was level. Somehow, by the time I left New Orleans, unbeknownst to me, I had become a runner.
I don't look like a runner either. With all the miles I've clocked since, oh, I don't know, let's say, 1994, I have yet to develop the beautifully crafted calves befitting a fun, summer shift dress. You know, the type of legs that make anyone and everyone, regardless of gender or sexual preference, do a double take at straightaway. Again, if you were going to put me into a category and the choice was between Lloyd's of London limb insurance or go-with-the-heels-they'll-make-your-legs-look-longer, I'd fall into the latter. (Well, hopefully with a bit of hesitation.)
So, you can imagine the surprise of family and friends when I let them in on my plan. A week after breaking the news that we were moving to Hong Kong for the year. (I don't think the timing of it all worked in my favor.) Almost everyone became wider-eyed or started speaking with an upped intonation to their voice after I made the announcement.
A marathon. Something I'd considered since my Crescent City Classic days  (but always talked myself out of). According to all the expat books, along with the dialogue of our fearless you're-going-to-love-living-in-Hong Kong consultant, it was the perfect time to push myself and achieve something that was just for me. Truthfully, I viewed this advice as a little condescending. OK. Maybe a lot condescending. I wasn't a child bride. I mean, if I was my own person in my own right at home, how was that going to change one bit once my Hong Kong ID card was issued? I'm a rule follower (and pretty superstitious); therefore, ignoring the do-something-for-you-or-you'll-fail mantra wasn't an option. So I decided I might as well run a marathon to check off the something-for-me box before we boarded that homebound plane.
It made sense. I'd be running anyway, after all. You see, when I run, I feel the freest, the lightest. My mind, for a brief moment, stops planning and anticipating; I am truly in the moment. No matter how many people lovingly remind me to stop worrying and take life as it comes, I am simply incapable of achieving that state without my running shoes.