5 Top Tips To Help Any Runner Calm Those Pre-Race Jitters
Pre-race jitters happen to even the most experienced runner. Here are a few trips to keep them at bay and have a anxiety-free race!
Heading out the door? Read this article on the new Outside+ app available now on iOS devices for members! Download the app.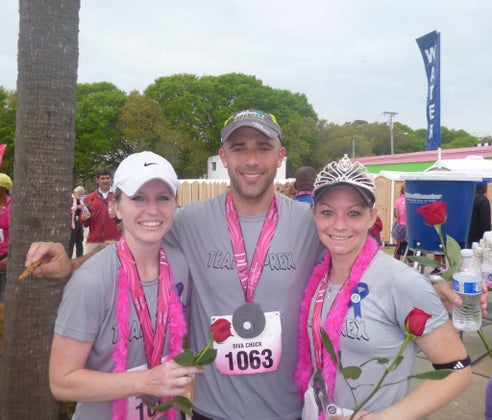 We've all been there: A big goal race is coming up and it's taper time. With fewer workouts to occupy your time and burn up your stress, things start to go a little haywire. While you can't control every aspect of a race regardless of how hard you've trained for it, it is possible to take some of the pressure off going into the event so you can enjoy the day no matter the outcome. Here are my favorite ways to calm pre-race jitters!
Get a massage:
It seems counter-intuitive to get a massage before a race, but for me, it's a way to smooth out my tired muscles and reward them for a tough training cycle. I'm always reminded of a line in Dominique Mouceanu's (1996 Team USA Olympic gymnast) book where she talked about getting a massage after training every day and said it left her feeling, "smooth and relaxed, like a racehorse!" I like to pretend that massage makes me a racehorse. Delusional? Yes. Relaxing? Also yes.
Book a fun activity for the day or two after the race:
Find a great way to celebrate your accomplishment, whether it's going out to a great dinner or getting a pedicure with your girlfriends—your feet undoubtedly could use some TLC after training so hard! If you have it planned before the race, you have something to look forward to no matter what the clock says when you cross the finish line.
Look through your training logs:
The saying says to "trust your training," and there's no better way to remind yourself of all the hard work you've done than to look through your training logs. It's easy to forget all the great runs if you've had a few bad ones right before your goal event, so remind yourself of your success!
Find a mantra or talisman to focus on:
Having a positive phrase to repeat over and over during a race when times get tough can have a calming effect on your mind and body. Something like "I am strong; I am ready" or "Stay tough" is easy to say (in your head or out loud) over and over. I'm not much of a mantra person myself, so I always paint my nails a "tough" color like black. When I feel bad during a race and see them, they remind me to stay tough and keep going.
Set "A," "B," and "C" goals:
Every race, no matter how tough, has some good things that come out of it. Whether you blow your PR out of the water or barely finish, there is something to celebrate. Rather than putting a ton of pressure on myself to accomplish one singular goal (I must break 4 hours in the marathon OR ELSE), I try to set three different goals for each race. The first goal, my "A" goal, is a time or distance I can expect to achieve if absolutely everything goes right that day—weather, minimal chafing, fueling, etc. My "B" goal is a realistic goal that is still challenging, but more likely to be attainable if something goes wrong. Finally, my "C" goal is something I should be able to do barring some type of disaster. For a marathon, my "C" goal is always to finish the race. That's not a given, so it reminds me to be proud of myself no matter what. A finish is a finish!