4 Secret Superpowers Of Runners
Runners can cover incredible distances at amazing speeds, but we have lesser known skills too.
Heading out the door? Read this article on the new Outside+ app available now on iOS devices for members! Download the app.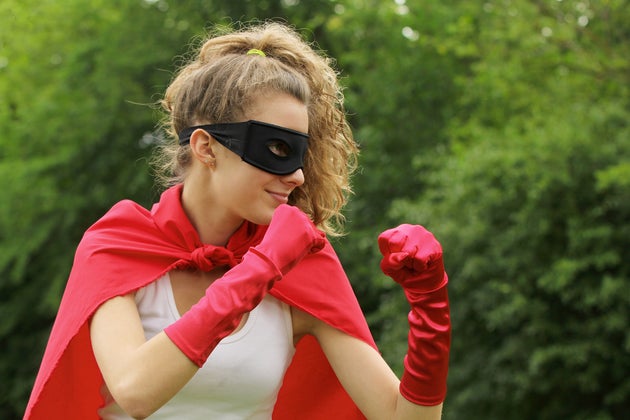 Runners are pretty remarkable. They cover incredible distances at amazing speeds, scale hills and trails and can do it all on little sleep, during pregnancy or post-injury. But runners also have some lesser-known skills—things they can do that the average non-runner simply can't. Talents that come from a devotion to running and healthy living. Special abilities that really come in handy on a daily basis. Here they are- the secret superpowers of runners, revealed:
Superpower #1: They can save the day…by finding you a bathroom.
Every runner has been on that run. The one when you suddenly need a bathroom NOW and there are none in sight. After that, runners are magically bestowed with the power to always know where the nearest bathroom is. Whether you walk into a mall, check out a new restaurant or hit the park, ask a runner if she knows where the bathroom is. Her internal restroom compass will immediately point directly to the ladies' room.
Related: 11 All Too Real Stages Of Needing A Bathroom On The Run
Superpower #2: They can't leap tall buildings in a single bound….but they can tell you how far away that building is.
After a certain amount of time, most runners develop a sixth sense of sorts that lets them go GPS-free and judge their mileage by feel alone. Whether it's from running the same routes or just knowing what their bodies feel like after different workouts, runners have the uncanny ability to judge distances pretty darn accurately. Next time you're in the car with a runner, ask her to tell you how far it is to the next road sign or stoplight. She'll be a perfect match for your odometer, and she'll probably tell you your speed for good measure.
Superpower #3: They know that with great power comes great responsibility…to share their nutritional knowledge.
Runners know that a good fitness routine goes hand-in-hand with a healthy diet, and they spend a lot of time figuring out the perfect balance of carbs, proteins and healthy fats that best fuels them. All that research gives a runner the power to be able to give you the nutritional breakdown for any food you place in front of her. Seriously, quiz a runner on your next granola bar. Guaranteed she'll be able to list the nutrition facts verbatim.
Superpower #4: They are faster than a speeding bullet…when you ask them for a food recommendation.
Sure, runners know the value of eating right and working hard to stay on track. But they also appreciate a well-earned pizza more than anyone. Nothing tastes better after weeks of training and a successful race than digging into the decadent meal you've been dreaming about. Ask any runner where to find the best doughnut, ice cream or cheeseburger and they are guaranteed to have three recommendations at the ready. And don't even get them started on the nearest wine bar…
Also From Alison Barsalona
If A Runner Ran For President
A Love Letter To The Perfect Black Leggings