3 Things I Learned From The Hardest Run Of My Life
It was a run up a steep mountain in Colorado that taught one runner some important lessons about setting goals and enjoying the view.
Heading out the door? Read this article on the new Outside+ app available now on iOS devices for members! Download the app.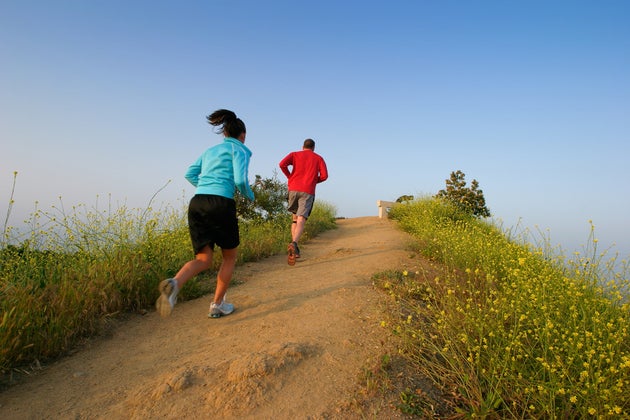 I bet there are some flat areas in Colorado, but when I visited in 2013, I didn't find any of them. What I found were snow-capped peaks, rising and falling into relative obscurity. Peering up at them, I realized I needed to adapt my training accordingly. I'd also discovered I had to keep my eyes peeled for wildlife—like marmots, which had chased me up a mountain the day before. All in all, it was going to be a fun and challenging week of training, I had no doubt.
That, in turn, is how I found myself at the base of Handies Peak. Armed with relative naivety and the support of a local ultrarunner named Clark, I stretched my calves and loaded my Garmin. Then, we began our ascent. What ensued in the next 57 minutes was absolutely the most grueling run of my life.
In that three miles, I was to push myself harder and farther than I thought possible. As a result, I had a lot of sore muscles and a lot of wisdom. Here are the three most important lessons I learned.
Set your goal and start plugging away.
When I refer to this as a "run," you must understand that one does not simply run up a mountain. It is an awkward combination of running, climbing and shuffling. From the start, Clark had told me we could go as fast or as slow as I needed in order to get to the top. I'd brushed off his comments at the time, but 15 minutes later? They were starting to make sense. I was checking my watch every few minutes, wondering why the time—and my legs—were going so slow. In the midst of it, I was encouraged by the goal that I'd already set. It motivated me to keep going. See, whether your goal is to run up a mountain or to run around the block: It's a lot harder to commit once the pain sets in. Thus, setting a goal beforehand increased my likelihood of succeeding.
I encourage you to similarly identify your running goals before the next season or race is underway. Don't wait until you're in the thick of it. Understand that you might have to walk. You might even have to take a pause. But keep your mind focused. It doesn't matter how ugly or awkward it looks: Just get there.
You can go farther than you think you can.
Back to the run. Well, somewhere between the stages of normal fatigue and my-legs-are-seizing up, I saw the peak in the distance. My muscles had never been so tight in my life but I knew that I was in the middle of a once-in-a-lifetime opportunity. If I quit, I would be regretting it for years to come. So, with firm resolve and really tight calves, I kept running. Here's the kicker though: What I thought was the summit, wasn't the summit at all. It was a steep turn around a corner. And I just about collapsed when I saw the incline around that corner.
I had thought I was there. Clearly, I was not. So I reassessed. I'd assumed that by the time I reached that "fake summit," I'd have nothing left. Turns out, I was still had something in the tank. So I clenched my jaw and ran onward. I decided that if I'd made it that far, I could go a little farther. And I did. Step by step, I kept climbing until the incline gave way to flat, rocky top. Victory.
Once I saw that I had the capability to go farther, I became more confident. I was surprised and curious to see how far I could really push myself. My point is this: You are stronger than you think you are. Don't let doubt, or even your goals, dictate what you are willing to do as an athlete. Your mind and body will tell you what's possible (and seriously: Let them. I'm definitely not advocating reckless training.) But please, don't stop just because you're dead set on a certain outcome or are swayed by doubt. Remember that you can go farther than you think you can and watch as it happens.
Enjoy the hard work.
When the completion of a run is a 14,000-foot summit, it's easy to enjoy the fruits of your labor. The same can't be said for the countless early morning workouts and scorching long runs that we runners experience. In the midst of the practices and races and injuries and setbacks, it's easy to forget how far you have come. So take the time to stop and reflect. Look at how your speed and strength have increased since the last season. Look at how your confidence has grown or how you have become more competitive. These things matter. Enjoy those successes. You'll find that they provide added motivation as well as insight for further growth. In time, you will reap the benefits.
Sometimes, we get caught up in the monotony of cross-country training. Then, along comes a run like Handies Peak. It reminds us how capable we are and why we began running in the first place. It's a metaphorical mountain; a chance to mentally train ourselves to go beyond what we thought was possible. Whatever your mountain is, welcome it with open arms. Set your goal, strive to go beyond it and don't forget to enjoy the views from the top.