20 Women Who Are Changing The Sport Of Running (And The World)
We rounded up 20 women who are redefining the sport and changing the game for us all. Get to know these remarkable women.
Heading out the door? Read this article on the new Outside+ app available now on iOS devices for members! Download the app.
Rahaf Khatib
Founder, Run Like a Hijabi
Farmington Hills, MI
"Don't you get hot?" Rahaf Khatib asks, laughing. The six-time marathoner says this is the question she receives most often from other runners. "I respond, 'If it's hot outside, you're going to be warm regardless!' I don't mind at all—I'm just being me. I'm in my zone and I don't notice what's on my head or anything else."
The 32-year-old mom of three says she started running in 2012 as a way to challenge herself. "I was doing classes at the gym, but that wasn't enough for me." Khatib hated running in high school—"I failed at it miserably!"—so when she learned her son's school was participating in a local race, she thought it would be the perfect challenge. The kids were competing in a 1-miler, so she signed up for 10K. "I crossed the finish and instantly felt euphoria. To have done this was a huge accomplishment in my book."
After experiencing that initial runner's high, Khatib was hooked. She returned to the same race the next year to complete the half marathon before registering for the Detroit Free Press Marathon. It was during that race that she started to notice a lack of other Hijabis on the course. (Hijabi describes a Muslim woman who covers her body from head to toe, except hands, feet and face, for modesty and religious purposes.)
"I feel like [other] covered women maybe are hesitant to get out of their comfort zones," she explains. "Maybe it's a lack of apparel out there; maybe it's all the negative press about Muslim women."
Khatib then expanded her running goals from challenging herself to being a spokesperson for her community. She started posting on Instagram as @runlikeahijabi, blogging, reaching out to other Muslim women in the Detroit area and becoming involved with the apparel brand Veil, which creates modest sportswear.
Her mission is simple: "Defy stereotypes and encourage my Muslim sisters." Khatib's journey has taken her across six marathon finish lines, including Paris and Berlin, and through two triathlons, as well as "countless halfs." She has served as an inspiration not only to other women who cover but to her family as well. Khatib's husband now runs marathons; her daughter asks, "Is it my turn?" whenever Mom hops off the treadmill; and her son competes on his middle school's cross-country team, in a league that Khatib petitioned to start this year.
The mom says to her fellow Muslim women: "Don't be afraid of how you're going to be perceived. That should be the last thing on your mind. Go out there and do your thing." To anyone who might be curious about her dress, she has this message: "If you see anyone who looks like me, please don't rely on your assumptions. Ask them questions. Smile and offer a nice word." –JS
Rahaf is on the cover of our October issue, on newsstands now. Grab your copy and subscribe for future issues here. 
Stephanie Bruce
Professional Runner
Flagstaff, AZ
Standing on the track after a grueling workout, Stephanie Bruce was satisfied. She had just run stronger than ever—even faster than before she'd had her two young boys, Riley and Hudson, ages 1 and 6 months respectively. Then Bruce looked down and the first thing she saw was her stomach, the skin still loose from experiencing diastasis rectus abdominis (DR) while pregnant.
The 32-year-old remembers: "I thought, Man. I kind of wish I looked like I did before kids—then I felt guilty. It made me think how many other women are super self-conscious."
Instead of pushing down the negative ideas, the professional runner decided to embrace the moment. She took a photo and posted on Instagram with the caption: "When I look down, I see stretch marks that are here to stay, ab muscles that need continued strengthening, legs that are powerful and feet that are ready to fly!" The photo soon went viral; Bruce got calls from every news outlet she could think of, from People to the "Today" show.
Bruce might not have set out to catch internet fire—but she's glad that the message spread. She explains that there's a lot of misinformation and fear about discussing women's bodies post-pregnancy, and she wants to forward that conversation.
Currently, Bruce is gathering information from women who have experienced DR to create a study. She would also like to work with a female health professional to build a plan for moms in the months following childbirth.
As for Bruce's personal goals, she may have fallen short of making the 2016 Olympic team, but that doesn't mean she's slowing down: "If everything goes well, there's a possibility I would race a marathon before the year is over." –JS
Robin Arzon
Coach, Athlete and Author
New York, NY
For most of us, running is a lovely respite from day-to-day worries, struggles and strife. Robin Arzon challenges us to ask, why not do what makes you feel your best full time?
Arzon discovered running while in law school at Villanova University. "I saw a flier for a 10K race. It was the next day," says the now 34-year-old. "I had no idea how long that was, but I felt compelled to do it."
She fell in love with the sport almost immediately. But with the practice of law? Not so much. After graduating, the New York resident became an attorney but found herself unhealthy and unhappy—as she's described it, "counting down the minutes" until she could leave the office and head for a run.
Instead of slogging it out and accepting the idea that work was work and free time for fun, Arzon decided to quit her job and pursue a career in the running industry. She became a coach, began blogging and started teaching about a dozen spin classes a week at Peloton Cycle in Manhattan. She now competes in ultramarathons (her favorite distance) and has never looked back.
Arzon recently released her first book, Shut Up and Run, as a guide to help others embrace the running lifestyle. Full of anecdotal stories, refreshingly straightforward advice (like track etiquette and how to bounce back after a bad race) and training plans, it's an inspirational and approachable read for runners of all abilities.
Oh, she's also a Type 1 diabetic, something that requires constant management. In Arzon's joyful sweat-and-swagger-filled world, there are no excuses, and this urban warrior is on a mission to convince you that sweat makes the best accessory. –AP
"Emily Doe"
Writer and Runner
Palo Alto area, CA
When an extremely public court case ended earlier this year with a convicted rapist headed to prison on a very short sentence, the victim's voice went viral through a statement she penned. In it, she makes reference to cross-country running a couple of times, but it's her last paragraph that makes her a game changer. She's taken one of the worst things that can happen to someone and transformed it into an opportunity to support and empower other women:
"And finally, to girls everywhere, I am with you. On nights when you feel alone, I am with you. When people doubt you or dismiss you, I am with you. I fought everyday for you. So never stop fighting, I believe you. As the author Anne Lamott once wrote, 'Lighthouses don't go running all over an island looking for boats to save; they just stand there shining.' Although I can't save every boat, I hope that by speaking today, you absorbed a small amount of light, a small knowing that you can't be silenced, a small satisfaction that justice was served, a small assurance that we are getting somewhere, and a big, big knowing that you are important, unquestionably, you are untouchable, you are beautiful, you are to be valued, respected, undeniably, every minute of every day, you are powerful and nobody can take that away from you. To girls everywhere, I am with you. Thank you."
Thank YOU! –NM
Ashley Wiles
Founder, Sole Girls
North Vancouver, BC
Two universal truths: Navigating adolescence is tricky, and movement (like running!) makes just about anything better. As a preteen, Ashley Wiles suffered from anxiety, body-image issues and a little too much energy to be comfortable in the classroom. She embraced running, because her parents were runners—and she noticed that going for regular runs helped improve her well-being mentally, physically and emotionally.
The activity continued to serve her as a young adult and she eventually realized it could help others too. This is how Wiles came to found Sole Girls, a running and empowerment program for girls ages 8 to 12.
"Running is about community, connection and freedom," says the 30-year-old. "It can be the difference between a good and a bad day and can change lives." Program participants learn about goal-setting, positivity, selfesteem and confidence as they work together to train for a 5K fun run. Wiles is also a coach for Sole Girls and won the Brooks 2016 Inspiring Coach of the Year for her work. Based in British Columbia, Sole Girls also offers camps and leadership programs.
"I believe that running can make the difference in our mental health and being the future leaders of our communities, especially for girls," Wiles says. They even let boys in on the fun with their own Sole Boys summercamp programs. –AP
Kelli & Ari Tanghe
Pushchair Runners
Modesto, CA
When it comes to duo racing, there's one mother-daughter team continually pushing the boundaries of what's possible. The Tanghes started running together four years ago, after mom Kelli had been at it for about six years and Ari—in middle school at the time—was upset about not being included in gym class.
Born with cerebral palsy and a visual impairment, Ari said after their first 5K: "Mom, my disability disappears when I'm able to do this." Kelli says, "It's made a big difference for her in the social realm. People approach her more when we're training and racing. It becomes very inspiring for them. She's a chatter bug on the course. She's so proud."
When they started, it was difficult to find welcoming races, but 2016 has been a turning point. They decided to do a triathlon together in September (their 50th race was a duathlon in April before Kelli was ready to do the swim while pulling Ari on a raft), and they are racing the Chicago Marathon in October.
"It's absolutely thrilling that we'll be able to race a marathon major," Kelli says. "That wouldn't have happened five years ago.…There's more awareness." –NM
Trisha Swanson
Creator, Bunk to 5K
Tigard, OR
Trisha Swanson proved that running is an uplifting and effective method of rehabilitation when she created the Bunk to 5K training program for prison inmates at the Coffee Creek Correctional Facility (CCC F) in Oregon. It started in 2011, when she partnered with Susan G. Komen to put on a single Race for the Cure 5K inside the prison.
Three years later, at the inmates' request to have a regular training schedule to follow, Bunk to 5K was born. This program, which uses running to help empower inmates to lead healthy lives, is part of the larger nonprofit rehabilitation-focused Reason to Run CCC F.
Bunk to 5K prepares women for one of two inside-the-prison 5Ks—the Stomp Out Abuse 5K, which saw a record 80-plus inmates cross the finish line this spring, and the original Race for the Cure Inside 5K. Swanson earned the Outstanding Volunteer for 2016 award by the Oregon Department of Corrections and was also nominated for Foot Traffic's Women's Hall of Fame for her work.
"My hope [is to inspire] more women to believe that they can achieve their goals and that they are beautiful inside and out," says Swanson. This year, the nonprofit also collected donations and has provided 34 released women with running care packages to encourage them to continue exercising.
After attending an addiction-treatment-program graduation inside the facility, Swanson says, "One of our Bunk to 5K ladies, in her speech, said how running has changed her life and is a tool she can use to continue to live substance-free." Other former inmates credit the program with helping them change their "belief window" with what they can do after prison.
Swanson hopes to motivate other correctional facilities to start their own version of the plan. –CP
Lena Dunham
Actor, Writer, Producer and Body-Positivity Activist
New York, NY
Perhaps most recognizable as the creator and star of HBO's "Girls," Lena Dunham is somewhat of an entertainment wunderkind. At 30 years old, she's racked up two Golden Globe Awards, become the first female to win best comedy series from the Directors Guild of America and penned a New York Times bestseller for her 2014 memoir, Not That Kind of Girl.
In 2015, Dunham took her talents to the running community, posting a photo of herself striding down a Brooklyn sidewalk. The image quickly went viral, thanks to the artist's powerful message: "My whole life I have hated running and run like a wounded baby Pterodactyl," she said. "[The director] decided that as Hannah evolved so would her run, so she got me a training session…Within an hour I had a different relationship to this formerly torturous activity. I felt strong, swift and proud."
Dunham's relationship to fitness resonated with many of us. She admitted in an interview with ESPNW that even the thought of running was embarrassing at first to a person who was not "physically engaged" as a child, something she discusses in her memoir—along with severe body-image issues and unhealthy dieting. Dunham said putting herself out there paid off: "[It] made me incredibly happy when so many women connected to that idea of getting into it with your body when maybe that's not what's natural for you."
Dunham continues to empower through the feminist newsletter Lenny Letter, a project that launched in September 2015 and has since gained a massive following (hosted letters have come from Olympians like Alexi Pappas, on facing fear and pain), and the shortfilm series Lenny Shorts, which HBO will debut this fall. –CP
Mel Charbonneau & Tori Sager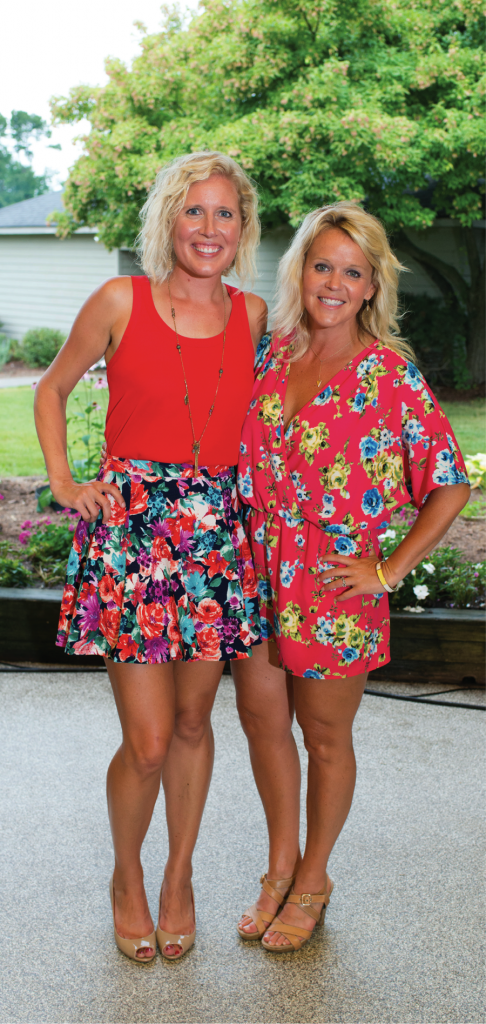 Founders, Fellow Flowers
Madison, WI & Marquette, MI
Running culture has shifted in recent years as women outnumber men in lacing up for races and runs. Since 2012, the Fellow Flowers organization has been helping women tap into their "why." Whether at race expos (where they sell their hair accessories) or through their Fellow Flowers Crew, Mel Charbonneau and Tori Sager are all about sharing women's stories and creating magical connections.
Through the simple act of pinning a flower to a ponytail or cap, a runner can set an intention (like in yoga) and connect with this movement and herself. The red flower is for strength, green for courage, pink for gratitude, black for rock star.
"Sometimes the miles are bigger than us," Sager says. "Having that flower in my hair while I'm out there drives me, inspires me and reminds me of the reason I set out to do what I was doing. It helps me finish what I started."
But this organization goes beyond 13 different colors of fake flowers with clips and cute T-shirts with inspirational sayings. In the past year, the founders have organized two events to bring women together to work out, share and connect with each other and their authentic selves. The first Rock Retreat Run (last November) hosted about 150 women in Scottsdale, Ariz., and the second (in August) welcomed roughly 230 women to Traverse City, Mich. Charbonneau and Sager aren't running experts or coaches, but they are masters at creating a sense of belonging and empowerment.
"We've met so many who think they need to apologize for being bold, being a dreamer, being too much for other people," Sager says.
"This journey of Fellow Flowers has required us to stand in truly our essence, our selves, who we are as women and who we see in the women of this community," Charbonneau says. "Over 30,000 women are running with a flower in their hair, which essentially means that at any given moment, all over this country, we are running in stride and in spirit with each other." –NM
Jodi Norgaard

Founder and CEO, Dream Big Toy Company
Glen Ellyn, IL
A girl's idea of what it means to be beautiful begins at a young age—and the toys she plays with can have a dramatic influence. Entrepreneur Jodi Norgaard wanted to do something to counteract the unrealistic body image promoted by brands like Barbie and Bratz, so she created something entirely different.
While coaching for Girls on the Run, Norgaard became inspired to encourage young girls to value things other than skinny waists and big lips. Partnering with her 10-year-old daughter, Norgaard created Go! Go! Sports Girls, dolls that reflect strength and individuality while promoting an active lifestyle. The Sports Girls (like Runner Girl Eli and Basketball Girl Tay) come dressed in athletic wear with a gym bag full of equipment. Made from soft cloth, the dolls even have an inspirational "tummy message" unique to their sport.
Norgaard says, "I've faced a lot of opposition with people telling me that my dolls wouldn't sell because they aren't mainstream, but the truth is mainstream ideas do not create change and I am creating change."
In April, Norgaard received an invitation to the White House to discuss "Breaking Down Gender Stereotypes in Media and Toys" with the Council on Women and Girls. Since the meeting, Norgaard has had the opportunity to speak at various organizations about gender equality and is in the process of partnering with other toy companies. Her 2017 goal is to add animation and apparel offerings, thereby making Go! Go! Sports Girls a household name. "I am honored to be a pioneer in this movement," she says. –VD
Abbey D'Agostino

Professional Runner
Boston, MA
The Olympic spirit  and the concepts of friendship, solidarity and sportsmanship were on full display at the track in Rio this summer. Many Americans came home with shiny medals (Jenny Simpson, Allyson Felix, the entire women's 100-meter hurdle squad, to name a few). But it was the qualifying heat of the women's 5,000 meters that showed a heart of gold.
Team USA runner Abbey D'Agostino fell over New Zealander Nikki Hamblin when Hamblin tripped about 3,000 meters into the race. Instead of continuing on, D'Agostino helped Hamblin up, encouraging her with the words "Get up. Get up. We have to finish this." Hamblin returned the favor when the Dartmouth grad fell to the ground herself. D'Agostino hurt her knee during the initial fall but managed to finish the heat, albeit in last place, an unfamiliar position for the winner of seven individual NCAA Championships.
D'Agostino later discovered she had torn her meniscus and ACL and strained her MCL during the spill. After an appeal, both women were granted slots in the final, but due to her injuries, D'Agostino was unable to run. Instead she watched from the sidelines, cheering for her American compatriots as well as her new friend.
Both women have since been awarded the Rio 2016 Fair Play Award by the International Fair Play Committee. As for her kind reaction, D'Agostino credits a higher power. In a statement following the race, she said: "Although my actions were instinctual at that moment, the only way I can and have rationalized it is that God prepared my heart to respond that way. This whole time here He's made clear to me that my experience in Rio was going to be about more than my race performance—and as soon as Nikki got up I knew that was it." –AP
Kelly Roberts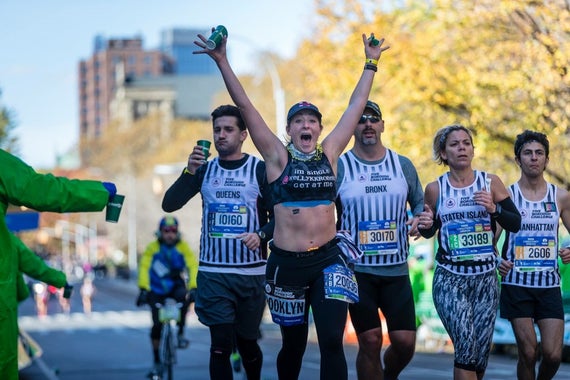 Founder, Run, Selfie, Repeat Blog
New York, NY
Kelly Roberts is the runner who (hilariously) proves that goals as big as qualifying for the Boston Marathon can happen regardless of your background. However, her internet fame started simply with race photos. You might recognize her name from that time she ran the New York Half in 2014, taking selfies with "hot guys" along the way.
It's no surprise that her blog, Run, Selfie, Repeat, is incredibly popular; her social channels have thousands of followers eating up daily posts filled with sarcastic inspiration and testimonials from her quest to qualify for the 2018 Boston Marathon.
When she announced the goal, Roberts promised to share every step of her journey on Instagram—a vow she has kept, making us laugh, cry and nod our heads with an "I know the feeling" of running through sweltering summer heat, wanting to barf after a 5K PR and waiting for that glorious post-run beer.
Most recently, Roberts worked to inspire women everywhere to embrace their shape with #sportsbrasquad, a campaign that started this summer after she said, "Bye BS insecurities" and ditched her shirt on the run, asking other women to do the same.
"I think whenever I look through the social media channels of my favorite brands, I see the same body type and I find myself comparing myself to them," explained Roberts. "I am the strongest I have ever been in my life, and yet, there I was, feeling too ashamed to run in a sports bra and shorts because I'm a size 8–10. I'm tired of feeling ashamed of what I see when I look in the mirror or wishing that I looked like someone else. The best part is that once I took my shirt off and celebrated what I had, I felt like a different person." –CP
Ida Keeling
World-Record-Setting Masters Runner
New York, NY
If you have yet to embrace your fittest self, Ida Keeling is proof positive it isn't too late. This past April, Keeling hit the track to set a new women's world record for the 100-meter dash (for the 100-to- 104-year-old age group) at the Penn Relays in Philadelphia.
Even more amazing, the mom of four didn't begin running until she was 67. Her daughter (and coach) Shelley, an attorney and track coach, convinced Keeling to run as a way to process the grief over the death of her two sons.
The elder Keeling felt better with each step—and has only grown stronger. In advance of her Penn Relays feat, she told The New York Times that what makes her faster is everyone else slowing down: "You see so many older people just sitting around—well, that's not me."
To stay happy and healthy, Keeling recommends: "Love yourself; do what you need to do, not what you want to do; eat for nutrition, not for taste, and exercise at least 20 minutes every day." –AP
Yolanda Williams

Founder, Just Curves
Los Angeles, CA
"There are so many myths surrounding weight and appearance," says Yolanda Williams. "Myths like: 'Fat people don't work out. We only work out to lose weight or because we hate our bodies. When we do exercise, we don't need fashionable clothes, because we're going to lose weight anyway, so why bother? And we don't deserve them, because we should feel shame for being fat.' These are lies society feeds us."
Williams knew there was a largely untapped market for plus-size workout wear—and she wanted to create designs that women would feel great running in without the distraction of clothes rolling, shifting or falling down. That's when the Oneder Suit (pronounced "wonder") was born, and that design has grown into a full-fledged fashion line, Just Curves. The suit is actually a pair of high-waisted leggings with suspender-like, wide shoulder straps that keep everything in place.
"I had no clue if the idea of the Oneder Suit was a good one or profitable one," says Williams. "I just knew it was something I had to create." This item has become the signature piece of her Just Curves line, which now includes a variety of tops and bottoms. Williams says she regularly receives emails from customers telling her how much the Oneder Suit has helped them feel more comfortable while running and working out at the gym. This year, Williams is working to add new Oneder Suit models, featuring fresh prints, pockets and adjustable straps for more comfort and versatility.
Going beyond design, Williams says her vision is for Just Curves to be a larger lifestyle brand. Sometime this year, she hopes to launch a coaching program that will help women who need guidance and accountability to meet their health goals, plus a podcast that will discuss body positivity, fashion and wellness. She says, "Just Curves isn't about selling apparel; it's about empowerment." –VD
Shanna Burnette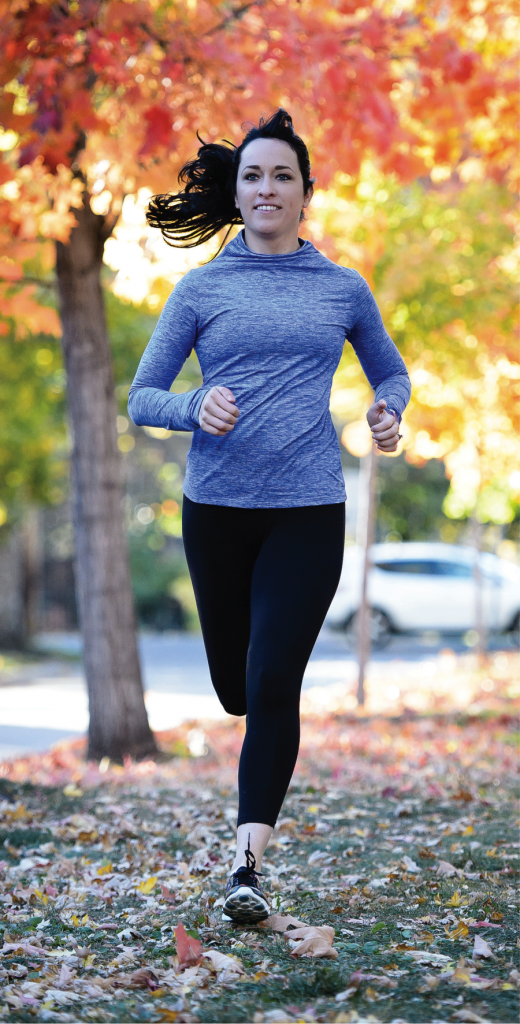 Founder, ModCraft
Boulder, CO
When you think of innovative new running brands and game-changing female runners, which names come to mind? Maybe Oiselle, Nuun and Soleus? Perhaps Kara Goucher and Lauren Fleshman? Although you probably don't know the name Shanna Burnette, she is a large part of the reason you have heard of the previous powerhouses. Public relations guru and founder of the firm ModCraft, Burnette is the ghost in the machine, the secret weapon of your favorite companies and beloved athletes.
A former Division I runner for the University of Colorado, Burnette started ModCraft in March 2012 at the age of 26 with just one client. In a few short years, she's built one of the most important brand-building businesses in the endurance-sports space. She has garnered high-level press placement for her clients and recruited top talent to join the ModCraft team, including her husband, Kevin, who now serves as partner.
Burnette attributes the company's success to authenticity. "I'm the worst salesperson ever," she says. "I can only talk about companies I truly believe in." For the mom of two that means her clients must "have a purpose outside of profit—how are you making a positive impact on the world?" The ModCraft clients all support underlying missions, such as forwarding clean sport, empowering women and provoking environmental conversation. Regardless of how large her business becomes, Burnette plans to hold that close to her heart. On the legacy she'd like to leave: "I would want people to see ModCraft as a values-driven company." –JS
Dr. Miho Jean Tanka

Director, Women's Sports Medicine Program at Johns Hopkins
Baltimore, MD
Athletics and medicine are two traditionally male-dominated fields, but with the rise in female athletes, doctors need new information to be able to improve care. Enter Dr. Miho Jean Tanaka. A former track-and-field (triple jump) athlete at Stanford University, she started the new Women's Sports Medicine Program last year at Johns Hopkins.
"Less than 4 percent of orthopedists are women," Tanaka says. "There's not a lot of information on how women are different in the books." She plans to change that through teaching doctors and shaping textbooks at Johns Hopkins. The medical center also allows various departments to work collaboratively. This means when a pregnant runner has knee issues that warrant input from an OB and an orthopedic surgeon, that can happen. Tanaka says, "I don't care if it takes four different departments to solve this problem."
Previously in St. Louis, Tanaka often worked with professional sports teams. But in her primary practice, she saw a number of women who wanted second opinions, which prompted her to launch the Women's Sports Medicine Initiative as both a referral network and an educational resource.
"I want to help more than just the people I come in contact with as a physician," she says. "My goal is to change the culture of sports medicine." –NM
Katy Sherratt

CEO, Back on My Feet
New York, NY
Katy Sherratt first connected with Back on My Feet (BOMF)—which uses running as a catalyst to empower people struggling with homelessness to return to the workforce—as a volunteer. Her employer, Accenture, had a workforce development partnership with the nonprofit.
On one of her first runs with BOMF, Sherratt connected with a female member named Sandra. The two started out walking, and Sandra began to tell her life story—"it was clear that some of the things Sandra had been through no one should ever have to go through." Sherratt persuaded Sandra to try to run the last block, but the woman immediately became self-conscious—that is, until she heard the BOMF volunteers cheering her name. After finishing the run, Sandra said, "Thank you. No one ever has believed in me the way you all just believed in me." Sherratt says, "I was floored and humbled…It is without a doubt one of the most memorable moments of my life."
A few months later, Sherratt was given the opportunity to lead the nonprofit and jumped at the chance. Over the past year, she has increased programmatic impact by 50 percent (it's in 11 cities) and the organization's finances have improved by 30 percent. BOMF will launch a new market in November (San Francisco) with plans to add another urban area to their scope every year.
The passion Sherratt felt that morning with Sandra is now a central part of her life: "We don't see this as a job. We see this as leading a revolution to combat homelessness across the U.S." –JS
Lisa Hallett

Executive Director, Wear Blue: Run to Remember
DuPont, WA
Lisa Hallett saw what a difference a small running group could make after she lost her husband, John, in 2009 while he was deployed with the Army in Afghanistan. Since then she's turned her own tight circle of support into 51 running communities around the nation and five major programs, including the Gold Star Race Program that started this year to help families of the fallen run a marathon.
"The successes we achieve in training for and completing an endurance event foreshadow what we are capable of achieving in our lives," Hallett says. "It's positive; it's healthy; it's unifying." You may have noticed the group's blue shirts or the Wear Blue Mile—at nine races in 2016—where runners see fallen tribute posters and American flags along the route. Hallett is not only fostering support within the military community but increasing visibility.
"I am so grateful and in awe of a community that every week builds each other up," she says.
More than 15,000 runners participate in an annual Memorial Day challenge and about 1,000 attend free weekly Saturday runs, but Hallett encourages everyone to "put on a blue shirt and make your steps purposeful." She says, "It's a beautiful act of remembrance." –NM
Alison Désir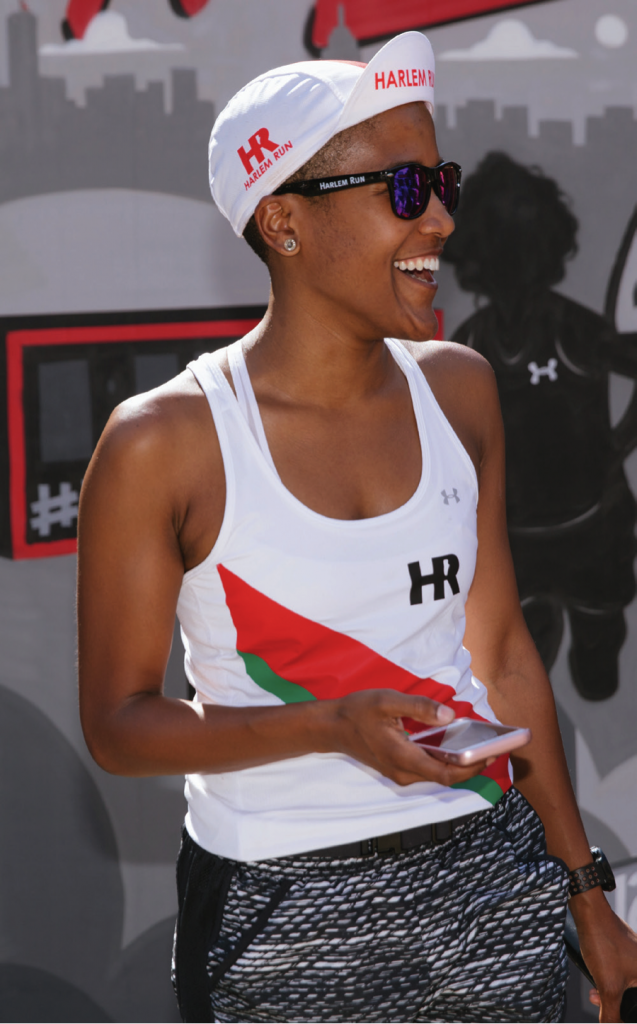 Founder, Harlem Run
New York, NY
Every Tuesday at 7 p.m., Alison Désir stood outside of a yoga studio in Harlem, hoping that someone—anyone—would show up. The Harlem resident was trying to start a running club in order to share the sport she loved with others in her community. Désir diligently posted on MeetUp.com and Instagram—but ultimately, each night, after waiting for 20 minutes, she would head out for a run alone. "I would just stand there crying on the phone with my mom," Désir remembers. "She would tell me, 'It's not you! Just wait.'"
Désir stuck it out for 12 weeks, until finally, one night, another woman arrived. That was in 2014, and now, thanks to Désir's persistence, Harlem Run has blossomed, regularly welcoming up to 200 people per group run.
The club's founder says she works toward three objectives: providing people with the support to start ("we welcome all abilities, all ages"); creating more diversity in the sport ("as a woman of color, it is important for me"); and encouraging a healthy lifestyle where she lives ("Harlem has really high obesity rates, high blood pressure—all of those preventable diseases"). She has achieved these goals and more. This year, the club's race, The Harlem 1-Miler, raised $10,000 for Harlem United, a nonprofit supporting the homeless and those affected by HIV/AIDS.
Despite all of the hard-earned achievements, one unexpected outcome is what Désir treasures most: "What I didn't realize is that it could become a family." In 2017, she hopes the group will expand with other chapters around the United States, focusing on cities where fitness is a challenge. Désir explains, "It's such an empowering experience to do something you never thought you could do—and it makes you keep pushing for more." –JS
Tatyana McFadden
Professional Athlete
Clarksville, MD
With her aptitude for winning medals (in both running and Nordic skiing) and breaking marathon records, Tatyana McFadden's disability is merely a footnote to her physical prowess. Born with spina bifida and paralyzed from the waist down, McFadden spent six years in a Russian orphanage until she was adopted by an American family.
After she moved to the U.S., McFadden's mother got her involved in sports to help her build strength and transition to her new life. After trying wheelchair basketball, swimming, scuba diving and ice hockey, she realized endurance racing was her favorite. When asked what made the difference for her, she says it was realizing this: "You have the power to be anything you want to be."
McFadden has won the women's wheelchair marathon grand slam (Boston, London, Chicago and New York) three years in a row—making her by far the most dominant marathoner in the world. She's on track to do it again in 2016 and also went to the Paralympics in Rio. When McFadden isn't competing, she's an advocate for the rights of disabled athletes and volunteers with Right to Play, a program that uses sports and games to help disadvantaged children. She also recently authored a book about perseverance, optimism and overcoming obstacles, entitled Ya Sama! Moments From My Life. –AP