Hillary Allen's Triumphant Return to Ultrarunning
After her freak fall, ultrarunner Hillary Allen proudly bears the scars that remind her of the resilience of the human body and spirit.
Heading out the door? Read this article on the new Outside+ app available now on iOS devices for members! Download the app.
The voice in Hillary Allen's head announcing her imminent death was eerily calm.
Okay, Hillary, you're about to die. Brace yourself. This is it.
There was no panic, nor pain, as she floated above the scene of her ragdoll body tumbling down the side of a mountain. The only sensation was pressure—a swift kick to the chest every time her body slammed against a granite boulder.
"It was a fall then a bounce, then another fall and then a bounce, over and over," Allen says. "I was grabbing at things, trying to stop the momentum, but I just kept falling. I could feel my bones breaking." Her battered body finally came to a stop 150 feet below the spot where the trail had inexplicably given way.
Moments before, the 29-year-old elite ultrarunner had just reached the halfway mark of the Hamperokken Skyrace 50K, part of Norway's Tromsø Skyrace series. She'd moved into third place and was feeling strong and completely in her element on the steep terrain (Allen's nickname is "Hillygoat"). The mountain scenery was stunning atop Hamperokken Ridge, the most jagged, narrow and technical part of the course, and she scrambled across the craggy rocks with a huge smile on her face, in a state of bliss.
"Then before I knew it, I was tumbling upside down in slow motion," Allen says.
It wasn't until her body came to rest that the pain arrived in "extreme pulses" that led her in and out of consciousness. "I remember screaming and kicking, and people trying to prevent me from moving," Allen says. "We were on the edge of a cliff, and one guy was bracing me so I wouldn't fall more."
It took two and a half hours for the rescue helicopter to get her off the mountain and to the nearest hospital, where she learned the extent of her injuries. She'd broken 12 bones, including both wrists, a couple ribs and two vertebrae in her back. She had a concussion and deep lacerations all over her body that needed to be surgically cleaned and closed. She popped a ligament in one foot and severely twisted her other ankle.
"It took me a couple of days to come to terms with what had happened," Allen says. She defined herself by how strong she felt as an athlete and couldn't process the fact that the girl lying in the hospital bed—utterly broken in body and spirit—was her. The whole scene seemed foreign, surreal, confusing. The North Face, her major sponsor, flew Allen's mom to her bedside for her initial surgeries, then chartered a private jet to bring them home to Colorado.
Back in Boulder, Allen's doctor tried to prepare her for a grim new reality: She would probably never run again, let alone take to the trails. It was as if she'd been told she'd have to learn how to live without oxygen.
Mountain Calling
As a kid growing up in Fort Collins, Colo., Allen always felt most at home in the outdoors. "I had an insatiable curiosity about everything, in particular bugs and the outdoors," she says. (As a kindergartner, she told the class on Career Day that she was going to get her Ph.D. in entomology, the study of insects.) "I grew up in the dirt and was very adventurous." Allen's parents, both professors at Colorado State University, nurtured her innate curiosity and desire to explore the natural world by taking the family on road trips around the country. She was also naturally athletic and dabbled in various ball sports as a kid, eventually focusing on tennis.
Allen earned a tennis scholarship to Coe College, a private liberal arts college in Iowa, where she also received an academic scholarship to study chemistry. After graduation, she returned to her home state to attend University of Colorado at Denver, where she worked toward a master's degree in neuroscience. "I was curious about how the brain works," she explains. Feeling that her days of competitive tennis were behind her, she started running while in graduate school to blow off steam and get outside. "Running felt so simple, and it brought me back to my roots in the Colorado mountains," Allen says. "I could see chemistry in all aspects of nature. It seemed so raw and made me feel small and connected to the world."
She started learning about trail running and, with some mentoring from an experienced trail-runner friend, began training for her first ultrarunning race, the 2014 Moab Red Hot 55K. "I basically did marathon training with some long runs on the trails," she says. Allen finished third and was immediately enamored with the sport and the tribe of people who shared her love of the outdoors.
"I just wanted to do it all the time and started working really hard at it," she says. She signed up for the her first 50-mile race, the 2014 Bighorn Trail Run in Wyoming, and ended up winning with a new course record. "I was super surprised I could do that—it was a huge experiment. That's when I thought, I guess I have a knack for this!"
That same year, she also raced on the U.S. Skyrunning circuit, which takes mountain trail running to the extreme. In a 50K Skyrunning race, the course gains a minimum of 11,000 feet in elevation, and the trails are notoriously technical. Proving she was made for this type of tough, gutsy racing, Allen was the 2014 U.S. Skyrunning series champion.
The podium finishes were always a perk, never a primary motivator. "I've always run to push myself—it has never been for external validation," she says. "It's just something that has always felt very sacred to me."
A couple of years ago, Allen turned her focus to racing abroad, where she could tackle the world's toughest peaks. Every summer, the part-time professor (she teaches chemistry, physics and other life sciences at a community college near Boulder), spends a few months traveling and racing around Europe. She finished third in the 2016 Ultra Skyrunning World Series and was leading the 2017 points race entering the Tromsø Skyrace on Aug. 5.
Tromsø was the fourth and final event on Allen's European race calendar. She felt tired from the weeks of travel and racing, and she was looking forward to heading home and starting a new school year. Since she was leading the points chase by a comfortable margin, there was little pressure. "My race mentality was to take my time, enjoy the terrain, relax and have fun with it," she says.
And that's exactly how it went—until one unlucky step changed everything.
A Long Road To Recovery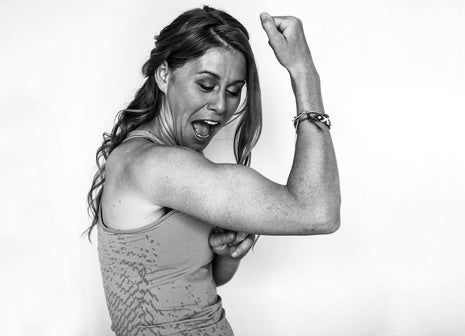 Allen couldn't walk for two months, and with both wrists broken, she could barely lift a soda can. The immobility was unbearable. "Movement is such a huge part of my life, and running makes me feel whole," she says. "All of that was taken away from me. I literally could not stand on my own two feet. I couldn't shower by myself. I had to figure out what strength looked like from a different perspective."
Allen graduated to a wheelchair, then a walker. She hired a car service to drive her to and from school and taught from the seat of her scooter. Her body slowly began rebuilding itself with the help of physical therapy.
"I look at pictures from those first months after the accident, and it reminds me what I'm made of and what the human body is capable of when you work diligently at something," says Allen, who'd never broken a bone before her fall.
Her doctor was shocked by her progress. "She told me, 'I've never seen anyone recover this fast!'" Allen says. "I said, 'It's because I've been working my butt off!'"
Allen credits running with giving her the mental tools that have hastened her recovery: "Running reinforces the idea that there's value in showing up and working through the hard days. It equipped me with the skills to recognize that challenges are worthwhile if you can be humbled by them and find a way to get through them."
By January of this year, Allen was strong enough to hike. Out on the trail later that winter, she felt the impulse to run. "I was really scared and remember thinking, Don't fall, don't fall." It was a turning point in her recovery. "I was so grateful to think that I could potentially race again, for no other reason than it just makes me happy," Allen says. "I want to be realistic and not push myself too much, though."
Allen estimates that she's "about 50 percent back" to her pre-accident run form. The ligaments and tendons in her feet are still healing, and she struggles running downhill. Still, she's charging ahead into an action-packed summer. She's going to pace her coach, Adam St. Pierre, for part of the Hard Rock 100 in Colorado this July (and hopes to run the 100 miles herself over three days later this summer) and will make her annual Europe trip and jump into a few races, depending on how she feels. Allen also wants to do a solo trip to the High Sierras in August to commemorate the one-year mark of her accident. Above all, her focus is "to get my heart, mind and soul back to a happy place."
There's been no shortage of low points and moments of self-doubt in her recovery journey, but as one of Allen's best friends pointed out to her recently, she thrives when things get tough. And she is fiercely determined to find purpose amid the pain.
"Some hard things have happened in my life, but I'm not going to let them break me. I choose to form them into an asset and learn from them because I think that would be the biggest tragedy—if I didn't learn anything from this."
Related: