Your First Run
We asked, you answered! Our readers share the stories of their very first run.
Heading out the door? Read this article on the new Outside+ app available now on iOS devices for members! Download the app.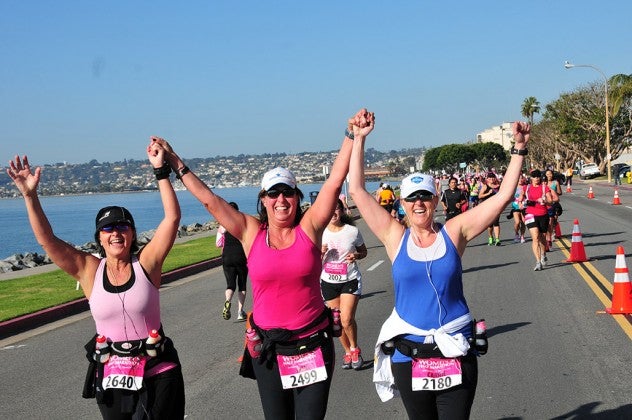 After reminiscing about my first run last week, we asked our readers if they could remember their first run. The responses we received on Facebook and Twitter ranged from funny to inspirational, but all shared the same theme; running has changed our readers' lives for the better.
Below are a few of the memories our reader's shared of their first runs. These stories are great reminders of why we fell in love with running. They can also serve as motivation for new runners to grab a pair of running shoes and give the sport a try.
There were too many great responses to choose from, so read the rest on Facebook and Twitter.
"Yup. 5 yrs ago, made it 20 seconds. Ultra runner now who just moved from sea level to the mountains. Next race on Saturday!" – @TheKashaShow
"I was 16 and I set my alarm for 5AM. I thought that was what you were supposed to do…get up in the dark to run." – @RachelOnandOn
"Wore bad shoes. Horrible sweatpants. Jiggled all over & barely could run 30 sec. 2 years later, just finished half #2!"‪ – @Norweigan_Gal
"I signed up for a 15K for my first race because I knew I'd flake out if I signed up for a 5K! So I picked a 2 mile loop from my house and ran for a song and walked for a song and then ran another song and walked a song. It was so slow but I was so excited the first time I ran the whole way! Now I'm training for my third and fourth full marathon! – Kim Anderson Baber
"Last winter I did the Couch to 5k… on my treadmill. April 8th was the moment of truth to hit the road and really see if I could do it. I ran 2.03 miles. Without stopping! I was over the moon excited that I ran that far. It was awesome. Ran a 5k in Oct and a 4 miler in Nov. Have a 5k coming up in a couple weeks and a Mothers Day 5k, then the Beach to Beacon 10k in August. I am hooked!!!" – LesleyMcMillan 
"It was random. It was one of the first beautiful spring days in….I guess 2011, a Saturday….and I went to the gym to go to my favorite Zumba class. But the class had incresased in popularity lately and filled to capacity 20 minutes before the class started. I wondered to the cardio room but it was crowded and I reallllllly didn't want to do the elliptical. It was so nice out, so I left the gym, walked to the beautiful park a few blocks away and decided to try jogging. And realized I didn't HATE it. I tried to make it a habit….on nice days that spring and summer I ran in the park. I didn't make the habit stick for good til a friend talked me into training for a 5K in 2012 but that was how I began. I used to run in cotton head to toe and my OLD gym shoes (that I had acquired for $ 11 at target 5 years previous) because 'I don't want to wear nice shoes to run outside they'll just get dirty.' Lol" – Kristin Tursky 
"I started with work colleagues. At 49 y.o. Couldn't run between lamp posts! Stuck at it and entered fun runs including few half marathons. Then challenged myself completely and ran my first full marathon few weeks before my 55th birthday in the time I wanted. – Sue Loncaric 
"2 years ago my daughter talked me into going to the track with her, I couldn't even make it around once. Knowing what kind of motivation I would need, she jokingly called me a "big ole baby". Every milestone since I remember that day and laugh." – Jeanette Barker Gilliam
"My earliest memories of running was as a 5+ yr old running thru alfalfa fields with my dog…I also have plenty of high school memories of training and running in meets during snow, plus a 10 mile run on pavement after volleyball practice as punishment for dropped balls during the game….rain or shine, punishment or pleasure, running has always been a part of my life." – Shannon Maaske 
"Actually just started walking in my neighborhood and ended up getting bored, so just for fun I started running to see if I could make it to a certain mailbox, and about a couple months later I was running a mile non stop. Seven months after that I ran my first 5k and finished 11th in my age group. That was over two years ago. I just became brave enough to sign up for first half, which is the end of April! Never would have dreamed that I would be a runner! It has given me confidence and taught me discipline and its the best stress reliever ever!!" – Natalie Pewitt 
"Ran my dog since he's so high energy. Got back and thought, I wonder how far that was? Did it again the next day and saw it was under 2 miles. I had never run before in my life. Started going and eventually, I got addicted. Now my dog runs with me all the time and we enjoy trail running the most." –Sallie Arellano 
"July 2013 – I had spent 6 months prior focused on nutrition and fitness to lose 60 lbs of excess weight I had accumulated in the 10 years post-college and 2 pregnancies. I was traveling for business and my hotel room was too small to do the DVD workouts I had been conditioning with. So I got out my iPhone, downloaded a running app and decided to see how far I could go. Ran 5K that day….and found a passion for running. Ran several more 5Ks that summer which led up to a half-marathon last September and hopefully many more races in my future!!" – Katie Cash Forth 
"UGLY! I was a track athlete who decided to convert to long to lose my pregnancy weight 23 years ago. Burning lungs and dry heaves as I went out too fast, but I kept at it. Those were the years without ipods and all of these fan-dangle stuff; where you relied on the pure pleasure of running, air and simple gifts to get you through. It took me months, but I did it. I often return to where it first started, in fact, it's the start of the BAA 1/2 marathon. I am a distance runner with a sprinter's soul and body; loving it!" – Gael Henville 
"Ran around my block. It took 8 min and I puked in my front yard afterward. Finished my first 1/2 marathon 5 months later and 6 years down the road I'm running marathons." – Ariana Strong 
"My first run was in June of 2012. It was the toughest run of my life both mentally and physically. It was about a 20 minute walk/run, with much more walking than running. But I kept at it and ran my first half marathon in Toronto last October! It's been a wonderful few years. Running is an amazing sport and so easy to start, since all you need is a pair of shoes! If anyone reading this is thinking about starting to run, please don't let those slow tough days at the beginning discourage you! Running will always be challenging, but After a little while and some effort put in, you will start to reap the benefits inside and out!" – Melissa Ann Wilkie