Why Running in the Heat Feels Tough
Why is running in hot weather so dang miserable—and when is it downright dangerous? Find out the scoop on the heat to stay safe!
Heading out the door? Read this article on the new Outside+ app available now on iOS devices for members! Download the app.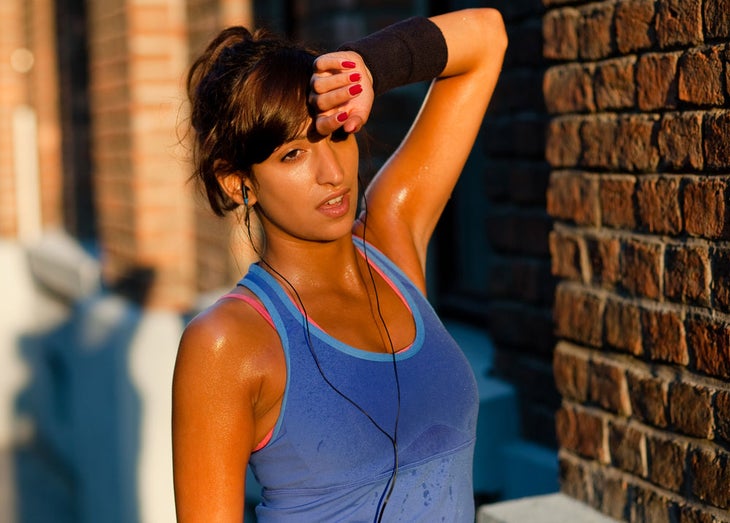 Why is running in hot weather so dang miserable—and when is it downright dangerous? Physiologist Lawrence E. Armstrong, Ph.D., shares the anatomy behind the agony.
WHAT MAKES RUNNING IN HOT WEATHER SO TOUGH?
Dr. Lawrence Armstrong: It's a challenge for three reasons: First, your body releases heat by sweating (wet heat loss) and also by dry heat loss. During dry heat loss, your body pumps blood from deep inside your organs to your skin, where the heat can be released into the air. When your skin is receiving the blood flow that would normally go to working muscles in a cooler environment, exercise feels more difficult. Second, your body is always trying to maintain homeostasis. If your body temperature rises above a certain safe level, it becomes harder for you to exercise and maintain normal body functions. Third, dehydration may occur, which will make the exercise seem tougher as well.
AT WHAT TEMPERATURE DOES A RUNNER'S PERFORMANCE START TO SLIP?
LA: That really depends on the runner. Generally speaking, anything over 80 degrees will have a negative impact on performance, but there are a number of factors that come into play, including the person and the conditions.
RELATED ARTICLE: HOT WEATHER RUNNING TIPS
WHAT CONDITIONS OTHER THAN TEMPERATURE MATTER?
LA: It comes down to skin temperature, because that's what will impact how much blood is being pumped to the skin (and diverted from working muscles). In humid weather, it becomes more difficult to lose heat through sweating because the sweat won't evaporate from your skin as easily. On sunny days, the solar radiation will further heat skin, while on windy days, the breeze will cool skin.
IS RUNNING IN HOT WEATHER TOUGHER FOR SOME PEOPLE THAN IT IS FOR OTHERS?
LA: Absolutely. A runner's reaction to a hot environment depends on her age, her acclimatization and her sweating rate. As we get older, it becomes more difficult to deal with hot temperatures. Acclimatization means how adapted your body is to the heat. It generally takes eight to 14 days to get used to running in a new environment. Sweating rate (how much you sweat) is something that differs from person to person. Those who sweat more cool themselves more efficiently, but they also have to drink more and may become dehydrated more easily.
WHEN DOES RUNNING IN THE HEAT BECOME HAZARDOUS?
LA: Exercising in hot temperatures can be dangerous. Anything above 80 de grees puts you at some risk for heat exhaustion or heat stroke. Heat exhaustion occurs when the heart can't pump enough blood to the muscles for exercise and you feel miserable and sick. Heat stroke, on the other hand, is a medical emergency. In heat stroke, you're experiencing a very dangerously high body temperature. Your organs are so hot they're effectively cooking. You're destroying cell membranes, nerves and muscles, and if your body is not cooled immediately, you can die.
THAT SOUNDS SCARY – WHAT CAN RUNNERS DO TO STAY SAFE?
LA: Wearing loose-fitting clothing helps keep the skin cool by allowing for airflow. Also, properly acclimatizing (taking 14 days to build up to running your normal workouts in hot weather) helps the body handle heat more efficiently. Knowing your sweat rate in order to stay well hydrated is also helpful. Most importantly, be aware of the signs and symptoms of heat exhaustion and heat stroke, so you will know when to stop running or seek medical attention if necessary.
RELATED ARTICLE: READERS TIPS FOR BEATING THE HEAT!
___________________________________________________
Lawrence E. Armstrong, Ph.D., FACSM is a professor at the University of Connecticut's Human Performance Laboratory with joint appointments in the nutritional sciences and physiology & neurobiology. His research interests include the effects of water-salt balance during exercise in hot environments and human temperature. He presently serves as second vice president of the American College of Sports Medicine.