Why Our Cover Runner Winners Are Really Important To Us
The WR cover runners continue to inspire our editor-in-chief in their strength and resilience.
Heading out the door? Read this article on the new Outside+ app available now on iOS devices for members! Download the app.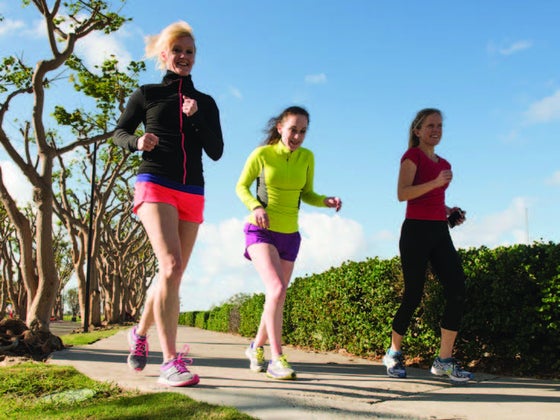 During one of my first big cross-country races in high school, I made a classic new-runner mistake. Caught up in the excitement of charging across an open field alongside hundreds of runners, I took the race out way too hard. Starting out at a dead sprint, by the end I could barely stumble. I passed out at the finish line and had to be revived by the medical team.
Losing consciousness, spending the next few days in feverish pain and celebrating my 14th birthday with Pedialyte were not the worst parts of this experience. Instead, the top honors went to the nickname the varsity boys' team gave me after: "Jessie the Machine." The title was intended to honor how hard I'd pushed in the race—but it had a completely different effect. My teenage self was distraught by the idea that the guys saw me as "hardcore"—which in my mind meant "not pretty."
Thinking back on my reaction now makes me a little sad. I have to wonder why it was so much more important that others thought of me—even in an athletic setting—as cute rather than strong. Of course, my adolescent mindset wasn't constructed in a vacuum. Our culture tells girls their value lies in their appearance first and their actions second. Media, the industry I now work in, is often to blame for perpetuating this destructive belief system. This statement feels cliché because it's true: Images in magazines can be damaging to women's self-esteem.
At Women's Running, we strive to be as inclusive, body-positive and actions-first as possible. Although we sometimes miss the mark, there is one issue per year where I feel confident we deliver on this philosophy. Our annual Cover Runner Contest invites women of every background to enter to win a spot on our cover. We select our finalists—always a challenging task—and then encourage readers to vote for the person whose story resonates most deeply.
Last year, the winner, marathoner Lindsey Hein, made the difficult decision to undergo a double mastectomy after learning that she carried the BRCA2 gene mutation and then shared her experience to raise awareness for genetic testing. This year, we are honored to feature Kiley Lyall, a 24-year-old half-marathoner who uses running to combat life-threatening seizures and the challenges of autism.
In a selfish way, I wish that my 14-year-old self could have connected with these women's stories. Maybe I would have realized that gutting out a cross-country race—while not even in the stratosphere of Kiley's or Lindsey's achievements—was something to be proud (not ashamed) of. And while both of these cover runners are stunningly beautiful, maybe they could have taught me that being pretty never changed the world—but being strong carries the power to inspire.