What's The Proper Way To Run Over Hills During Races?
Coach Andrew Kastor offers his advice to get you over and down the inclines of a race.
Heading out the door? Read this article on the new Outside+ app available now on iOS devices for members! Download the app.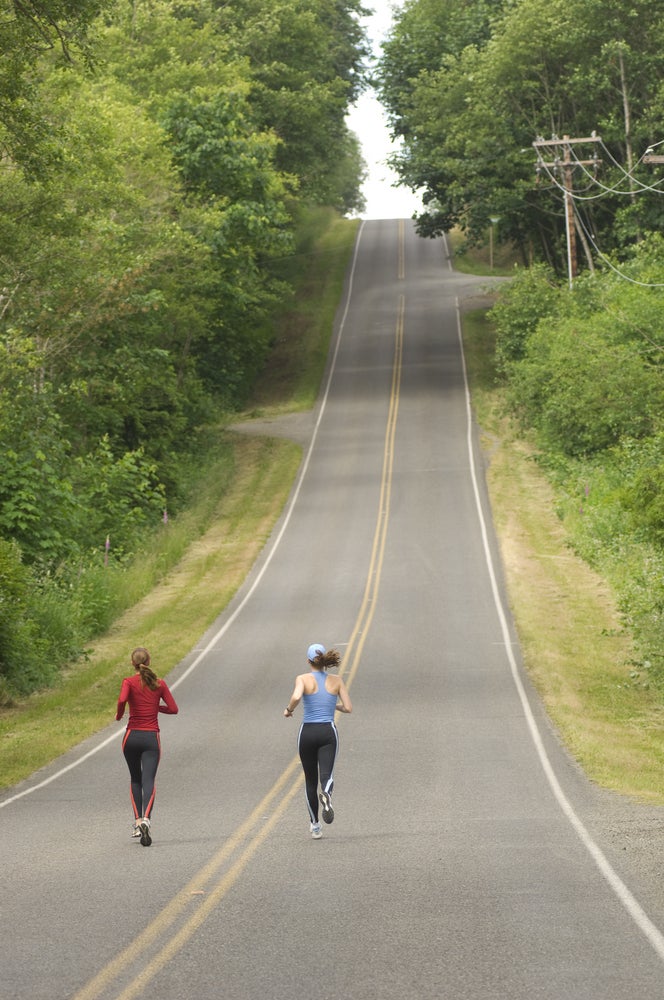 Andrew Kastor has worked with dozens of athletes, from beginners to Olympic marathoners (like his wife, Deena, who is running the Olympic Trials this weekend), and offers his expert advice.
Mindset
"The biggest mistake I see is that people try to charge hills because they think they have to maintain their pace," says Kastor. His number-one tip is to exert the same effort while running up and down a hill—aka slowing down significantly on the incline and accelerating on the descent.
Easy Approach
When you see a hill coming, don't psych yourself out. Keep a steady pace until you're right at the base or "when the incline reaches 1 percent."
Listen Up
As you start to climb, listen to your breathing and stay in touch with your heart rate. Slow your pace to keep these under control and take walk breaks as needed.
Related: Hilly 5K Training Plan
Tweak Your Form
"You'll be able to take in more oxygen with your eyes and head up. Posture is huge component." Kastor tells his athletes to shorten their gait and increase stride frequency as the incline climbs. Keep your shoulders pressed back and your eyes on the horizon. Lean into the hill slightly and your arms should drive forward and back (not across the body).
Mind The Grade
"If a hill is very steep, there may be a point where getting up on the tiptoes will facilitate a quicker stride," explains Kastor. However, if the incline isn't ladder-like, keep your push-off and footfall the same as if you were running on flat ground.
Crest Time
It can be easy to let the weight of your effort crush you as you reach the top. Instead, "celebrate it as a victory to get a little emotional boost."
Get Down
As you start the descent, relish in that sweet, sweet gravity. Open up your stride and keep a quick turnover in the legs. This is your opportunity to make up for the time you lost.
Related: 4 Simple Tricks To Becoming A Great Hill Runner
90 Degrees
"You want to be perpendicular to the hill," says Kastor, who warns against leaning or arching back as you descend. Focus your gaze about 30 feet ahead of you. He adds, "It's really important to land softly and quietly to minimize muscle damage."
Carry On
As you reach the end of the downhill, take that extra bit of speed you built up and keep cruising on the flats. Kastor advises, "Try to carry your momentum you worked so hard for, and use that for another quarter or half mile."
Game Face
Smile at the thought that you chewed through the hill and embrace the next incline when it comes into view.
Positive Thinking
Kastor explains a trick he uses personally: "I tell myself, 'I like hills. Hills are my friend. I am a strong hill runner.'" Positive self-talk prevents defeatism that can creep into performance.