What It's Really Like To Return To Running Postpartum
One new mom is sharing her journey to try to run a Boston qualifier.
Heading out the door? Read this article on the new Outside+ app available now on iOS devices for members! Download the app.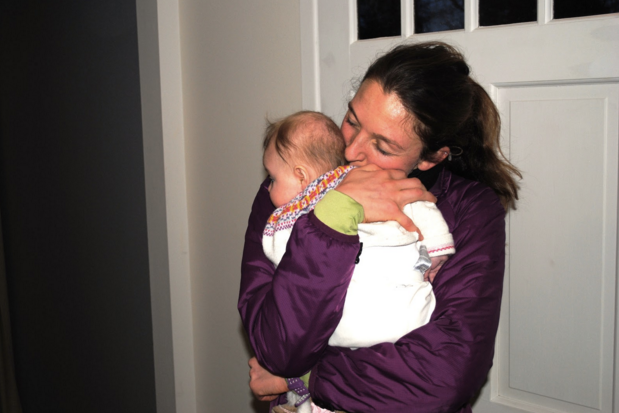 This is a big week. On Monday I went back to work, marking the end of my maternity leave. Just another one of the milestones that I can't believe I've already reached. On Wednesday, my sweet little Nora turns 15 weeks. And, last night I signed up for my first post-baby marathon, and, more importantly, the marathon where I hope to run a Boston qualifier.
Qualifying for Boston is a dream that has been a long time in the making for me. I'm a planner—a big planner—by nature and part of my plan is to make my Boston dream a reality in between babies. I think that my best chance to qualify is now and I hope to run Boston in 2017. While the pace (aiming for 3:30) was not too far out of reach in my pre-baby run days, it's definitely going to be a reach for me from where I stand right now. This means that I've created a MASSIVE postpartum goal for myself.
To help me reach that goal, I've enlisted the help of coach. If I'm going to do this, I'm going to go all in. I'll be running the Pocono Mountain Run for the Red Marathon in Pennsylvania on May 15. While a BQ is the ultimate goal, I need to remind myself that I did just have a baby, as well as return to work full-time, so a realistic goal would be to just feel strong through the race. I can also use it as a benchmark for where my fitness is at and where I can go. So, for the next 109 days, I'll be giving it my all. The good news is that the course is downhill, so I've got that going for me, right?
Related: Post-Baby Speedy Tips From Stephanie Bruce
If running was my profession and only commitment, this would be a piece of cake (I assume). But the reality is that running is just this massive passion alongside a lot of other great things in my life. Along with running and workouts come the demands of being a mom to my almost-4-month-old sweet girl, who I'm exclusively nursing. Alongside baby Nora there is my career as a dietitian, which I love but is also high-demand. There is also my husband, who I'm confident I wouldn't be at this point and hitting all these milestones without.
So workouts are fit in at 4:30 a.m. or 4:00 p.m. or whenever my husband and I swap turns. They come after 1:00 a.m. and then 4:00 a.m. feedings, before work or before dinner. They come at times when my mind and body are tired and depleted. But they also wake me up. They are invigorating. They are the fire that burns within me, bringing me back to my old self. They are my "me" time and I love them.
Getting back into running and fitness in general postpartum is hard. Ensuring you're giving your body both enough and the right kind of nutrients is critical. Your rest days are just as important as your run days—something I struggle to remember—and nutrition plays an integral role in the entire process.
So for the next 109 days leading up to this crazy marathon goal, I'm going to share with you the ups and downs, the nutrition notes and recipe ideas, the good workouts and bad, all while juggling this crazy family life and breastfeeding. I hope you can share with me your experiences and maybe learn a little from mine.
I'm excited to be here with you. Here we go!
Related: Prehab For A New Mom Body