An Uber Driver Called Me Fat And I Wasn't Even Mad
Run, Selfie, Repeat has some major real talk for you after her experience with an Uber driver recently.
Heading out the door? Read this article on the new Outside+ app available now on iOS devices for members! Download the app.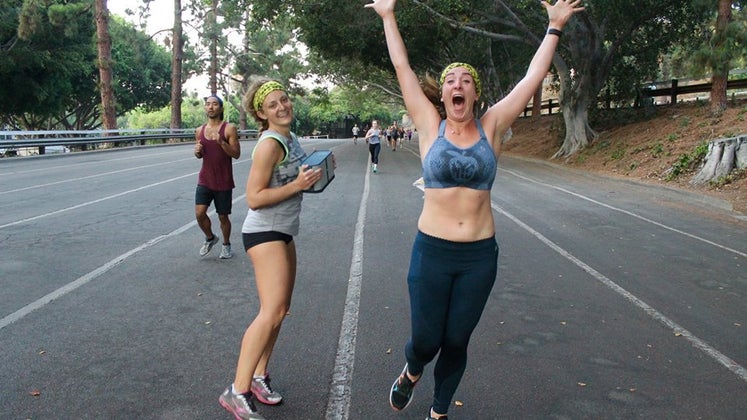 "If you're a runner, why aren't you thin?"
That is what an Uber driver asked me three days ago, after I told him that I was a runner. A few years ago, that question would have left me broken and overwhelmed with shame and self-loathing. I struggled with self confidence and overcoming my own perception that I was fat. I never felt like I was good enough, desirable enough, or thin enough. I tried every weight loss trick in the book, and I always failed because I wasn't pursuing health or the strongest version of myself; I was pursuing goals that were hollow and unattainable.
RELATED: Why Any Body Can Be A Runner's Body
Now before you grab your pitchforks and set fire to your torches, his question wasn't meant to put me down. He wasn't saying that I was fat; he was actually asking why I didn't have a stereotypical runner's body. Do I think it's ever appropriate to ask someone why they aren't thin? Not so much, but because I'm at a place where I know my strength and I'm proud of my body, I was able to understand what he was asking. He didn't realize that someone like me, a US size 8-10, can run as much as I do and not be a sample size.
It's easy to think: "How dare he!" or "What a jerk." But the reality is, we live in a world where we allow the mainstream media to tell us that the only reason we should work out and eat right is to lose weight, to achieve an impossibly perfect body. And that's what's feeding society's idea that all runners look a specific way. I don't know anyone who runs so that they can be thin. Runners don't prescribe to the 'I need a perfect body' mindset. They're busy chasing personal bests, strength, and resilience.
It wasn't until I started running that I realized how empowering training for a goal was in contrast to trying to look like a Victoria's Secret model. Running helped me shed the idea that I needed to look a certain way to love myself, and instead focus on strengthening my self-perception muscle. Loving yourself and what you're capable of is a lot easier when you have something to be proud of, like knowing that you're strong enough to be able to run a 5K for fun.
Runners come in all different shapes, sizes, ages, and athletic abilities. We'll never escape this idea that perfect, thin bodies are positive goals, unless we start standing up for health and self-confidence. One of my favorite parts about the #SportsBraSquad movement is that we're showing the world that we're strong, confident, and proud of our bodies. There's no such thing as one perfect body shape. A perfect body is the one you have, the one that carries you across both the start and finish lines, and your strong and capable body isn't something you should ever be ashamed of.  
RELATED: Real Body Love Starts With Throwing Out The Scale
Every second you spend believing that you're fat or undesirable is a waste of your time and energy. If you are unhappy with your weight, if you know that you're not doing everything you can to put your strongest foot forward, then set a goal to do something incredible. Just promise me that you won't chase a goal solely because you want to look a certain way.  
Change takes time, patience, and a lot of work, but it starts with the decision to love and celebrate what you can do today. Let your goals excite and inspire you. If you don't love yourself now, you'll be heartbroken to learn that you won't feel accomplished even once you've acquired that perfect body that you thought you wanted.  
Until next time, #RunSelfieRepeat.