Top U.S. Distance Runners Share Their Best Piece of Running Advice
The nation's top female distance runners tell us all the training tips, pieces of advice, and bits of pure wisdom that have helped them improve along the way.
Heading out the door? Read this article on the new Outside+ app available now on iOS devices for members! Download the app.
We always assume that the most talented runners must have a few secrets to their success. What do they eat? How far do they run every week? What's the magic workout that leads to making national teams? Do they take a nap every day? What about lifting heavy weights? How many massages do they really get?
It turns out that, generally speaking, these athletes aren't keeping much from us. They possess the gifts of the right genetics, a lot of discipline, and the ability to find joy and meaning in what they do. But like the rest of us, they've also spent years figuring out what training philosophy, lifestyle, and routines lead them to better performances and more productive training.
We asked today's top female distance runners what advice has made a difference in their careers—and which they would pass on to runners everywhere. Maybe their tips won't lead us to the Tokyo Games, but their shared experiences can inspire us to personal records and the motivation to keep putting one foot in front of the other.
The Best Running Advice I've Ever Gotten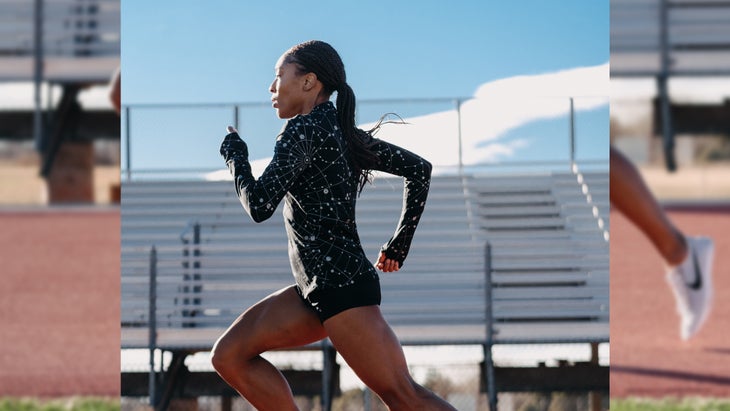 1. The Performance Is Within You
Marielle Hall, 2016 Olympian
Age: 29
Hometown: Portland, Oregon
Events: 5,000 meters (15:02.27) and 10,000 meters (31:05.71)
Hall, a member of the Bowerman Track Club, doesn't always feel sharp amid the fatigue that comes from the big mileage the group puts in together. She has to trust that the speed will come out of the aerobic strength they're building.
"I remind myself that I'm really just trying to dust off layers and unveil something that's already within me that I've been working toward not just this year, but for the last four years—and four years before that. You're not starting from a blank page every time something goes right or wrong. You have all those years that add up and they all contribute. It's within, rather than something you have to search for outside of yourself."
2. You've Been Here Before
Ajee' Wilson, 2016 Olympian and American record holder
Age: 27
Hometown: Philadelphia, Pennsylvania
Event: 800 meters (1.55.61)
The 800 meters is considered one of the toughest events on the track. It requires a unique combination of endurance and speed, plus a knack for strategy.
"On the second lap, it's time to tap into the idea that you've been here before, you know what it feels like, and you prepared for it in those last reps in workouts and training. It's not new. It's not foreign. In life, running, and training, I know that I'm making deposits to draw from later. You have to kind of fuel, nurture, and grow your resilience. If you don't have those experiences, it is that much harder to get it done when the hammer gets dropped with 50 meters to go."
RELATED: How Olympian Ajee' Wilson Keeps Her Cool
3. Stop the Comparisons
Emily Infeld, 2016 Olympian and 2015 world championships bronze medalist
Age: 31
Hometown: Portland, Oregon
Events: 5,000 meters (14:51.91) and 10,000 meters (31:08.57)
It took many years of training and many unfortunate injuries for Infeld to get it right, but a decade of professional running has taught her that what prepares her for her best performances isn't always the same as her Bowerman Track Club teammates or competitors. Maybe it's more cross-training or a different workout.
"I remind myself that I know that I can get there, it just might not look the way it would look for someone else. And that's OK. The comparison in this sport is going to happen. It's hard not to when there are numbers involved and it can seem pretty cut-and-dry. But knowing that at the end of the day, you just have to focus on what you need and then compete when the time comes. Maybe it's hard when you have an off day and the last thing you want to see on your Instagram feed is 15 posts about 'the best workout of my life.' But sometimes you have to do a little less and keep plugging away."
RELATED: Back From Injury Again, Emily Infeld Talks Mental Health and Physical Recovery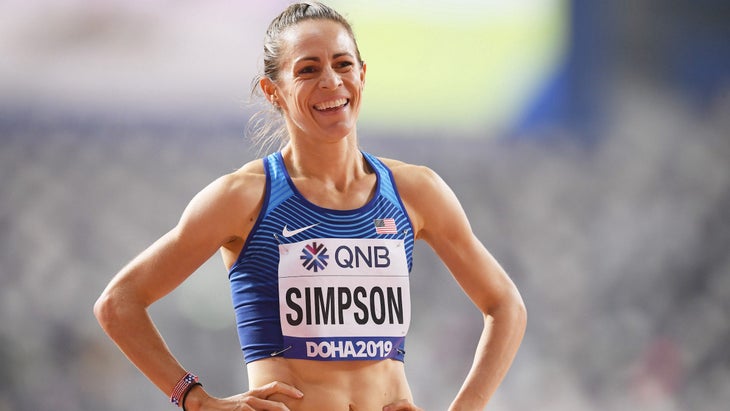 4. Just Keep Going
Jenny Simpson, 2016 Olympic bronze medalist and 2011 world champion
Age: 34
Hometown: Boulder, Colorado
Event: 1500 meters (3:57.22)
When the pandemic made planning nearly impossible and eventually led to the one-year postponement of the Olympics, Simpson struggled with how to proceed. She's a planner and it was difficult to plot out a schedule when she had no idea when she would compete. So she followed a different kind of plan: "Every day, just wake up and say, 'I can keep going.'"
"Because so many things had been unreliable on the calendar, it's been so much more useful for me to say, 'I can keep going,' and not have to rely on the light at the end of the tunnel. Somebody I know in the military told me, 'You don't need a plan, just be prepared.' There does feel like a significant, yet nuanced difference between the two."
5. Don't Be So Stubborn
Colleen Quigley, 2016 Olympian
Age: 28
Hometown: Portland, Oregon
Event: 3,000 meter steeplechase (9:10.27)
We all get stuck on what the training schedule tells us to do. We want to check that box. But what if that's not the best thing, long-term? Quigley is not immune to this quandary.
"It sounds cheesy but I'm really trying to be smarter and listen to my body. If it's a four-mile shakeout run that I'm slogging through and feeling like absolute garbage, is that really making me better, or am I just doing that out of stubbornness and because other people are also running that mileage today? In reality a 40-minute swim is probably going to be better for me overall and help me recover better. Be honest with yourself and how the work is really affecting you."
RELATED: Colleen Quigley Talks New Coach, New Sponsor, and Resisting the Fear of Change
6. Practice Your Weaknesses
Molly Seidel, 2021 Olympian
Age: 27
Hometown: Flagstaff, Arizona
Event: Marathon (2:25.13)
Seidel's marathon debut was at the 2020 Olympic Trials in Atlanta, where she placed second to make the Tokyo Games. A big accomplishment, though she still had a lot to learn, primarily about how to take in nutrition during the 26.2-mile race. So she used the extra year to her advantage, preparing for the London Marathon and figuring out how to stomach the fuel.
"I was still teaching my body to take carbohydrates while I'm running. I noticed such a difference during the London Marathon in the last stages of that race. When I actually had enough carbs in my body it felt amazing. It seems like such a basic thing but for someone coming from the track, I was so ill-prepared in Atlanta, to the degree where I was a little bit lucky that it didn't go worse."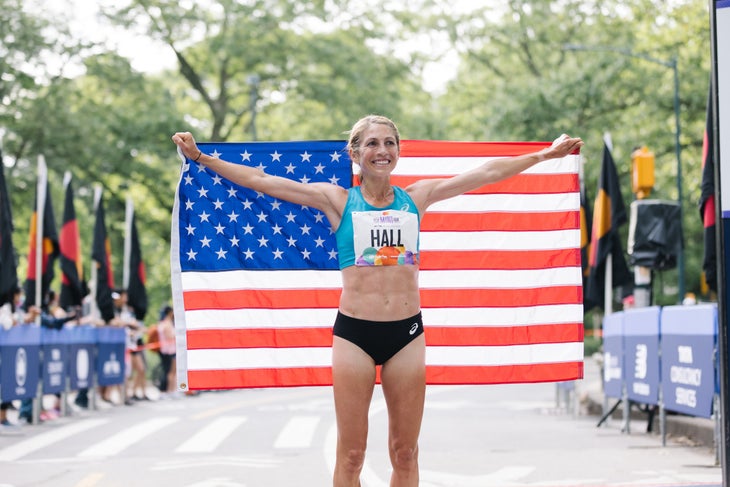 7. Trade in Your Stress for Joy
Sara Hall, second-fastest American marathoner
Age: 38
Hometown: Flagstaff, Arizona
Events: Marathon (2:20.32) and 10,000 meters (31:21.90)
Hall loves the marathon—not just the event, but the preparation. So when she decided to head back to the track to compete in the 10,000 meters at the Olympic Trials, she figured she'd only have to focus on it for four months. Thanks to the pandemic that turned into more than a year. She made the best of it, mixing in two marathons, including the second-fastest in American history.
"When I first decided to do the track, I knew I would feel stressed about being behind the other women. I mean, I already wasn't good at track like five years ago and now the U.S. distance running is the best it's ever been. I was setting myself up for just feeling anxious and like I had to do something superhuman. But I decided that I really needed to focus on the process and enjoying it—whatever the outcome is I'm going to lay it all on the line and have it be what it is. But it wasn't going to be worth it to me to go after it if I didn't enjoy it. I've never run on the track since I became a 2:20 marathoner, so I should always keep an open mind to what's possible."
RELATED: Sara Hall is Running With Her Whole Heart
8. Take It Easy
Josette Norris, breakout middle distance runner
Age: 26
Hometown: Charlottesville, Virginia
Events: 1500 meters (4:06.17) and 5,000 meters (14:51.42)
After graduating from Georgetown University, Norris took the pandemic year to grow into her pro career and gain more consistency in her training. It's paid off with impressive breakthrough performances throughout the beginning of 2021, shooting her to the short list of Olympic contenders. The biggest factor she believes is her ability to do nothing.
"I'm obsessed with making sure I have fuel with me at a workout, for right after. I think I've had a chocolate milk every day for the past five months, which is a little concerning. And I'm really good at doing nothing between my runs. I don't have a very busy schedule—I'm very comfortable with just laying on the couch all day to recover. I'm not the best napper, but watching TV, I can get my heart rate pretty much as low as you could get to take a nap."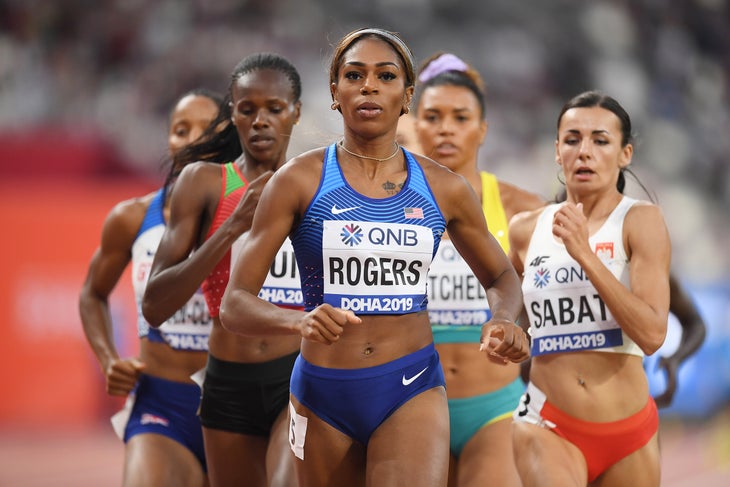 9. Try Something New
Raevyn Rogers, 2019 world championships silver medalist
Age: 24
Hometown: Portland, Oregon
Event: 800 meters (1:57.69)
While preparing for the 2020 Olympic Trials, Rogers knew she had to work on her race tactics a little more, after a year away from competition. So she told her coach, Pete Julian, she wanted to try the 1500 meters—not an event she often races, but one she knew might teach her a thing or two.
"I hadn't done well tactically in the races before that and I wanted to get comfortable running in a group. Most of my workouts I train by myself, so I learn a lot in my races. What better way to get out there and really be among a group of women, just seeing how to maneuver in this pack instead of getting so comfortable and in my habit of settling in the back. There was so much pushing and scratching and tripping. It was like a video game. This was clearly an out-of-body experience trying to finish that race."
10. Find Your Coaching Match
Elle Purrier, 2019 world championships qualifier and indoor two-mile American record holder (9:10.28)
Age: 26
Hometown: Montgomery, Vermont
Events: 1500 meters (3:58.36) and 5,000 meters (14:58.17)
Part of Purrier's success is the luck of good coaching, she says. From high school to college to her pro career, she's had coaches who have been conservative with her progression in mileage and intensity, which will only add to her longevity. She's now led by Mark Coogan, coach of the New Balance Boston group.
"Each one that I've had at the stage of my life was what I needed. Mark has so much confidence in me—I really needed somebody who just didn't overthink it and told me to just get the job done and believed in me. He's just really chill. It's fun to have a coach who's not really uptight or anything. I am really fortunate to have him as a coach."
11. Workouts Don't Define You
Molly Huddle, 2012 and 2016 Olympian
Age: 36
Hometown: Providence, Rhode Island
Events: 5,000 meters (14:42.64), 10,000 meters (30:13.17, American record), and marathon (2:26.33)
As Huddle, the five-time 10,000-meter national champion, has gathered more years of experience, she's noticed that her workouts don't necessarily reflect what she's capable of in a race. Sometimes when she has a disappointing session, she remembers this.
"I have a lot of workouts that most people would be surprised that they aren't more impressive when you compare them to my race performances. That's just how I am. I go to a different level in races. It always makes it hard to trust your fitness because mine doesn't look that impressive until the adrenaline's going and I'm at a race, tapered and fresh. Remember that you have to trust that and it's just how you are as an athlete."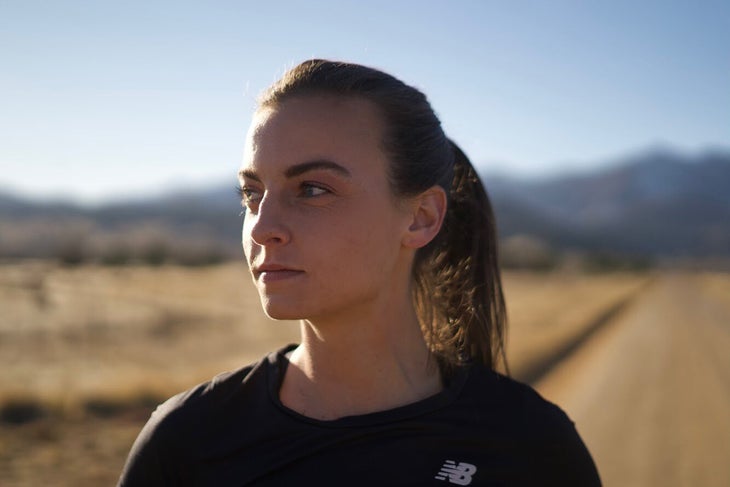 12. Find Your People
Dani Jones, NCAA champion
Age: 24
Hometown: Boulder, Colorado
Event: 1500 meters (4:04.26)
Graduating from the University of Colorado and signing a professional contract during the pandemic could have been a rocky start to a career, but Jones found a group of experienced athletes and a coach who made the transition almost seamless. Joining Joe Bosshard's training program alongside 3,000-meter steeplechase world champion Emma Coburn has set the rising middle distance star on the right path—and surrounding herself with supportive teammates gives Jones confidence.
"Having a training group has been important—being surrounded by people who are better than me or who have experienced more than me, I think that's just been a big part of my growth this past year."
13. Drink Up
Kim Conley, 2012 and 2016 Olympian
Age: 35
Hometown: Flagstaff, Arizona
Events: 5,000 meters (15:05.20) and 10,000 meters (31:35.88)
Yes, you too could become a two-time Olympian even if you're slightly dehydrated. It took a consultation with a sport performance nutritionist in 2020 to realize Conley really needed more liquid in her life, beyond her propensity for coffee, tea, and kombucha.
"The biggest and most obvious thing the nutritionist found, which I was a little taken aback when it came to my attention, was that I wasn't really hydrated enough and I needed to get more electrolytes. On top of the coffee in the morning, the kombucha at lunch, and tea in the afternoon, I was maybe drinking two glasses of water. Now I'm pretty much always drinking 40 to 50 ounces of water a day. At first I gained water weight, but I have been feeling really good."
14. Step Back to Step Up
Elise Cranny, four-time NCAA championships runner-up
Age: 25
Hometown: Portland, Oregon
Events: 1500 meters (4:02.62), 5,000 meters (14:48.02), and 10,000 meters (30:47.42)
Like most of us, Cranny has experienced injury setbacks and other unplanned hiatuses from training or racing. Consistency is king in progressing toward our goals, so she's learned to let patience lead her decisions. This tactic has resulted in achieving big milestones, like her 10,000-meter debut.
"This past year we've had to take a step back from racing a ton and really focus on honing mental skills that I needed to work on just in practice. I needed to try different racing strategies and work on my confidence. Looking back, I feel grateful for that time to try new things and get a whole other year of consistency as a younger athlete."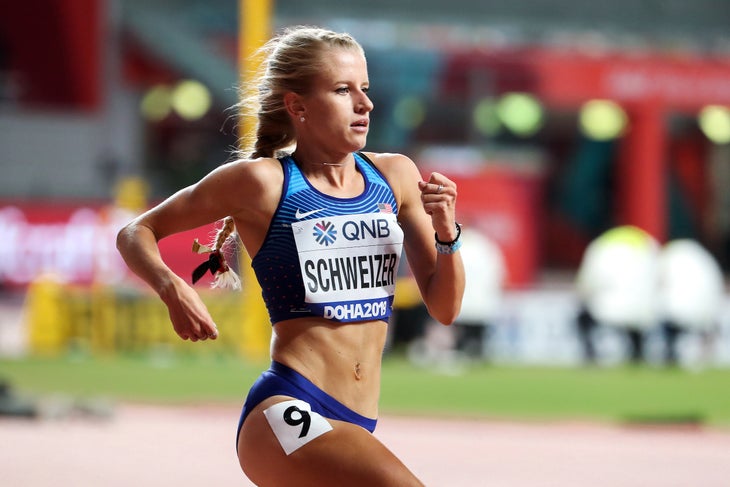 15. Rely on Gratitude
Karissa Schweizer, indoor 3,000-meter American record holder (8:25.70) and 2019 world championships qualifier
Age: 25
Hometown: Portland, Oregon
Events: 5,000 meters (14:26.34) and 10,000 meters (30:47.99)
Like most Olympic hopefuls, Schweizer, another member of the Bowerman Track Club, found much of 2020 a little disappointing and disorienting. But in the midst of the uncertainty she focused on how fortunate she felt for what she had in life and in running.
"Just not knowing what was going to happen and, heck, for a little while not even knowing if the Olympics were going to happen at all, we just always talked about not taking any opportunities for granted and taking advantage of what we have. That's really important. A full year of just training and time trials was difficult and it wore on me, but it made me grateful for the opportunities I do get and hopeful for the years to come."
RELATED: Karissa Schweizer: "We'll Be Ready When It Matters"
16. Be the Best You
Courtney Frerichs, 2016 Olympian and 2017 world championships silver medalist and American record holder
Age: 28
Hometown: Portland, Oregon
Event: 3,000-meter steeplechase (9:00.85)
When you train among some of the world's best women at the Bowerman Track Club, it's easy to feel like you're sometimes falling short (even if you are one of the world's best, too). Frerichs finds a sense of calm by looking inward instead of comparing herself to her training partners. She finds confidence in putting forth her best every day.
"You could be in the best training program in the world, and if you don't believe in it, it's not going to work. After 2017 I really started to feel like everything had to go perfectly in order to get back to what I'd done [at the world championships]. [Coach] Jerry [Schumacher] told me that all he ever wanted was for me to show up and be the very best Courtney I could be that day—that was all he could ask for. It really helped me to focus more on getting the most out of each day for myself versus feeling like I had to look like somebody else."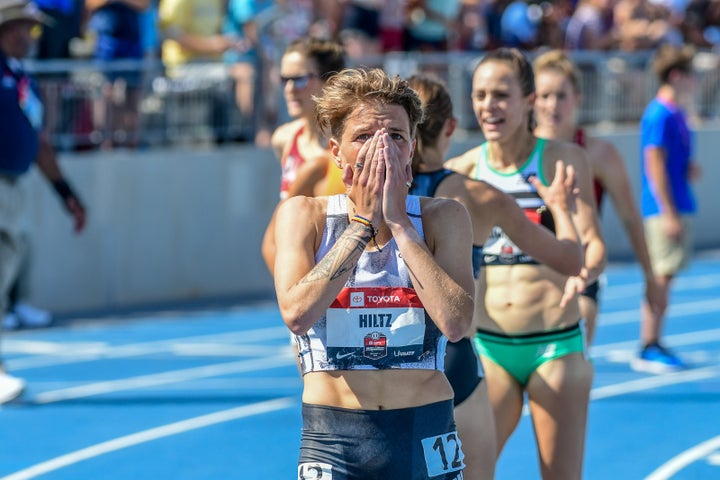 17. Define Success in Several Ways
Nikki Hiltz, 2019 world championships qualifier
Age: 26
Hometown: San Diego
Events: 800 meters (2:01.37) and 1500 meters (4:01.52)
On a perfect day, Hiltz is pretty sure they can make the Olympic team. But on an imperfect day, they still can find success. In other words, Hiltz has many ways to reflect on performances and find fulfillment in their work, whether it's a race result or supporting organizations advocating for LGBTQ youth through the Nikki Hiltz Pride 5K.
"I love my events because there are really cool time barriers like breaking four minutes [in the 1500] and two minutes [in the 800 meters]. My goal is to break both of those. And I want to make the Olympics, but I also am excited to live authentically and see where that takes me, both on and off the track."
RELATED: The More Authentically They Live, the Faster Nikki Hiltz Can Run
18. Happiness Can Make You Fast
Rachel Schneider, 2019 world championship qualifier
Age: 30
Hometown: Flagstaff, Arizona
Events: 1500 meters (4:02.26), 5,000 meters (14:52.04), and 10,000 meters (31:09.79)
Running can't be everything, all the time. Schneider has discovered that the more joy she finds in life outside of training and competing, the better she performs on the track.
"The most important thing in my peak performance is just being happy outside of running. I don't know if that's super cliché, but I'm a way better runner when I'm just happy. Through the pandemic and what's considered a high-stress time when an Olympic Games is on the line, I just try to kind of keep things in perspective and find joy in the process of all of this. Let go of the things that you can't control and just show up the best that you can on the day."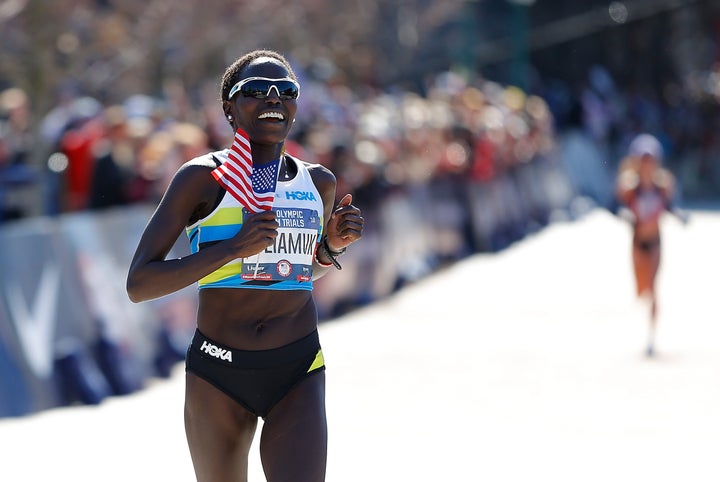 19. Adapt and Adjust
Aliphine Tuliamuk, 2021 Olympic marathoner
Age: 32
Hometown: Santa Fe, New Mexico
Event: Marathon (2:26:50)
So you win the Olympic Marathon Trials, the Games are postponed, and all the major marathons are canceled for a year. Tuliamuk wasn't about to let her life plans be put on hold. She wanted to start a family, so she forged ahead, gave birth to daughter, Zoe, in January, then made her careful way back to training for the Tokyo Olympics, starting with strength and cross-training.
"A lot of athletes push back having families because they don't know how it's going to happen. You don't know if you'll come back. Having examples of people who came back quickly [though carefully] will potentially alleviate that stress. I'm rooting for myself to have a really good experience, if for nothing else than to inspire other women to choose to have families and continue to pursue their running goals."
RELATED: Aliphine Tuliamuk: Six Weeks Into Motherhood, With an Eye on the Olympic Marathon