Running Tips for the Last Weeks of Winter
The last weeks of winter can feel cold and long. Try these tips to stay motivated on your runs.
Heading out the door? Read this article on the new Outside+ app available now on iOS devices for members! Download the app.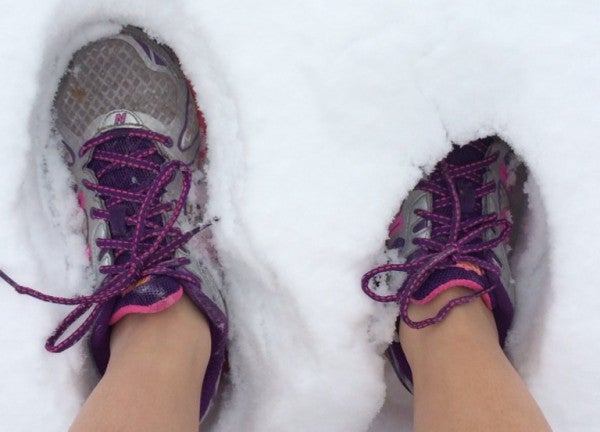 If you're anything like me, you may have looked out of your window this morning and thought "Enough already!" For many, this winter has been a barrage of one snowstorm after the next. While there are many great things about winter weather- it's pretty, no school/work, great for skiing and sledding- it can throw a wrench into running plans. So how should we push through the final weeks of winter? What can get us out of the door when winter leaves us unmotivated? Here are some ideas:
Learn to love (or tolerate) the treadmill. Yeah, yeah, we know. This is always the first tip when talking about winter running. But the treadmill really isn't so bad, and it is a great alternative to missing a run. Bust boredom with pick-ups or a fartlek. Binge watch your new favorite TV show. If all else fails, pretend you are sweating through a workout on a tropical island.
Misery loves company. How many times have you gotten dressed to run, only to sit around in running clothes, prolonging your trudge through the cold? When you have a running buddy waiting for you, it takes away any excuse to put off your run. So make as many running plans as you can! An added bonus of running with others is that you can complain about the weather. No one weather talk more than runners!
Invest in wool wicking socks. This may seem silly, but it can be a life changer for your cold weather running. Your hands may freeze, your nose may run, but your feet will stay nice and toasty, even when traversing through slush puddles
Cross-train. Remember that strength training/ab routine/yoga workout you wanted to start? Now is the time! You can stay warm with these indoor activities. Cross-training also will add strength for spring races. Try our 30 Day Strength Training Challenge. Chasing your kids down a sledding hill or shoveling your driveway totally counts as cross-training too.
Bribery. We all do this. Making the promise of a hot cup of coffee or a great breakfast at the end of a run is a reason to get moving. Up the stakes and plan to end your chilly run at a place that serves delicious food. Just remember to bring an extra sports bra so you don't freeze on the way home.
Take it easy! Don't be afraid to slow down on your runs. These conditions require runners to exert more effort; don't be upset if the pace seems more relaxed than usual. But also take it easy on yourself! Snow and ice can hamper the best-intentioned training plans. Don't beat yourself up over an unexpected rest day. We can't control the weather but we can control how we adapt for our next run.
If all else fails, we can just move to San Diego.
What are your tips for winter running? Are you living in warm weather location and want to make us jealous with your gorgeous running pics? Tweet both tips and photos to @womensrunning.