Follow These Time-Saving Tips For A Lunchtime Workout
With a bit of planning, you can leave your desk for a lunchtime workout! Here's how you can successfully have a mid-day sweat session.
Heading out the door? Read this article on the new Outside+ app available now on iOS devices for members! Download the app.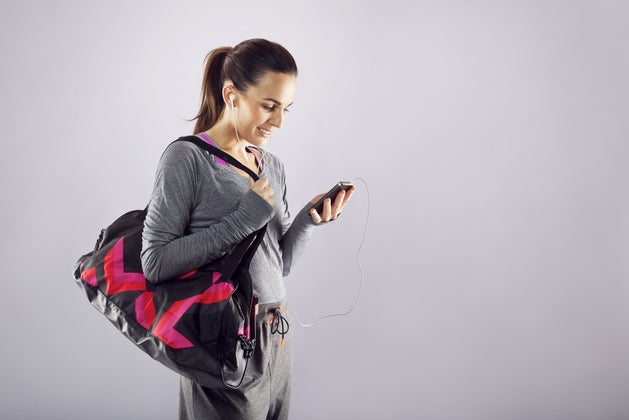 *Courtesy of POPSUGAR Fitness
The best way to combat work-related weight gain—not to mention on-the-job stress—is to work out in the middle of your workday. We know cramming a sweat session into your lunch hour often involves some serious logistics, but with a little planning, leaving your desk at noon won't create stresses of its own. Here are tried-and-true tips to help maximize your workout.
Before Heading to the Gym
Time your meals and snacks so your stomach is not growling or stuffed when you hit the gym. Between one to two hours before working out, have a carb-packed snack. Think of it like a mini second breakfast: a little granola with skim milk or some trail mix.
Save time by wearing workout wear that easily doubles as everyday clothing to skim minutes off your pre-workout locker-room time. Just be sure to pack fresh clothes for heading back to the office.
Power walk to the gym to jump-start your warmup and get the thought of working out in your mind. I use this time to take off my jewelry and put on my heart-rate-monitor watch.
Locker-Room Prep
Having a well-organized gym bag—we like 'em with lots of pockets—can seriously cut down on the frantic nature of a quick change. I also know exactly where to reach to find my Word Lock, which I consider a time-saver too. The one-word combination is much easier to remember than three pairs of numbers.
If you have long hair, opt for a cute braided up-do that works for both the office and the gym. A well-placed braid will save time before your workout—no fussing required to put your hair up. After your workout, you can skip the long washing and drying routine that keeps you stuck in the locker room. Here is one of our favorite braided 'dos for different types of sweat sessions.
The Workout
Most gyms offer quick and dirty 30- to 45-minute fitness classes between 11:30 a.m. and 1:30 p.m. Since the CDC recommends 30 minutes of exercise five days a week, these shorter classes help fulfill this requirement and get you back to your desk quickly.
Multitask! Find a circuit class that will keep your heart rate elevated to burn calories while you strength train to build muscle.
Go intense! Head to an abbreviated spin class. Indoor-cycling teachers can pack a calorie-burning workout into three-quarters of an hour.
If you're in a cardio mood, maximize your treadmill time with interval workouts. Playing with the speed burns more calories than working at a steady pace. Need some guidance? Here are some interval workouts.
Getting Back to Work
Let's face it, getting in line for a shower during the lunchtime rush is almost as competitive as finding a spin bike. Once in the locker room, don't waste time changing out of your clothes. Grab a towel and head directly into the shower line before it grows too long. Just strip down right before it's your turn to clean up. I also like to use my time waiting in line to stretch, which is much easier in workout wear than a towel.
It also pays to pack a nutritious post-workout lunch the night before. This not only saves time (and money), but also ensures that even though you may be rushed, you're eating the proper amounts of carbs and protein to recover from your quick sweat session.