12 Tips To Get Out Of A Running Rut
Find your motivation to lace up and get out there.
Heading out the door? Read this article on the new Outside+ app available now on iOS devices for members! Download the app.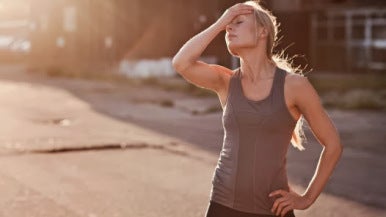 *Courtesy of RatherBeRunnin
I am in a bit of a rut at the moment.
MERP.
Remember how I said that it was officially time to get my sh*t together? Well, I was not kidding. I ran 5 miles last night, IN THE RAIN, IN THE DARK, AFTER WORK, AND IT WAS WINDY. It was a combination of all things I hate.
But I did it anyway! It wasn't a good run in any sense, but I put in the miles… and for now that is all that matters.
I must mention that I just bought a Nathan Zephyr Fire 300 Hand Torch from Running Warehouse, and it is awesome!
I bought it with the hope that it will eliminate ALL excuses to not run after work.
On that note, I thought this would be the perfect time to talk about some ways to get out of a running rut.
LET'S DO IT!
Buy some new running gear. Duh. A new GPS watch, a shiny running vest or some new kicks… these are great excuses to force yourself out the door. I mean obviously you have to try them out some how!
Go shorter and faster. For some runners, racing the same distance over and over is awesome, but it can begin to feel like a scene out of Groundhog Day. As you're setting your goals for the New Year, include a variety of race distances.  As I just did with the Hot Chocolate 15K.
Buddy up. Research has shown that social exercise not only inspires you to run longer, but you'll also push harder within a group environment. If you've been a lone wolf, consider heading to your local running store, gym, or find running club meet-up.
Schedule a runcation. If you normally just run in your neck of the woods, schedule a race in a new destination. This is a great way to combine your vacation (or give you an excuse to take one) with a race.
Attend a running themed Twitter chat. If you are anything like me, you LOVE talking about running… but all of your friends are sick and tired of hearing about your next race, or your latest gadget. Twitter chats, like those presented by BibRave (#bibchat – every Tuesday at 6 PM PST) are a great way to meet new running friends and rejuvenate your soul, while talking about your favorite past time.
Put together a new training plan. Training plans really get me excited to run. I love checking off my runs each day and I feel like a major chump when there is a hole in my training calendar because I flaked out. This visual calendar from

ilovetorun.com

does just that!
Run naked. Not literally though. This was a great suggestion from one of my readers, PixieAnnie, to ditch the GPS watch. This will remove the focus on time, pace and distance. and allow you to run freeeeeeeeeeeeeee. I agree! This is a great suggestion.
Pick a Goal Race. Sometimes it is easy to fall into a rut if you are not training for something. Pick a goal race, and it doesn't have to be a big one. A local 5K can be just as strong a motivator as a marathon.
Raise some mo-nay. Another way to add purpose to your running is to fund raise and run for a cause. Knowing that your miles will make a difference for someone can be a huge motivator.
Change it up. Maybe your lack of desire comes from boredom. Do you run the same route or collection of routes all of the time? That can get old. Schedule a run where you drive to a new location- run on a trail, along the ocean, or head to the track and run a few laps there. Who knows, you might find some hidden motivation along those trails.
Hit the gym. If your rut is a result of over training, an activity change can be helpful. Try something new- a group class, Yoga, spin, Pilates- all of these (along with many others) will help build strength while you're not running and give you the mental break that you might need.
Go streaking. Again, not literally. Signing up for a RunStreak with Runner's World, or the US Running Streak Association (yes, that is a THING) can help shift your focus towards consistency. Many online challenges provide a community and with it accountability- it might be exactly what you need to get your mojo back.
As a few of my readers mentioned yesterday in the comments section of my "I'm in a Running Rut!" blog post, ruts are a part of running. Everything in life has a natural ebb and flow. Running is no different.
Remember: just because you don't feel like running right now doesn't mean you won't ever feel like it again. Moreover, being in a rut doesn't make you a bad runner.
Take it in stride (pun intended), give yourself a mental and physical break, and then once that break is over, do what I did. Make a declaration to yourself (and the Interwebs if you are like me and need some accountability) that it is time to get back to it.
Pick a few of these tips to try. Lace up your running shoes and get back out there!