6 Things I Consider When Choosing A Running Coach
The Runner Beans is looking for a new running coach, and these are the 6 factors she is keeping in mind during her search.
Heading out the door? Read this article on the new Outside+ app available now on iOS devices for members! Download the app.
I'm currently in the process of looking for a running coach. I'm by no means an expert runner, but I don't think it should be just the pros that have running coaches. A coach is someone that helps us improve, develops our strengths and works on our weaknesses. Whether we want to run farther than ever before and tackle an ultra, run back-to-back races or earn a BQ, a coach can help us achieve our goals.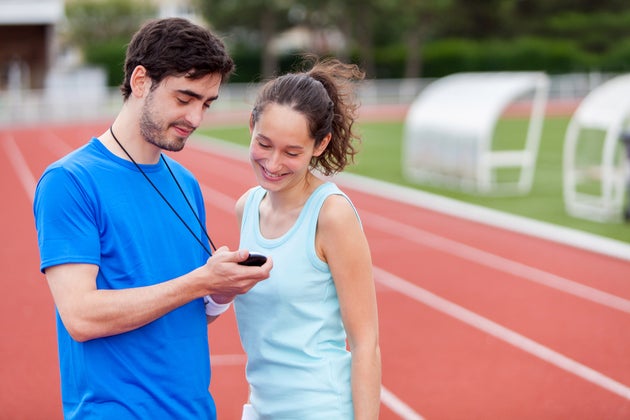 What To Look For In A Coach
Someone that knows their stuff. Obviously. When I was training for the NYC marathon a few years ago, I picked a coach with speciality knowledge of the course who could provide amazing race-day advice and meet me the previous day for a shakeout run. I loved the personal touch to both my training and the race itself. Now I'm aiming to run a BQ (and complete 3-4 spring marathons!) so I am looking for someone fast, that can help me through the long long training.
Testimonials. What do other people think of this person as a coach? The main coach I'm considering at the moment is a coach of a runner I hugely admire—and to have a personal recommendation from her is huge!
Their style and approach. If you like running 6 days a week, but your coach prescribes to a different method, then it might not work between you two (however it might be just the thing to improve your speed). I am not a high mileage runner; it just doesn't work for my body and I know from experience (and injury). I need to prioritize cross-training and strength work too, so I'm looking for a coach with that mentality and expertise.
Someone you're a little scared of. This might just be me, but I want a coach that I won't want to admit that I missed workouts for no good reason, a coach that I'm a little nervous to give excuses to. Of course I need to be open and honest with them in order for the partnership to work and to be able to go to them with real issues, niggles and injuries. When I just don't run because of a hangover, or it was hard, I don't want them to go easy on me!
The cost. What do they cost, can you afford it, and can you justify the monthly/annual expense? For me, I think I take their advice all the more seriously when I'm paying for it and am less likely to sit back and do my own thing than when it's a generic plan. For that reason, I would rather pay more for a personalized and updated plan than a 16-week pre-written marathon training plan.
Contact. How much contact will you have with them, and in what form? Will they update a Google spreadsheet, e-mail over your weekly plan or chat with you over Skype regularly? How much feedback from you will they take on board? I like to tell my coach how things went in a little message straight after a run—even if it's at 5 a.m.!