360 YOU: Using a Race Strategy to Have a Successful Race
As our 360 YOU pro mentors say having a successful race day is all about eliminating potential stressors. Thinking through your race strategy ahead of time will help you prepare for the variables in the race.
Heading out the door? Read this article on the new Outside+ app available now on iOS devices for members! Download the app.
Making it to the starting line of any race is half the battle. With the weeks of workouts behind you, you are ready to put your training to the test and put it all out on the race course. But, even if you nailed all your workouts and followed the most effective training plan, your race performance can fail to live up to your potential if you don't execute a good race strategy.
A race strategy is a roadmap for how you envision the race to unfold. It gives you a game plan for what pace to run, when to switch gears, and even what to do if you aren't feeling well along the way. 
Keep reading to learn what factors affect your race strategy, how to make it effective, and if and when you should change your strategy mid run.
What Exactly is a Race Strategy?
A race strategy is a tactical plan for your running race. It refers to how you anticipate the pacing, competing, and energy partitioning throughout the distance you are racing.
Your race strategy can also include how you will handle your nerves during the race. Atalanta NYC's Mary Cain recommends picking three words you can come back to for inspiration. But not just any words, she has three key categories she relies on:
"A person or group that will make you smile to think of."
"A word that reminds you of your awesomeness (i.e. brave, fierce, daring)."
"A form cue (i.e. breathe, relax your shoulders, smile)."
As Cain notes, there will inevitably be rough patches in any race and you should have an idea ahead of time how you will handle them.
Factors That Will Impact Your Race Strategy
"Routines and rituals can allow peace in the process, and I personally love them as a calming technique," says Atalanta teammate Jamie Morrissey. She does her best to stick to the same drills before every workout and race, for example.
"But I would caution against being too rigid in the specifics. Sometimes there are uncontrollables that pop up on race day and you just have to roll with it and adjust," she says. "Maybe that means doing two less strides before your race, or one less bathroom trip."
These variable factors can impact how the race will unfold for you. Get to know the other factors that can impact your race strategy:
The race distance.
The distance of the race plays a major role in the most approachable race strategy. For example, you can have a more aggressive pace and racing strategy when running a 5k compared to a marathon. 
RELATED: They Can Get You Disqualified, But are Thicker Shoes Faster?
Your racing experience.
Your experience with the distance you are racing, as well as overall running experience, should influence your race strategy. When it's your first race ever, or even just your first attempt at a new distance, it's usually best to adopt a more conservative race strategy than if you're a seasoned veteran at the distance. 
Moreover, if you've previously raced the same distance, you can use the lessons from that performance—what worked and what didn't work well—to inform your race strategy for your next try. For example, if you went out too fast in your first 5k and ran out of steam in the last mile, you can modify your race strategy in your second attempt at the 5K to try and run negative splits (faster second half of the race) and see if that type of race strategy helps you get a personal record (PR).
Your goals.
Your goals for the race impact your race strategy because they set the target. Essentially, your goal is the destination and the race strategy is the road map to get there. If your goal is just to finish the race, your race strategy may be to run as even splits as you can, but to not worry about pace; simply focusing on effort to guide you instead. However, if your goal is to set a PR, your race strategy will probably need to target splits that will yield a faster finish time than your previous performances.
If you're racing for places, such as hoping to finish in the top 5 females in the race, your race strategy will have less to do with pace and more to do with sticking with the pack of competitors and finding a point to break away.
Your fitness level.
Your fitness level and how your training went for the race will dictate your confidence going into the race and the most appropriate pacing and race strategy to use. If you are feeling like even just completing the distance on race day will be an impressive feat, focus on simply doing that. 
However, if you nailed all your workouts and you've been doing intervals and threshold runs that indicate you're in shape to smash a fast time, dare to push yourself and run a more aggressive race.
How you feel on race day.
It's happened to all of us, from beginners to elite runners: race day comes and your stomach hurts, or you have a little cold, or you feel achy and exhausted. Sometimes, our race strategy has to accommodate less-than-optimal energy or health levels when we toe the starting line.
And nerves ahead of race day can sabotage your energy level if you don't know how to manage them.  "I know it can be difficult, but try not to think too much or stress about the race in the days leading up to it as you will waste valuable energy and probably compromise your sleep," says Atalanta NYC's Aoibhe Richardson, who is gearing up for her race of the season. She recommends thinking through your nerves and writing them down before bed so you are not dwelling on them while you are trying to get your much-needed sleep.
Morrissey also notes that nerves are nothing to be scared of and are a sign that you're about to do something you care about. "Trust this feeling of mixed nerves and heightened care. Try your hardest to be grateful for the big feelings and your body allowing you to do something extraordinary," she says.
The weather.
The weather conditions can definitely throw a wrench in a race strategy. For example, if you get to race day and it's extremely windy, it may make more sense to tuck in behind a large pack for at least the first half of the race to conserve your energy rather than running your own race and breaking out on your own based on how you feel.
In another example, if it's unseasonably hot for an early spring half marathon and you've only been training in cold winter weather, you might want to rethink your race strategy and run a more conservative first half of the race and then reassess how you feel. 
Tips for Creating a Race Strategy for Your First Race
If you're a beginner runner and running your first race, congratulations! There are a few things to keep in mind for race strategies for beginners:
Be gentle on yourself.
Your goal should be to finish the race and to enjoy the experience. Particularly if it's your first time ever trying to run the distance without stopping, celebrate that as the goal and use the race as an exciting opportunity to honor yourself for the hard work you've done. Don't worry about pace; run by effort, or simply use the pace you've been using in training to guide your race day pace. Finishing is fantastic.
RELATED: The Top 5 Reasons You Experience Nausea After Running
Start out slower than you think.
You're apt to have a lot of nervous excitement on race day morning and adrenaline will be coursing through your blood vessels. With all the hoopla of music and the crowds at the starting line, it's nearly inevitable that when the starting gun finally fires, you'll feel like blasting off the starting line. Resist the urge.
Even if it feels like every other runner is sprinting past you, run your pace. It will feel slower than usual because the excitement of the race atmosphere will energize you. However, trust us—you'll be glad you started slowly because you'll be passing the over-eager runners before you know it.
Try to run even splits.
If it's your first race, running even splits is often the best race strategy because it helps you conserve your energy and feel strong throughout the duration of the race.
Include a warm-up.
If you're about to put it all out on the road, you don't want to go in with cold muscles. Know ahead of time when, where, and how you can warm-up before you make it to the start line.
"Make sure to practice your warm-up and drills ahead of race day so that it comes second nature to you on the day," says Richardson. "Having a familiar warm up routine will be a reassuring ritual on race day and should not require any additional mental energy."
Should You Stick to Your Race Strategy or Can You Change It?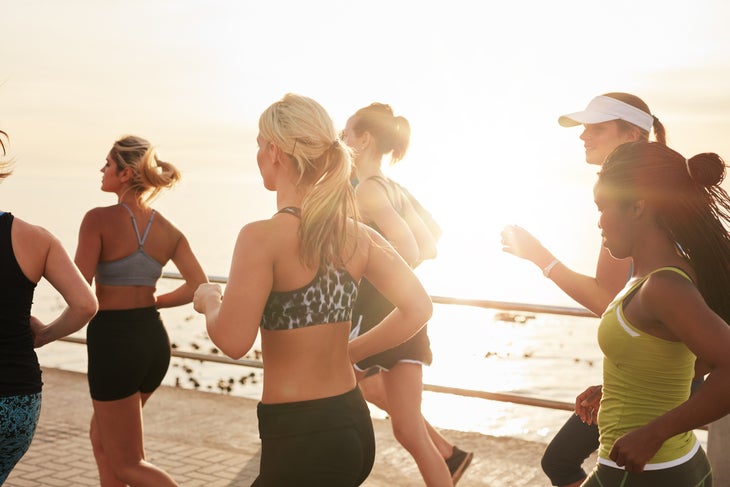 Just as we sometimes need to take detours or reroute our driving plans based on traffic, road closures, and the need for an emergency bathroom break, successful racing requires flexibility in your race strategy. In other words, think of your race strategy as an editable plan. You hope to carry it out, but it is subject to change.
Factors such as the weather, GI upset, a muscle cramp, or poor pacing can necessitate a sudden change in your race strategy or you may need to abandon the race strategy altogether. 
For example, if you planned to run negative splits in a 10k, but you got caught up in the excitement of the start and went out way too fast, you might find that you're pretty gassed by the halfway mark and need to dial back your pace for a mile or two to conserve energy. Keep an open mind and a flexible attitude. A key element of all the best strategies is that the runner is open to modify them as needed.
With that said, there's one caveat: You have to be honest with yourself. Don't let your tired brain convince your body that you have to slow down. If your plan was to run negative splits and you get to the halfway point and feel tired, don't let your mental fatigue try to coerce you to slow down if you're able to stick with your pacing plan. Races are hard for a reason. Sometimes the mental battle is harder than the physical one. Pull from all the hard workouts you've done; you'll be so proud if you see it through and give the race your all.
Remember, a race strategy is designed to help you have a successful race, but you get to determine what "success" is. 
RELATED: Master the Mile: One-Mile Training Plan
---
This article is part of our three-month 360 YOU program, available free in its entirety to Women's Running members. Find out what the program is all about here or head to the collection page to dive into the available training and inspirational content.