6 Race-Day Stories That Will Restore Your Faith In Humanity
These six race day stories show the running world for what it is: a supportive community that embraces all new members.
Heading out the door? Read this article on the new Outside+ app available now on iOS devices for members! Download the app.
As a new runner who was shrouded in insecurity, I used to feel like an outsider. I convinced myself that in order to belong to the running community, I had to prove myself. So I ran alone and whenever I found the courage to show up to an organized race, I kept my head down and avoided eye contact with anyone who looked comfortable in spandex.
Today, I know that the narrative I wrote for other runners couldn't have been further from the truth. It's hard to find a community more supportive and inclusive than the running community! It doesn't matter how slow or fast you are: all are welcome and embraced with open arms.
Don't believe me? Here are six race day stories that will restore your faith in humanity.
Related: Girl Talk: Running Inspiration
Lisa McCurdy, @Lisa790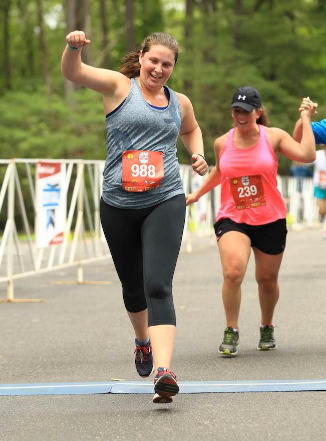 "This summer, I set out to run a sub-60-minute 10K in the middle of marathon training. Race day was in July, it was hot as HELL and the course was a double 5K loop which is literally the WORST. On the back half of the second loop, I was SO done with what was going on, so I stopped to walk. Behind me, I heard, "That's good, play it smart, walk it out, you got this!" from someone I didn't know. She had been pacing about the same as me through the race and had been encouraging everyone around her, not just the other two friends she was running with—big smile, high fives, the like.
"I got used to hearing her voice behind me through the first 4.5 miles but didn't have a chance to see her. I was at the end of my rope and she jogged up just behind my left shoulder. Her words gave me a boost that got me back into a jog, then a run, and I crossed the finish line about 15 seconds ahead of her, in just under 58 minutes. When I turned around to find her and finally see her face, she was already there with a high five and a smile as she herself crossed the line!
"Turns out her name was Beth; she was running the 10K for the Brigham and Women's Hospital of Boston. I didn't ask, but judging by her appearance and haircut, I assume Beth was either in treatment or recently in remission from something, and best guess is it was probably at Brigham and Women's. But, despite running what I imagine must have been a really challenging and probably emotional race, Beth spent her 6.2 miles lifting up everyone around her–including me!"
Anusree Banerjee, @anusreeb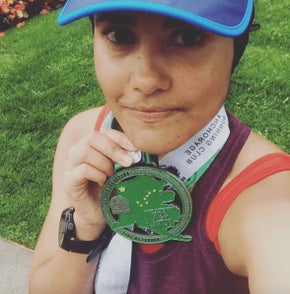 "A couple of weeks ago, I was in Anchorage, Alaska, for the Anchorage RunFest 49K Ultra (30.4 miles). I was in great shape, I managed to maintain a decent and consistent pace for a back-of-the-pack runner, and everything was excellent (I even saw a family of moose at mile 9).
"Then, at mile 29, I missed the turn that would take me back to the finish line (it was an out and back course). I kept going, wondering why the race wasn't ending. I then realized that I'd run 1.5 miles in the wrong direction (I'm from New York City, so I wasn't familiar with the course). I started to run back frantically. I was on the verge of tears because I was nearing the course time limit. I then bumped into these two runners and asked for directions and whether they could run with me to the right spot. Not only did they give me directions, they also ran all the way to the finish to let the race organizers that I was out there.
"As I made my way to the finish I got the warmest welcome from the volunteers. Someone gave me a hug, and someone else gave me an 'honorary' 5K medal for running those extra miles. The race was supposed to be 30.4 miles long, and I had run more than 33 miles in total.
"I don't know if I made it on the official finishers list, and I don't really care. I don't know the names of the runners who helped me that day, but I've learned so much about the selflessness of other people, and about my own abilities as a runner. I know I'm going to pay it forward someday.
"The running community is truly awesome! Let's do everything we can to keep it that way."
Bryn Peterson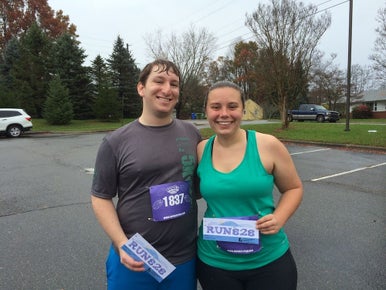 "Two years ago, I was running a 5K on a cold, rainy November day. I woke up sick. I didn't want to be there. I was struggling up a hill and stopped to walk, feeling pretty miserable. A woman in her early 70s came up to me and said, 'You're still going to finish before all those people who decided not to get out of bed this morning.' It gave me the strength to start running again.  
"I finished, slowly, and managed to place third in my age category! Later in the parking lot, the woman found me and introduced herself, and told me about a local running club that I ended up joining. That one comment sparked a love of running. I'm still learning and improving. This August, I reintroduced myself, told her that she had convinced me to focus more seriously on my running–and she cheered for me as I PRed in my last 5K. I am so grateful for the kind, helpful and encouraging people in my running community!"
Leona Foxworth, @TheAthenaAthlete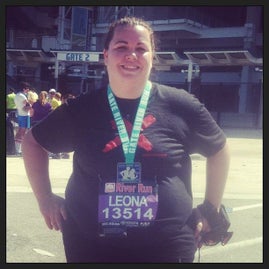 "During my first and longest race ever, a 15K, the race included two bridges. One was a grated drawbridge–and I have a huge and very irrational fear of bridges. Two miles into the race, I came to that first bridge and I had a panic attack. Two amazing women grabbed my hands without even saying a thing and sprinted with me over the bridge. We ran for the next couple of miles together. I was on the verge of turning around and going home prior to them grabbing my hands and getting me across that bridge. That race was one of my proudest moments ever and I would not have completed it without them."
Jamie Walter, @jamie24601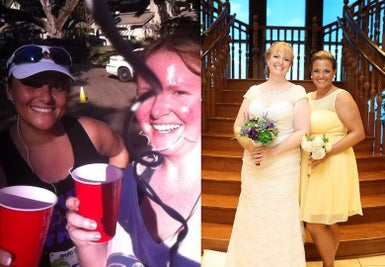 "I was at mile 3 of my third half marathon (the 2013 OUC Orlando Half), and I was riding the struggle bus hard. As a back-of-the-packer, I'm used to being alone toward the end of a race, but this was a fast course and there was almost no one else around after the first mile. I had been leap-frogging another girl running about my pace, and finally asked what intervals she was running. Turns out her watch had died, so she was just counting cones. We decided to stick together for a while and see how it went.
"By mile 10, we were drinking mimosas and taking selfies with Orlando police. By the end, we had exchanged phone numbers and were Facebook friends. A few months later, we traveled all the way to North Carolina to do a half marathon on a Marine base. When I decided to sign up for my first full marathon, the Walt Disney World Marathon in 2015, she said, "I hate that course, but I don't want you to do your first full by yourself," and she registered that day and ran the whole thing with me.
"Last month, she was one of my bridesmaids.
"I owe so many race finishes to strangers whose brief interactions have carried me through…but my life is infinitely richer because Jackie and I met that day!"
And finally, my story.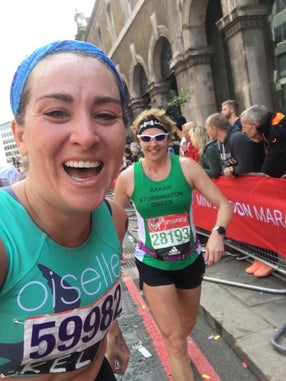 I can't remember a race that I've run where I didn't find support and help from the people around me. During my first half marathon, I was about to quit at mile 11 when another runner ran up beside me and asked if we could run together because she was starting to struggle. She may have reached out for help because she was struggling, but it was because of her support that I was able to cross the finish line of my very first half marathon.
Most recently, during the 2017 London Marathon, I had spent a year working to shave 25 minutes off of my marathon time in an effort to qualify for the Boston Marathon. A month before the race, my piriformis muscle blew up and I realized that I may not get the race that I thought I deserved. Come race day, my worst fear became a reality.
Related: Quitting Is Always An Option–But So Is Going Forward
At the 10K, I started looking for curbs to trip over so that I could DNF without having to say I'd quit. I spent another 10 miles trying to find a way to enjoy the race. I was miserable and death marching my way toward the finish line. Finally, I ran up beside a woman and asked if I could run with her. She obliged and, together, we commiserated over our terrible days and went on to offer support to the other runners around us. We gave high fives, laughed and talked about why we ran. Her name was Sarah and it's because of her support that I remember the London Marathon with a smile. Without her help, I don't know what would have happened. I honestly don't think I would have made it to the finish line without her.
Whether you're a new runner or someone who has been running your entire life, we all can benefit from the support of the people around us. The next time you toe the line of a race or find yourself halfway through it, keep your eyes peeled for someone who needs a helping hand and introduce yourself. You never know who might become a friend for life. We're always stronger together.
Until next time, #RunSelfieRepeat.
Related:
25 Fun Half Marathons You'll Want To Run This Year
These 6 Women Reflect On Week 3 Of Their Short 5K Training Plan