#CbadCait: 4 Recovery Week Problems From A Marathon Newbie
Less mileage and a stressful week made Caitlyn solve some problems with her training.
Heading out the door? Read this article on the new Outside+ app available now on iOS devices for members! Download the app.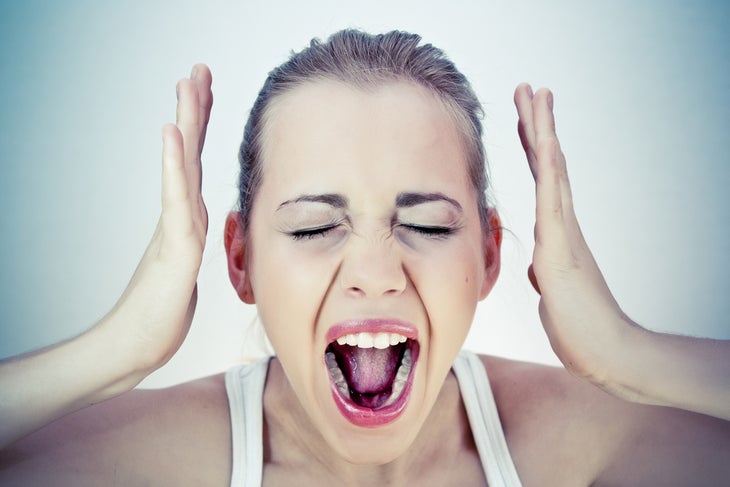 Ah, the lovely recovery week. My wearied gams discovered that tapering during full training is much, MUCH different than sort of, not really tapering for a half. In other words, mileage still makes you tired, but less time in your running shoes makes you go insane. Womp womp. Lucky for me, one of my craziest weeks at the Women's Running HQ happened this week, so even the slight adjustment in weekly mileage was appreciated (kind of).
In honor of shortened mileage, I will keep this brief. Here are four things that mocked me this week—and my self-made solutions to each of them:
Problem: I still want to eat everything. Food is not running. Therefore, eating everything in sight does not replace the 4-5 miles you shaved off your Thursday morning sessions. But it needs to be crunchy. I want something crunchy. 
Solution: Instead of noshing on Fritos for every meal, I grabbed an easy package of green beans—something I've admittedly never eaten for a snack. The crunch satisfied that strange need for a loud chew, and the veggie sugars tickled my sweet tooth in all the right spots.
Problem: I'm more stressed out. I can't totally blame an influx in work tasks for my on-the-edge demeanor. It's no coincidence that I'm going to bed with my work laptop and feeling an incessant need to respond to every email and text as soon as the digits change to 6:00 a.m. Last night I realized that I only saw my boyfriend once this week, and we live four miles from each other. The extra hour every morning just wasn't cutting it for me.
Solution: Breathe. But really, $%&#ing breathe. Sometimes I just needed that reminder. A colleague and marathoner helped calm my jitters by simply offering a pep talk and yes, telling me to CALM DOWN.
Problem: Motivation declined by Friday. Due to the previous problem and an unexpected soreness from Thursday's Pilates/yoga mashup, I slapped snooze and fell back asleep instead of hitting the pool. This caused some mental foreshadowing: Is this going to be a problem for the next eight weeks leading up to race day? This cannot be!
Solution:First, we all know throwing back warm blankets when the temperatures drop is more mental than anything. Friday's quick fix: going nocturnal instead and still getting the 1-miler in at the pool. You know your body. If it's really calling for some extra rest, listen to it. Pack your gear for a post-work jaunt. If it's simply overcoming that internal lazy bum and her excuses, you have to force the issue. Many friends have asked me how I find the energy to rise early almost every morning and pound out double-digit miles. The only response I give: You force yourself for two weeks, then it gets easier. Dose of your own medicine, Cait.
Problem:I feel out of shape. It is only a recent development for me to feel confident as a runner. I can be extremely hard on myself, and I knew that would be my biggest struggle during this training. However, minimizing mileage brought back some dusty feelings of inadequacy I wasn't expecting. To a normal person, the insecurities make zero sense and sound eye-roll worthy. But to me, I've felt especially lame these last five days.
Solution: Social media—true story! There's plenty of mixed opinions when it comes to Twitter sensations and Instagram queens that share their every running move. But perhaps the critics out there simply have more inner confidence than I do. One of the blessings behind this industry is how connected you become with avid runners—women who share similar issues and aren't afraid put them on blast to their entire network of #runnerds. To all the bloggers and social media fiends—your feeds, Tweets, photos and existence got me through this week of eating way too many brownies.
What struggles have you faced during marathon taper weeks? Tweet @caitpilk—it will help me get through my next three-week training circuit!