Putting on a Brave—and Teary—Face: Sorting through the Emotional Wreckage
Dimity McDowell helps runners sort through the emotional load of no longer being able to run in her 'Not-Running-Anymore' support group
Heading out the door? Read this article on the new Outside+ app available now on iOS devices for members! Download the app.
This article part of our ongoing series at Women's Running by Dimity McDowell, offering support to runners who can no longer run. 
After I was diagnosed with my first stress fracture in my foot—I was training for a comeback marathon after having kid #2—I did two things. First, I broke down in front of the doctor. The tears didn't stop until I hit the Wendy's drive-through. Second, I ordered myself a Frosty, in the hopes it would freeze out some of the pain.
Seventeen years later, I'd still rate both soothing techniques a 5/5, although the tears may have been slightly more effective than the Frosty.
A skinned knee, broken toe, a chronic aching hip, or any other injury naturally summons tears, so when your running injuries accumulate to the point of no return? Let those salty rivers run, friend.
RELATED: When You Can No Longer Run, Welcome To The 'Not Running Anymore' Support Group
"In some ways, losing running is a bigger loss than losing a friend you see only once a year," says Dr. Haley Perlus, a sport and performance psychology expert based in Vail, Colorado, "You're losing a companion you probably see 3 to 7 times a week." What's more, you see the ghost of that companion everywhere: in the grocery store, when she, clad in sweaty Oiselle gear, is pushing a cart down the frozen aisle; in the face of your alarm clock, when it goes off at 5:45, your normal rise-and-run time; as you drive across a bridge, when she's on the sidewalk surrounded by friends, unwittingly taunting you.
They all can make you tear up, and when they do, Kimberly Dawson, PhD, a professor in Sport and Exercise Psychology, wants you to go deep. "When you feel sad, go there hard. Put on your favorite sad song and have at it," says the owner of Mind2Achieve, adding that when she's working with a track athlete who has a disappointing race, she gives them a time limit of an hour to cry it out. "I want them to get it out of their system so they can focus on what's next," she says.
While crying allows you to process the immediate situation, as you transition out of running, you're also likely going to have to traverse parts of the Kübler-Ross five stages of grief: denial, anger, bargaining, depression, and acceptance. The process, says mental performance coach Amanda Myhrberg, is neither crisp nor well-defined. "And you can ping from one to the other quickly," adds the owner of A Game Sport & Performance Consulting. In other words, it's nothing like an oh-so-satisfying six-mile progression run.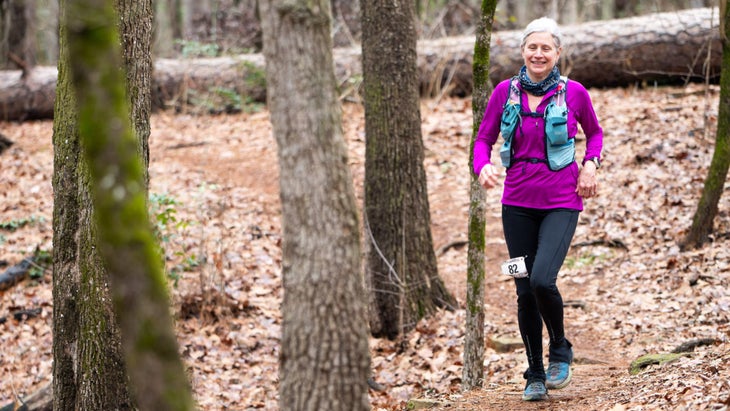 Denial can show up in small ways—post-Frosty, I ran around the block in a different shoe style just to be sure the stress-fracture pain was still there (it was)—or in bigger ones. Michelle Bingham, whose injury resume includes surgeries on four labrum tears and both knees, admits her body doesn't climb hills very well. Nevertheless, she dreamt of her second 100-mile finish line and put her name into the 2022 Leadville Trail 100 lottery and got in. (Her first 100 was the flat C & O Canal 100.) While training, she joined a friend for SCAR (Smokies Challenge Adventure Run): a 70+ mile, 14,000+ foot romp through Smoky Mountain National Park. She fell around mile 20, slammed one knee into a rock, one knee into a root. "It was ugly, ugly," she says, "I finished, but I paid dearly." Sixteen months and two unused Leadville 100 entries later she's been, "completely refurbishing my body," by gardening, coaching, traveling, and otherwise letting herself heal so that she can give running another chance. "I'm not yet willing to accept that my running days are over," she admits.
Guessing the stage of anger doesn't need much of an explanation. Nearly anything, and especially social media, can tip off feelings of resentment. "When I'm out hiking and runners pass me, I want to say, 'Hey, I was a runner too. I did big things too'," says Cathy Engstrom, whose disintegrating knee forced her to retire from running with an unused 2022 Trans-Rockies bib. "It's not like I'm angry at them. The injustice is that my own body has betrayed me, and I'm angry at how it's the one thing standing in the way of my favorite activity." When anger strikes, admit it, says Myhrberg. "When you acknowledge you have an emotion, your brain starts to process it," she says, "It can move through you, instead of getting stuck." Unlike sadness, however, don't go deep. Instead, look for ways to calm and ground yourself. "Take some deep breaths, put down your phone, go for a walk," Perlus says, "You can be angry, but don't let the anger take on a life of its own."
You're likely also familiar with the bargaining stage, which is marked by beginning many thoughts with the word if. I can run again if I promise to do my PT exercises for infinity; if I only run 10 miles a week on flat gravel trails; if I never do another fast set of 400s again. "Being a runner can feel so much greater and bigger than anything you've done in your life," says Dawson, "You're trying to protect that identity at all costs."
RELATED: The Break-Up: Coping with Your Separation From Running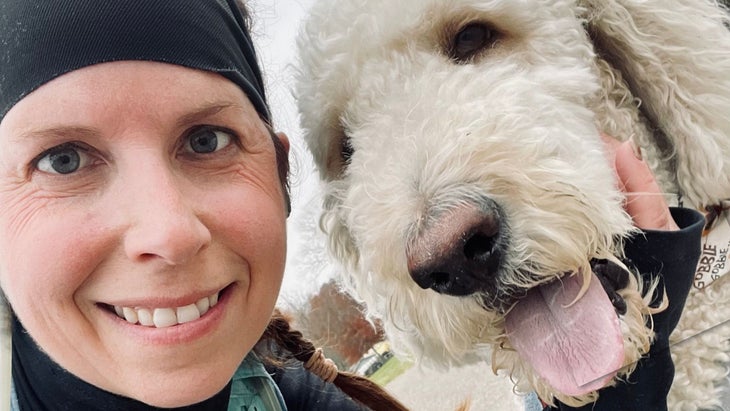 Meanwhile, depression seems to lurk over every thought as you mentally negotiate the circumstances. Knowing a time-related goal would keep her motivated as she rehabbed from both a hip and knee replacement, Gretchen Gibson told herself, "I just need two more months. Then two more months, I'll be ready." Ten months full of two-month goals, she put Miles, her dog, on his leash and gave it a go. Within a quarter mile, she knew she had to abort the mission. "All my optimism came crashing down," she says, "I've been fighting darkness and depression ever since." If you know of the thick fog of which Gibson speaks, a therapist can be a very helpful teammate. I have spent a handful of sessions talking through my loss of running and found both validation and significant relief through (teary) conversations with an objective, yet empathetic, source.
Acceptance finally peaks through the clouds when she's good and ready. It usually isn't an a-ha, I've-arrived moment, but more like a gradual lightening. When you sense more calm in your overall being, it's important to realize, says Myhrberg, acceptance is not a stable podium on which you get to stand on forever. Just last week, when my knees had been cortisoned up and I was wearing a new plush pair of shoes, I was very tempted to throw in a few 30-second running intervals into my walk. What could the harm be? I thought carelessly. And then I remembered back to the frustration and anger, the hours spent on YouTube looking for a magic wand, the chronic pain that ricocheted through my parenting, my marriage, my self-image, my constant exhaustion. "Not worth it, Dimity," I proclaimed out loud, emphasizing the importance of resisting the desire.
How long does this process take? Based on my interviews and observations, I would (unscientifically) say at least twelve months, if not longer. "There are no time rules or regulations," says Dawson, "I only get concerned when the grief lingers so long you're unable to have a productive conversation about it or you're missing opportunities because of your grief."
As Robert Frost and countless country songs have intimated, the only way out is through. Despite what your non-running friends may say, don't minimize things. Talk to people who can empathize and have your well-being at heart. Write out all the things running gave you and then write out all the reasons you are grateful you were able to run. Do that again and again, if need be. "We suffer most when we fixate on what we lost instead of being grateful for what it gave us," says Myhrberg.
And when the need strikes, head to a Wendy's, grab yourself a Frosty, put on re: Stacks by Bon Iver, and cry it out.
Next up: In the next column, we'll help you realize you are still an athlete and how to find new ways to move to lighten the emotional load.
Dimity McDowell is currently working on her next book, Running to Stand Still. Follow her at DimityOnTheRun