Run An Obstacle Race Or Fun Run With These Training Plans
Our training plans will prepare you properly for non-traditional races.
Heading out the door? Read this article on the new Outside+ app available now on iOS devices for members! Download the app.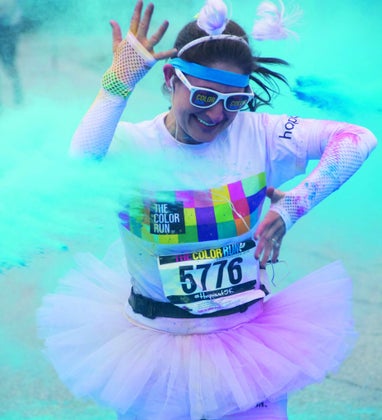 Zombies! Fire pits! Clouds of rainbow-colored paint! Nutty races with crazy twists are more popular than ever. If you have a non-traditional race on your calendar, should you prepare for it using a traditional training plan? Not exactly.
Fun runs are different from a typical 5K road race, and for this reason they require a different training approach. Here are some suggestions for tweaking your workout regimen to get you ready for every foam pit and mud slide that might come your way this racing season.
TRAINING PLANS
Follow the A (beginner), B (intermediate) or C (advanced) plan to get total-body ready for any obstacle event. Add the tweaks recommended below to tackle your specific event.
CITYSOLVE
The official rules for CitySolve events allow teams to use public transportation, so you can complete one of these trivia-based races without running a single step. The more competitive teams, however, cover most of the required distance on foot. If your team is aiming for a top-five finish, you should be prepared to run four to six total miles at about the intensity you would run a road race of the same distance.
You can use the six-week Basic Fun Run Plan to sharpen up for a CitySolve event or as the foundation of your training for any other obstacle runs.
ZOMBIE RUN
These spooky races have three key elements that you'll want to prepare for specifically in your training: change of pace, switching direction and running in mud. Interval workouts (like the ones in the Basic Fun Run Plan) will help your body adapt to running at different paces. To improve changing direction, Williams recommends practicing movements, such as side lunges and lateral bounds (simply hopping from side to side), twice a week. To get your lower body ready for the sticky terrain, avoid pavement as much as possible, and take to the trails in every run you can.
RIDICULOUS OBSTACLE CHALLENGE (R.O.C.)
The obstacles might be ridiculous (think the world's largest inflatable slide and Tarzan swings) but they're still tough! You can get some specific training for the R.O.C. race (or any obstacle race) by going to a playground and acting like a kid with monkey bar swings, pullups, bench jumps and tunnel crawls.
Another way to prepare your body is to make two of your weekly runs obstacle challenges. Turn the world into a playground by crawling under picnic tables, hurdling shrubs and so forth.
SPARTAN RACE
This tough event features all elements of other obstacle races—running, climbing, crawling, hurdling, etc.—plus a couple of signature challenges that you should prepare for specifically.
One of these is burpees, a full-body exercise combining a pushup, double-leg kick-out and vertical leap. They're pretty darn hard but get a lot easier with practice. Practice by stopping every half-mile during easy runs and banging out 10 to 20 burpees.
The second move is a weighted carry in which runners walk between two points carrying a sandbag or a cement block. Prepare with farmer's walks: Take 20 or so paces while grasping a weight plate or heavy dumbbell.
COLOR RUN
The term "run" applies very loosely to this untimed, noncompetitive 5K event. "The vast majority of participants walk most or all of it," says Pete Williams, author of Obstacle Fit.
If you are currently running, there is no need to modify your training for a Color Run. Plus, this race is all about stopping to relish the clouds of pixie dust, so why rush the experience? If you haven't exercised to the point of perspiration in a few months, don't sweat it. Simply use the four-week crash below to get you set.
JUST REMEMBER TO CHILL
No matter how thoroughly you prepare for the specific challenges of any themed run, the event itself is sure to throw a surprise or two at your body and take you outside of your comfort zone. So don't worry too much about perfecting your preparation, and remember on race day to have fun!