NYC Marathon Tips From A Race Veteran
This runner has participated in the NYC Marathon three times and has some tips to conquer the course.
Heading out the door? Read this article on the new Outside+ app available now on iOS devices for members! Download the app.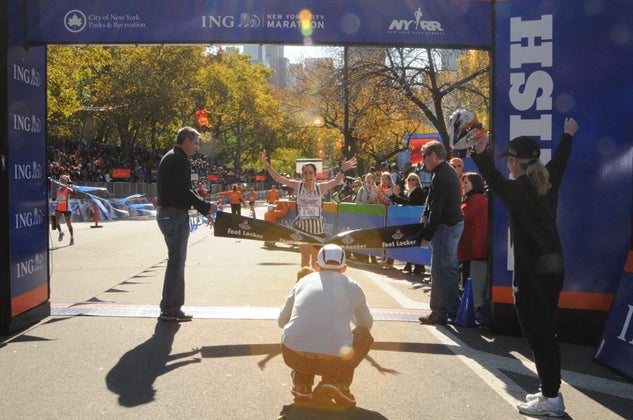 Race day is rapidly approaching. It's that time in training when you are running less miles than you have over the last 12-18 weeks. Race week is always filled with a lot of free time and if you are like me, the decrease in running and increase in extra time often go hand-in-hand with elevated stress levels about Sunday.
But rather than sit around and worry about race day, try to plan ahead and ensure that everything is ready to go. I've run the NYC Marathon three times, spectated a handful of times and have logged hundreds of training miles along various portions of the route, so I'm fairly familiar with the course.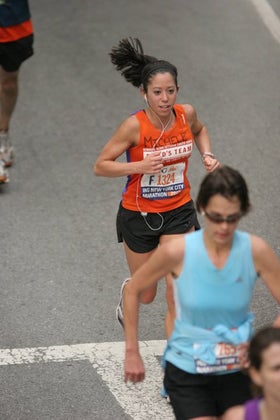 Here are some last-minute things to keep in mind as you get ready for Sunday:
Daylight savings: It occurs Saturday evening into Sunday (so, the morning of the race). The good news is that it gives you an extra hour of sleep!
Better to be overdressed and over prepared for the start village. Right now, low temps on race day look to be fairly mild in the low 50s. But, the start area is beside the water, so it can feel a bit chillier. Bring an old blanket to sit on (so you can rest your legs!) and some throwaway gear that you can wear right up until you start. You don't want your body to be burning calories for 2-3 hours to keep warm!
Leave enough time. There are several security checkpoints you will have to go through to get to Athlete's Village. You don't want to miss your corral closing or the race beginning without you…so leave ample time for the lines to get into the village.
Bring extra food. I always bring more than I need before a race begins. You'll be sitting around for hours before you start running and you may start to get hungry (especially if you are in a later corral). The worst thing you could do is start a marathon hungry. But, ensure you bring food that you have tested before with some long runs.
Know Where Friends/Family Will Be Along Course: Find out what mile marker or landmark—and what side of the road—they will be cheering at. It's motivating to know that you only have to run another mile or two until you can see familiar, smiling faces!
Designate a Meeting Place for Post-Race: If you think the start is hectic, wait until you see the finish. You will have the tens of thousands of runners plus many of their friends and family looking for them. In order to avoid some of the crowds, pick a landmark several blocks away from the finish line of the marathon and have your family/friends meet you there.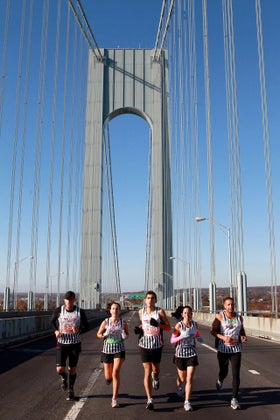 Once the race begins, here are some tips on how to run the course:
Verazzano Bridge – Use the Crowded Start To Your Advantage (1-2): The first few miles are pretty packed. Rather than stress and waste energy weaving in and out of runners, use the slower pace to your advantage, especially as you are running over the bridge at the start. You can't set a PR in the first mile of a marathon, but you can watch it run it away in that first mile if you start too fast. Use those miles to loosen up and get ready for the remaining miles.
Brooklyn + Queens – Find Your Rhythm (3-14): Miles 3-14 are relatively flat with tons of spectators and bands. Use these miles to find a comfortable rhythm—don't let the party-filled atmosphere control your pace! Remember, the pace should still feel easy and controlled at this point in the race. This is when you want to focus on nutrition and hydration. Stick to what you have practiced and planned for.
Queensboro Bridge – Stay Focused (15): I've seen a lot of runners give up at this point in the race. Be ready for the hill. It's not steep, but it's long. And more than halfway through the race. And after a slew of mostly flat miles, the incline is a bit of a shock to your legs. Spectators are not allowed on the bridge so it's eerily quiet after 15 miles of screams, cowbells and music. Expect the quietness to come. Don't pay attention to pace—focus on easy breathing, steady effort and controlled cadence as you climb the bridge. Tell yourself to get up and over the bridge and feel 1st avenue and the spectators pulling you in.
1st Avenue – Soak It In (16-19): This is usually the first time I choke up during this race. There is nothing as amazing as thousands of spectators screaming your name (if you write your name on your shirt!) when you enter Manhattan. The atmosphere is nothing short of a party. Use the energy from the crowd to add some life back into your legs and body.
Bronx + 2 Bridges – Go Time (20-21): It's been said that a marathon can be broken into two parts—the first 20 miles and the last 6.2. The Bronx is where the 2nd part begins. There are spectators, jumbotrons and live music to get you through the infamous wall and back into Manhattan. Be careful going over he bridges—there will be mats down to help with the footing – but balance can be a bit shaky by this point in the race
5th Avenue – Keep It Together (22-24): This stretch can be deceiving. You are getting so close to the finish, but you still have some miles left to run. It's a gradual uphill as well so don't be discouraged if you are working harder or even slowing down at this point. Concentrate on one mile at a time and one foot in front of the other. The crowds are in full force along this stretch as well!
Good luck to everyone running on Sunday. The NYC Marathon is the best in the world (I'm partial!). And I'll be out with my family cheering for all of you!
Read More About The NYC Marathon:
Runner Unable To Do NYC Marathon Due To Cancer Ran Her Own 26.2 Miles
Actor Ethan Hawke Is Running The NYC Marathon