Is The Gamification Of Fitness A Bad Thing?
Making fitness fun with games and apps gets people moving—but is it sustainable?
Heading out the door? Read this article on the new Outside+ app available now on iOS devices for members! Download the app.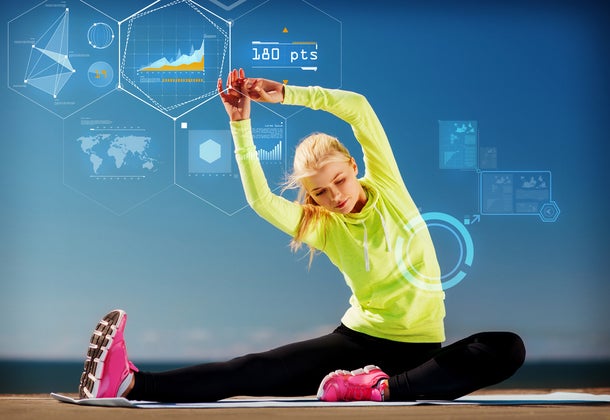 We get it: It's not necessarily fun to exercise. Although it's great to have a mindset where you enjoy being active, many people would much rather spend time relaxing on their couch than hitting the gym or going for a run. That's why the concept of gamification has become so popular within the realm of fitness—it's a way to make working out fun and enjoyable. It also appeals to a generation that thrives on a fast pace and has a shorter attention span. By crossing physical exercise with the motivation and objective of games, the goal is to get the game from the couch to the gym, right?
With the number of apps and programs to gamify fitness currently flooding the market, it remains to be seen whether or not this trend will continue upward, or go the way of other "fun" workout fads in the past.
The Motivation Behind Movement
Video games that get you moving have actually been around for a while—think: Dance Dance Revolution, or Nintendo's Wii Fit, or Just Dance on Xbox. These games all work on the idea that you don't need to go for a jog or head to the weight room to get fit. Not only is this more convenient (and presumably cheaper) than going to the gym, it also makes being active more fun by tapping into the way our brains work when it comes to motivation.
A paper by Richard Stålnacke Larsson for Umeå University explores the idea that gamification works in combination with sports and fitness because sports are based around motivation to reach a goal and get a reward, while staying fit is something people struggle to find the motivation to do.
"Underlying the concept of gamification is motivation. People can be motivated to do something because of internal or external motivation. Internal motivations are those that are driven by our core self, where the person acts because he finds the activity meaningful, even if there is no guaranteed reward," explains Larsson. "External motivations, on the other hand, are driven because the goal will result in external rewards, like cash, social status or achievement points."
Traditional exercise falls under the internal motivation category—that is, if you're willing to be patient in order to see the results. Although the goal of exercise is to become more fit and healthy, that's not something that happens overnight. A lot of people might become discouraged when they don't receive their reward right away, especially new runners. That's why gamifying fitness is so successful; people can receive their reward and get that sense of accomplishment immediately.
Lifehacker explains the psychology of gamification, noting that the rewards system is tied to chemicals in the human brain. "The basic premise is simple: your body releases dopamine when you experience pleasure. This pleasure includes all kinds of things, including rewards…" they say. "Basically, dopamine is your brain's version of a carrot. The more goals you achieve, the more dopamine it releases, and the easier it is to stay motivated. Gamification tries to tap into this by offering you rewards for the completion of small goals." By lighting up the pleasure center of your brain, reaching your gamified goals can actually feel as amazing as nailing a high score in a video game.
Related: 3 Ways To Improve Your Mental Running Game
Avoiding the Pitfalls
Anything that can motivate you to get moving is a positive thing. So since gamifying fitness provides necessary motivation for short-term rewards, why haven't gyms been abandoned in favor of in-home workouts with a video game setup, or jogging along to a zombie-apocalypse app?
Although there's anecdotal evidence that gamification can help people get active, an issue is that it only seems to work in the short term—it can be pretty tempting to get bored of your gamified fitness routine and forget about it. Lifehacker also brings up the idea of "exploitware," meaning companies essentially sell weak games to track success on unmotivated individuals and sell the results.
Having an array of fitness app games on your smartphone isn't necessarily going to get you in shape, unless you put in the effort. The proper use of the tool is in the hands of the user and, as Lifehacker warns.
"Gamification is a tool that might help you achieve your goals. It isn't a miracle worker, and like any kind of tracking, it's more about how you use the tool than anything else. If you aren't motivated, gamification won't get you in shape or lose weight, make you more productive, or make you a better person. However, it can add to an existing foundation that could help you get there, if you want it to."
That's the key to gamifying fitness—it can work for you if you want it to, and if you're willing to accept that it's an ancillary tool to help you get fit, not make you fit without effort. To that extent, those looking to get serious about using tech nudges should consider fitness trackers or replay technology with motion sensors to monitor their movements. By setting your own goals and tracking your progress, you can get that same feeling of achievement and accomplishment without succumbing to boredom.