Get An Inside Look At November Project And The Book
If you've heard of the November Project and wondered—what is that?!—wonder no more!
Heading out the door? Read this article on the new Outside+ app available now on iOS devices for members! Download the app.
What happened when two former Northeastern University oarsmen set a month-long pact to workout through Boston's brutal winter? You guessed it, an international grassroots movement was born.
To celebrate the release of, November Project: The Book: Inside the Free, Grassroots Fitness Movement That's Taking Over the World, I sat down with November Project's hilarious, creative,and mischievous co­-creators Brogan Graham and Bojan Mandaric to get the scoop on November Project: The Book as well as November Project's imminent #WorldTakeover.
Who would love November Project, The Book?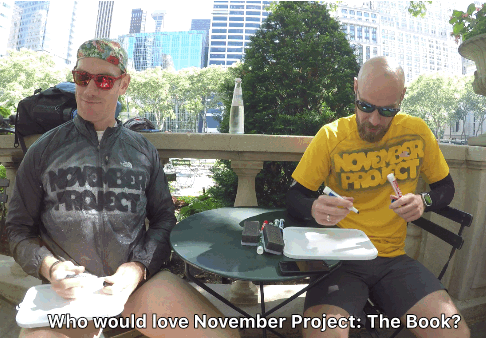 Brogan: "Kevin Hart"
Bojan: "YOU"
November Project: The Book is jam-packed with candid insights into the lives of November Project's co­-creators Brogan and Bojan, creative workouts and secrets to the grassroot movement's virality and success. A fun and energetic read, the book's heart lies in the brave and honest stories from the November Project community woven together seamlessly by co­author and Boston tribe member Caleb Daniloff, that will renew your faith in humanity.
What part of November Project: The Book makes you laugh the hardest?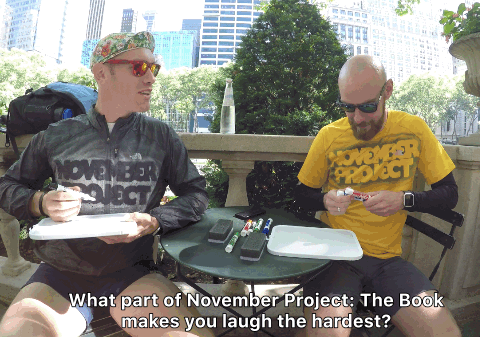 Brogan: "Bojan's section about rowing."
Bojan: "All the parts without BG in it."
Personalities all on their own, getting to know Bojan Mandaric and Brogan Graham throughout the book will make your heart grow three sizes. Two former college jocks who came together to try to make the world a better, kinder, more inclusive and healthier place; what's not to love?
What is your favorite story in November Project: The Book?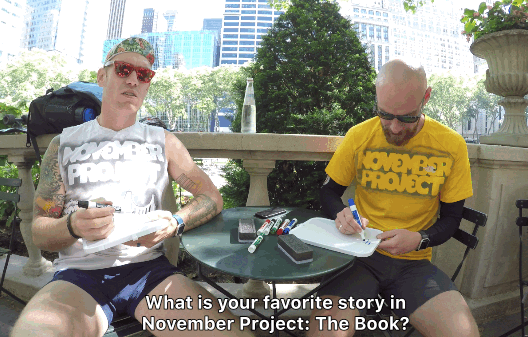 Brogan: "Emily Mandaric's blog post!"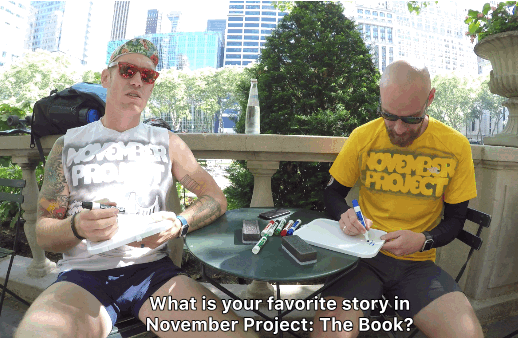 Bojan: "#FastAsSam."
What is your favorite November Project Hashtag?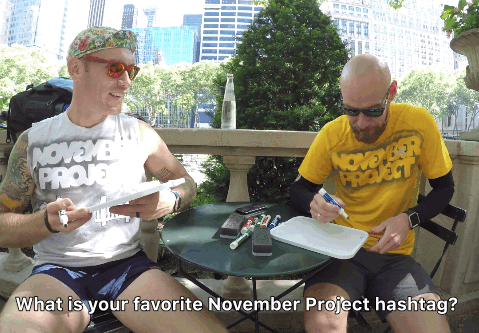 Brogan: "#PaulHonerLeak"
Bojan: "#TheTribeIsStrong"
From their grassroots gear to their creativity on social media, Brogan and Bojan may have been the spark that ignited the fitness 'FOMO' craze. The two would take pictures during each workout of the tribe members crushing stairs or laughing through hoisties (a November Project group squat) and the tribe would share the photos using creative hashtags like #NP_TSA, #RaceEverything, #TheTribeIsStrong, and of course #NovemberProject. As the tribe grew, so did their social media presence.
What is your favorite November Project workout?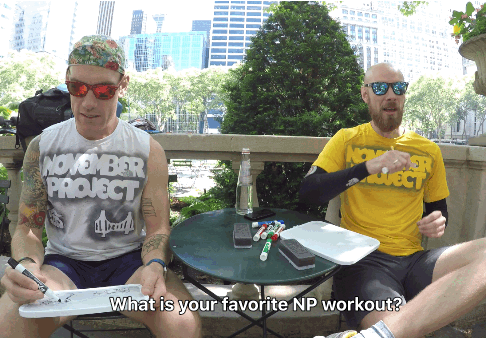 Bojan: "Raceman in Boston. You meet at the bottom of Harvard Stadium…"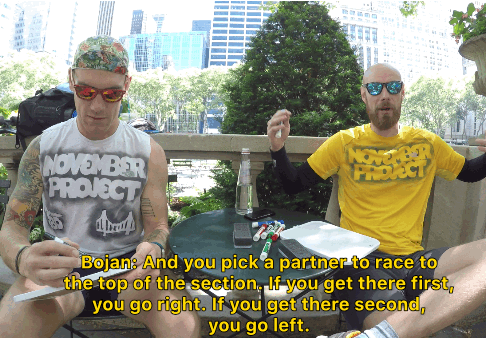 "…and you pick a partner to race to the top of the section. If you get there first, you go right. If you get there second, you go left."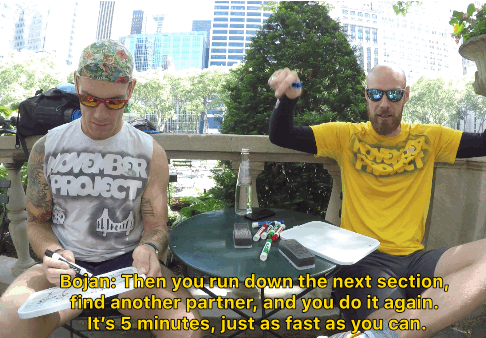 Bojan: "Then you run down the next section, find another partner, and you do it again. It's 5 minutes, just as fast as you can."
Brogan: "Hoisties!"
From hoisties to Bojans (the exercise named after NP co­founder Bojan), the book offers how-­to's and explanations about the unique, fun and creative workouts November Project tribe members know and love. November Project is the equivalent to adult recess and Brogan and Bojan encourage the 30 different tribes around the world to use their sleeping cities as their playground.
What city or cities would you like to see a November Project tribe in next?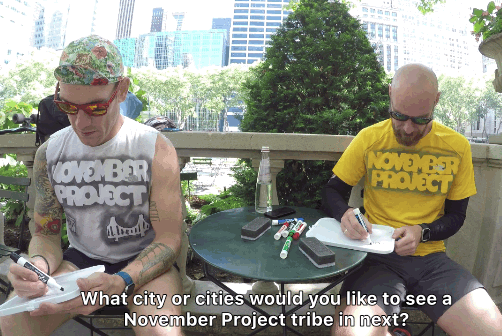 Bojan: "Portland, Oregon, Atlanta, Georgia, Cairo, Egypt, Copenhagen, Denmark."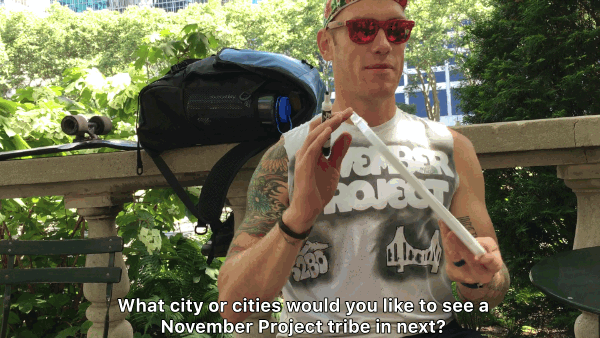 Brogan: "Capetown, Green Bay, Atlanta, London, Moscow, Cairo, Berlin, Hong Kong, Portland."
What is the biggest misconception about November Project?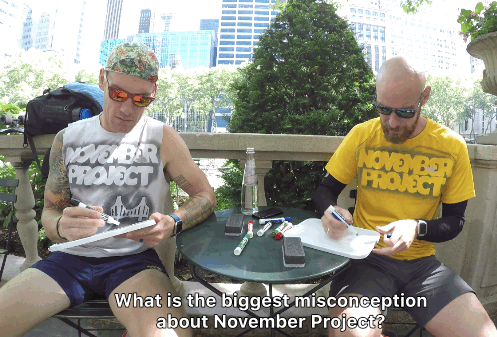 Bojan: "Everyone is super fit! (No we're not!)"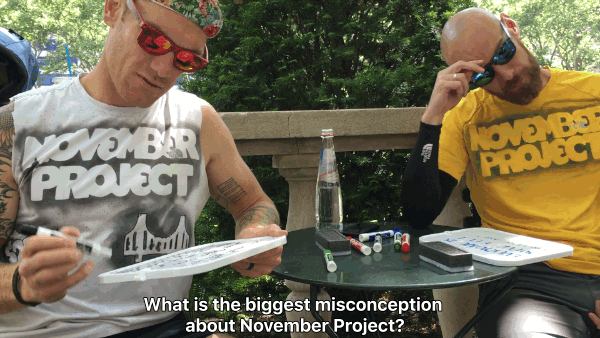 Brogan: "You must get in shape before you show up and/or it is only for 20­-30 year olds."
How much does it cost to workout with November Project?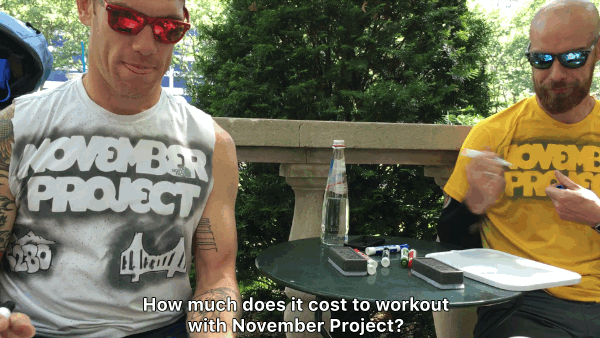 Bojan: "$0"
Brogan: "$0"
In a world where $20-­$35 spin classes are becoming the norm, November Project is a breath of fresh air. No annual or monthly membership fees, just #FreeFitness that will soon become the best part of your day. (No seriously, you will actually look forward to pushups, burpees and squats. DRINK THE KOOL-AID! YOU WON'T REGRET IT!)
What advice do you have or someone who feels too intimidated to #JustShowUp?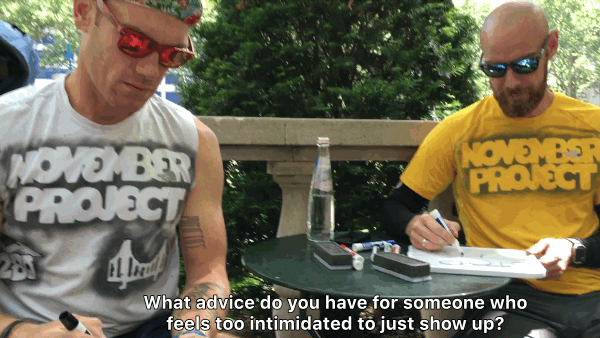 Brogan: "Bring a slower friend on your first day!"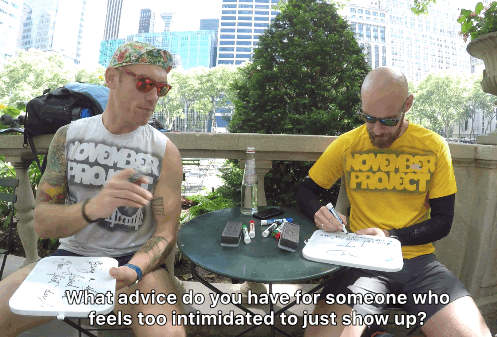 Bojan: "STOP IT! And get your a** over to the workout! (All levels welcome!)"
What are your hopes for November Project in the next year?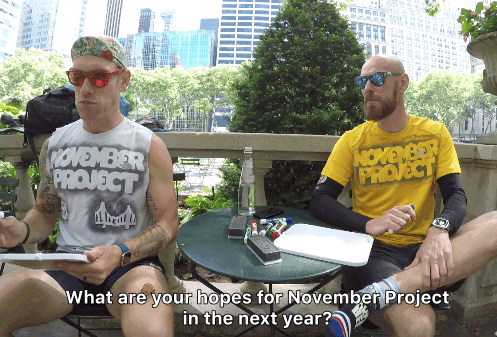 Bojan: "This one's gonna be a deep one. Inspire more people to be fit and kind to strangers."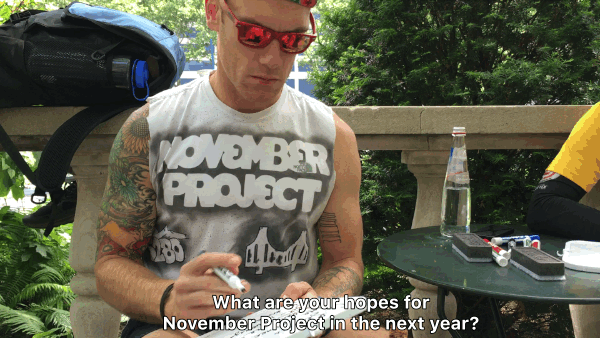 Brogan: "Co-­leaders are more connected, members are more fit, everyone is more creative."
Describe November Project in one word.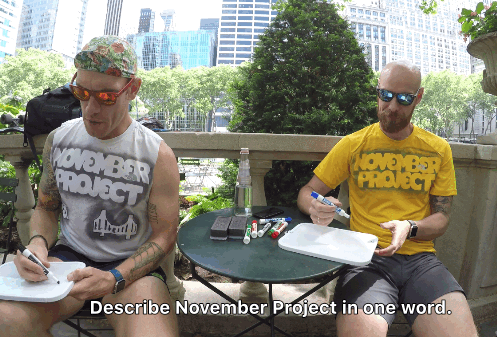 Brogan: "Sexualbilibuddy"
Bojan: "#LIFEALTERING!"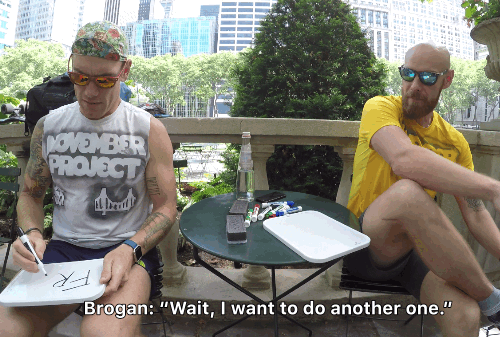 Brogan: "Wait, I want to do another one. Free. That's my word."
One of the greatest parts about November Project is the sense of community. Bojan and Brogan have successfully removed the stigma that you have to be a serious workout junkie to enjoy working out. Whether it's your first or hundredth workout, you'll be greeted with, "Good Morning. Thank you for being here," along with a giant sweaty hug. Workouts are creative, fun and will kick your butt in the best possible way. And when you're surrounded by hundreds of your accountabilibuddies, all of whom are pushing their limits while handing out supportive high fives, how could you not look forward to getting sweaty while you wake up the sun?
Whether you're in a city with November Project and want to know what to expect or if you're in a city that doesn't have November Project just yet and would like to prepare yourself for the moment when you can finally join the movement; this book will put a smile on your face and remind you that getting active shouldn't be something you suffer through.
November Project: The Book: Inside the Free, Grassroots Fitness Movement That's Taking Over the World is on sale now and is available for purchase here. And if you're in one of the 30 cities where November Project is located, #JustShowUp! It just might change your life.