Imagine Running A Half Marathon Backwards
A disease took away this woman's ability to run—unless she went backward.
Heading out the door? Read this article on the new Outside+ app available now on iOS devices for members! Download the app.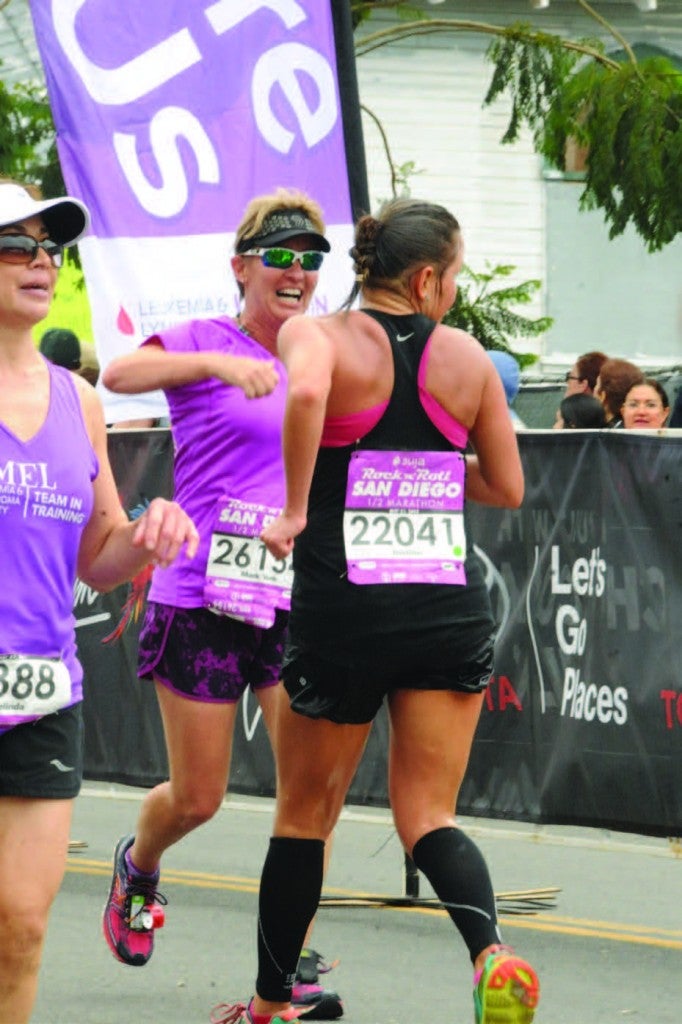 Justine Galloway
Age: 35
San Diego, CA
"I earned the world record for the fastest half marathon run backward."
"Something is seriously wrong," I thought to myself. I'd only run about 20 miles in my new shoes, so how was it possible that I'd worn a hole through the sole of the left one? My mind swirled as I tried to make sense of what could be happening. I'd recently run the Boston Marathon and had felt off during the whole race. Then a couple of weeks later, I fell and hit my head during a regular training run. Now I had a hole in my shoe. What was going on?
After the shoe incident, I immediately scheduled time with an orthopedist, beginning a string of appointments in an attempt to find out what was wrong. After cycling through many doctors who couldn't diagnose what was happening, I saw a neurologist who immediately recognized my symptoms as dystonia. It was later diagnosed as runner's dystonia—which like Parkinson's disease is a movement disorder. Since my father, who was once an avid marathoner, suffered from Parkinson's for most of my life, I was all too familiar with the fact that my running might be over.
I discovered during physical therapy that while running forward may not be an option anymore, I could run backward without my legs failing. And so my journey as a backward runner began.
As a former collegiate athlete, race times have always been at the heart of my training. On a whim, I searched for a back-ward running record and found the female Guinness World Records title for fastest half marathon run backward with a 2:49 time. Half joking and half serious, I told my family I wanted to beat it. They were supportive and even pledged to join my attempt.
I lined up at the start line of the 2015 Rock 'n' Roll San Diego Half Marathon this past spring, with my nerves swirling. My brother, sister, boyfriend and two unrelated witnesses stood by my side as we waited for the start gun to sound the beginning of the race.
Knowing that I could not turn forward at any time without jeopardizing the record, I relied on my team to alert other runners and to warn me of any road hazards. Water stops presented one of the biggest challenges as people often slow abruptly. At mile 3, I took the first of two falls. I recovered quickly and continued the race, enjoying the opportunity to meet fellow athletes while striking up conversations along the way.
By the 10th mile I was mentally exhausted. I worried about the possibility of not being able to carry out the mission. I took my second fall during that mile and struggled to get my head in the race. I kept pushing though and eventually entered the finish chute with the confidence that the world record would be mine. I crossed the line with a time of 2:46.
While I had finished many races before, I had a newfound appreciation for the experience. Where I once feared my life was forever changed because of my diagnosis, I now felt grateful that I found a way to continue running.
Learning to run backward taught me that anything truly is possible. It would have been easy to make excuses and give up running completely after my diagnosis. But instead I fought for the ability to continue to run. Life doesn't always go the way we plan—it's how we handle our challenges that makes all the difference.
More Inspiration To Start Your Day
One Runner Ditched More Than 100 Pounds
Being A Runner With A Stupid Autoimmune Disease
From Depressed And Overweight To Boston Qualifier