Hill Running Advice for Stronger Running
Running up inclines improves your strength, power and stamina. Embrace the hilly terrain and you'll be a faster, stronger runner in no time!
Heading out the door? Read this article on the new Outside+ app available now on iOS devices for members! Download the app.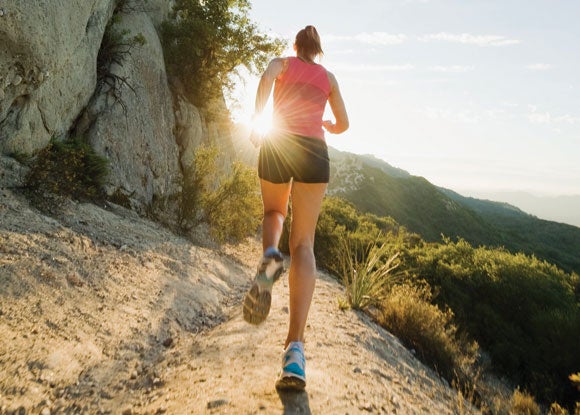 Question: "I've moved from the flatlands of Florida to hilly Pennsylvania, and I'm having trouble tackling the terrain. Running up inclines is such a struggle for me! Does it ever get easier?" – Paula (Women's Running Reader)
Pennsylvania is one of my favorite states to run in. It's beautiful! But you're right—you really have to earn the views.
Hills may feel like your nemesis now, but with a bit of practice and a new perspective they'll become your best friend. Running up inclines dramatically improves your strength, power and stamina. Embrace the hilly terrain and you'll be a faster, stronger runner in no time flat. Here's how . . .
Step #1: Make friends with the hill.
The most common mistake runners make when it comes to hills is trying to maintain the same fast pace. That's when we get into hill-hating mode: our heart rate spikes, our lungs burn, our calves light on fire, our thoughts  turn dark and we say a few swear words before stumbling down the other side.
This strategy wastes valuable energy. Once our heart rate gets too high, it's tough to slow it down. Plus, we're so tired, we're unable to take advantage of the downhill.
Try this on your next hilly run: Forget pace and focus on effort. As you ascend, slow down and use your gears like a cyclist. Shorten your stride and try to keep your breathing under control.
You will probably need to slow down more than you think. This may mean walking if you're new to hills or if the incline is particularly steep. When you reach the summit, switch gears again, open your stride, lean forward slightly and let gravity pull you down.
If you maintain a consistent energy level, you should be able to make up most of the time you lost climbing by speeding on the way down. Eventually the inclines will become less of a chore and you will begin to love (okay, maybe like) hills.
Step #2: Challenge the hill.
After you take a solid six to eight  weeks making nice-nice with hills, you can start to approach inclines as a challenge. Now that you're reasonably hill-fit, you will dial up the level a little and use the hill as a tool to help you get stronger. Perform one of these workouts once per week and you'll quickly see improvements in your performance.
30-Minute Hilly Workout: Run a hilly loop that normally takes you  around 30 to 35 minutes to complete. For the first 10 minutes, run at an easy effort level, going slowly up the hills. For the next 10 minutes, increase your effort level, running up the hills at a pace that's close to your flat ground speed (this will be tough). Cool down for the final 10 minutes with more easy running.
Hill Repeats: Warm up for 10 minutes with easy running on flat terrain. Find a hill that's 100 to 200 meters long. Run up the hill at a moderately-hard effort and recover by running slowly down in a zig-zag pattern to extend your rest time. Start with four repeats per session and gradually increase the number. Finish with another 10 minutes of easy running on flat terrain.
Always Have Patience
As you approach your two-step plan of attack, don't get discouraged. It takes time to build the muscles and cardiovascular strength that hills require. If your neighborhood is hilly, try to find river paths, local tracks and other flat terrain to balance those challenging uphill runs as your body adapts to the new demands.
_________________________________________________________________________
Jenny Hadfield is the co-author of Running for Mortals and Marathoning for Mortals. You can  nd more of her training programs, tips and running classes at coachjenny.com.