7 Tips For Getting Fast And Strong Like Allyson Felix
It's as simple as these seven tips—well kind of.
Heading out the door? Read this article on the new Outside+ app available now on iOS devices for members! Download the app.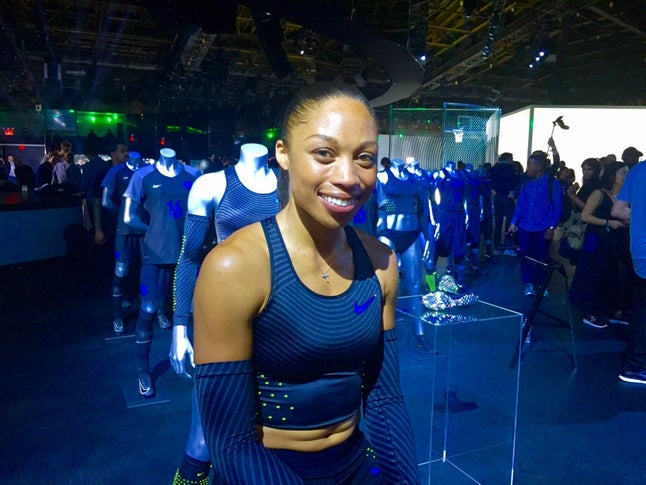 Allyson Felix is one of the fastest women in the world. After making her first Olympic team in 2004—and two more teams after that—the 100- and 200-meter specialist is poised to bring home some serious hardware this summer in Rio. She's already one of the most decorated American runners in history, owning four Olympic golds and four silvers, and she has her sights set on racing the 200-400 double this summer. We caught up with Felix at a Nike Innovation Summit in New York to find out her secrets:
When it comes to footwear…
Make sure you have the best footwear for you. Through experience, I know what I like. For me, it's all about my style of running. I have very long strides and I want my shoe to be flexible. I want it to feel like it's an extension of my foot, so no distractions and I can focus on what I need to do. Right now, I love Nike Frees and the Nike Lunar Epic.
When it comes to a race-ready workout…
I love a very ballistic workout where you run [aka sprint at top speed] 6 x 150 meters [a little less than half a track lap]. You run a 150 and walk around the track back to the start. When I do that workout, I feel like I know I'm ready to go.
Related: 3 Simple Things To Do Every Week To Get Faster
When it comes to quotable inspiration…
I love the quote by Steve Prefontaine: "To give anything less than your best is to sacrifice the gift." It makes me feel grateful for the ability I have and able to understand I need to give my all. I don't want to sacrifice the gift.
When it comes to a get-fast jam…
I have to listen to Beyoncé's "I'm A Diva" before I run. For me it's an alter ego thing. You get into that space of being aggressive, something I'm not in my daily life.
Related: The Top-10 Workout Jams
When it comes to a pre-race meal…
One of my go-to meals is really simple: grilled salmon, broccoli and brown rice. For me, it's all about staying consistent so before a big race, so I don't really switch it up. Nutrition makes a world of difference. For me, I didn't get serious about it until a couple years ago and I'm kind of kicking myself for not.
When it comes to a pre-race ritual…
I always call my mom and we pray together before races, and I always have this necklace [a gold cross] on. My mom gave it to me before my first Olympics in 2004—it's been replaced a few times because I lose things!
When it comes to not failing…
Definitely take your training seriously, but have fun with it. Know it's going to be a journey. It's not going to happen overnight, but enjoy the process.