4 Reasons That Running With A Buddy Is Awesome
One runner thinks every run is better with a buddy! Here are her top reasons for choosing to run with someone by her side.
Heading out the door? Read this article on the new Outside+ app available now on iOS devices for members! Download the app.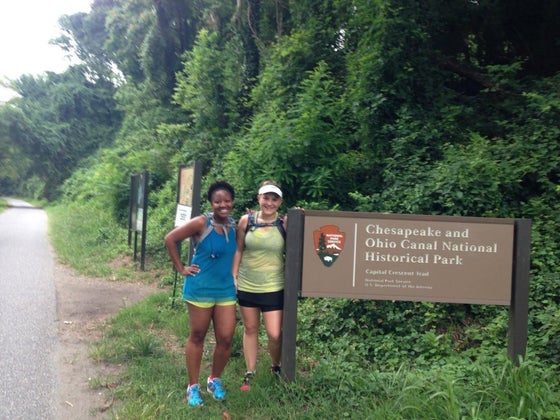 I used to be primarily a solo runner. I'd lace up my shoes and go whenever I felt like it. Sometimes I would wish I was running with a friend, but most of the time I was fine alone. Running alone meant that if my alarm went off and I didn't feel like running, I didn't. It meant freedom. It meant no accountability, which is not always a good thing. But eventually I started to crave a buddy on runs. Here's why I think running with a buddy is awesome:
Runs go by much faster when you are running with a friend.
When I run by myself, it can feel much much harder. Now I go on most of my runs with my friend Julie. During the long, polar vortex winter, I ran many of my miles with my buddy Mar. There is no way I would've made it through winter running without her. Running with friends gives you time to catch up. Between work, family, and life, we're all busy. Running with a friend is an opportunity to spend time together while doing what you love.
Running buddies turn into friends—fast.
While Mar and I knew each other through social media, we did not meet in person until we both joined the same local marathon training program. We began going on all our long runs together. As the miles added up, our friendship deepened. We talked about everything while running. While I sometimes dreaded the workout, I always looked forward to the chance to spend a few hours with my friend. The same connection occurred with Julie. When Julie and I met for our first run, we had only exchanged a couple of emails. We met at a park in between our homes, set off for a few miles to test each other out—as run buddies and as friends. Our first run was in January, and we've since logged so many miles together. We enjoyed our time together so much that we started going to barre classes as well. The friendships I've grown while running all around DC (and Maryland AND Virginia) are something I treasure.
It can make you a stronger runner.
I've always had issues with my breathing when I run. When I contemplated running with others, I didn't know how I could possibly do it. I had enough trouble breathing easy while running. How could I possibly carry on a conversation? Well, it turns out I CAN carry on a conversation while running and in fact, I love it. I think being forced to control my breathing so that I can run and talk at the same time has helped to make me a stronger runner.
It's safer.
This one is an easy no brainer. Early morning runs in the dark are MUCH safer with a buddy. Trail runs are MUCH safer with a buddy. Any run is just safer with a buddy.
Do you run with a buddy? Tweet @eatprayrundc and @WomensRunning to tell us about your amazing running bud!