How Climbing Mount Kilimanjaro Was Like Running A Marathon
One marathoner stepped up to the challenge of climbing Mount Kilimanjaro.
Heading out the door? Read this article on the new Outside+ app available now on iOS devices for members! Download the app.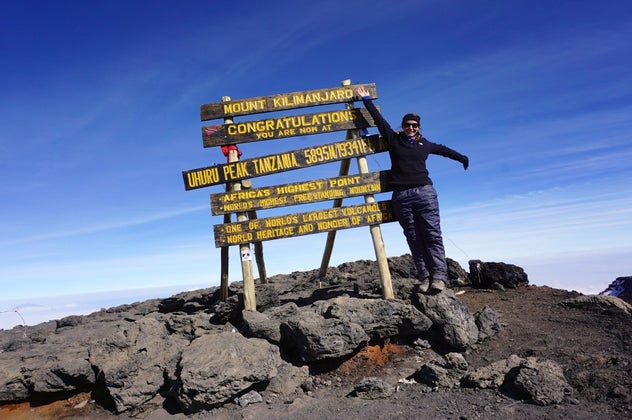 Before setting off on my six day hike to Kilimanjaro with G Adventures, I would have said that running a marathon was the harder of the two.
Upon reaching the summit, as I cried my eyes out, I exclaimed that it was the hardest thing I have ever done. Yes, harder than any marathon or race I've run. Here's why…
There's no such thing as bad weather, only the wrong kit.
True for both of these challenges. When it gets to -15°C (5°F) you'll need a lot of layers, and plenty in your technical kit to ensure you don't sweat/freeze. Similarly, you can't always run in your ideal conditions, and therefore need options for hotter/colder/wetter days than planned during your marathon. I've run 22 miles in pounding rain, trained in the snow and tackled the Chicago marathon in very hot conditions, but nothing compared to hiking for 13 hours in freezing conditions, high winds, bright sunshine and snow on Kilimanjaro.
Fueling matters.
Just like your long runs, it's crucial to consume enough fuel during the long hikes on Kilimanjaro—in particular on summit night. There's millet porridge, pancakes and eggs most mornings, however 'breakfast' at 11 p.m. before your overnight hike may prove difficult (there were none of my pre-race fave bagels, but there were bananas and peanut butter!). Altitude sickness can make you feel sick, making it even harder to eat, but getting calories in to keep your energy up is paramount.
It's totally mental.
Towards the end of a marathon it takes all of your mental strength to keep trucking forward. Similarly, after hiking upwards for 6+ hours, it takes all your energy to put one foot in front of the other, again and again. It helps having mantras and phrases to keep you going, a personal fave is, 'One day you won't be able to do this. Today is not that day.'
RELATED: Why You Should Devote Time To Your Mental Game
Sleep is at a premium.
I think I managed 40 minutes before our Summit Night, going to bed at 8 p.m. and being roused at 11 p.m. Most other nights we were in our sleeping bags by 9:30 p.m. and up at 6:30 a.m. (with a few midnight bathroom breaks after drinking 4L water per day)! Although our tents were comfortable, four nights camping out plus a real lack of sleep contributed to our overall challenge to reach the summit. I cried with only about 500m to go, mostly due to exhaustion. Unlike a marathon where although I may not sleep well pre-race due to nerves, I will have prioritized sleep in the preceding days, allowing for maximum recovery and preparation.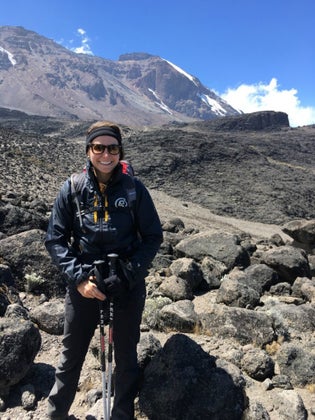 Having Support is Crucial
I've been lucky enough to have my fiancee, Tom, and my parents at every marathon I've run, traveling around the world to cheer me on. Whilst they weren't with me on Kilimanjaro, I was part of a fabulous group of fellow hikers that supported each other, offered kind/funny words as needed, hugs at the summit and most importantly, chocolate! Have a watch of my Kilimanjaro Vlog to see our amazing group (and highlights from the trip).
Training, training, training
How do you prepare fully for a six day hike to 5,800+m when you live at sea level? Whilst you can build up your mileage week on week for a marathon, this challenge was very different to train for. I used The Altitude Centre in London, incline walking at 2,700m oxygen levels, as well as increasing my leg strength work and continuing with my run training. I think I would include more altitude training if I was to do another challenge of this nature. Now that I'm back into New York Marathon training, I'm realizing how much I love knowing what the course, distance and hills will be like so that I can get myself ready for them!
RELATED: 12 Hardest Parts About Training For Your First Half Marathon
But just like running 26.2 miles to earn your medal is so worth all the hardship and pain, Kilimanjaro might have been the toughest thing I've ever done, it was also the most rewarding and I cannot recommend it enough.