Blogger On The Run: You Signed Up For What?!
Meet Cynthia, our latest Blogger On The Run. This busy mom will inspire you to get out and run today!
Heading out the door? Read this article on the new Outside+ app available now on iOS devices for members! Download the app.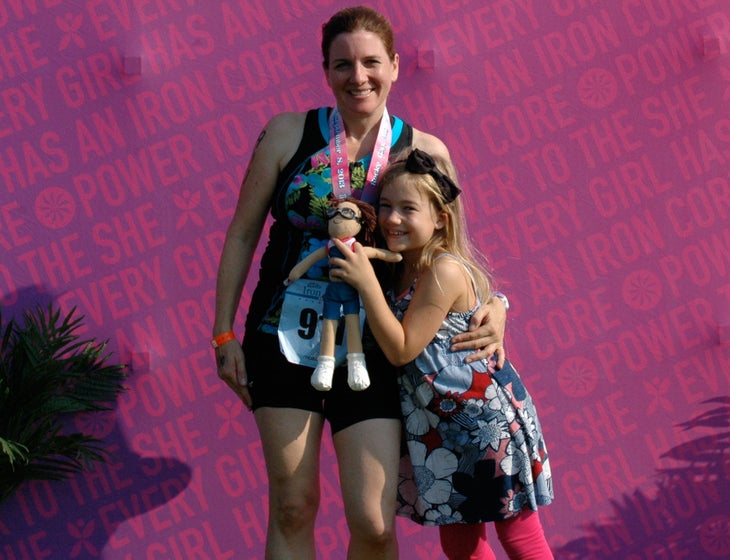 Our latest Women's Running magazine Blogger On The Run is a busy, working mom striving to stay fit in the midst of a crazy, hectic life. Meet Cynthia from You Signed Up For What?! – she's setting a healthy example for her children and kicking butt along the way. Read Cynthia's story to find out how she prioritizes running and why she dreams of running with Bradley Cooper (amen, sister!)!
Women's Running: How would you describe yourself?
Cynthia: I'm a working mom of three little kids with a busy full-time job in the arts. I run, I do triathlons, I travel, I'm a total klutz – and I try to stay sane throughout it all. Life is busy but I've finally found a groove.
WR: How did you begin running?
C: I started running just over 10 years ago when I was trying to lose weight and get in shape. I saw people running and thought "why?!" I decided to give it a shot, and was totally winded after a couple of minutes! But I was determined to try it again the next time, and the next time, and the next time after that. I trained for a 5K and just kept going until I did my first marathon. Then I got pregnant with my first baby and it's been a whirlwind of fitting in running and exercise ever since.
WR: What keeps you running and training?
C: I am someone who needs a goal – signing up for a race keeps me focused and motivated. Also, I love the feeling when I'm running. It's something I can do by simply going right out my front door. When you are short on time it helps to be able to lace up the shoes and just go. And frankly, sometimes 30 minutes out for a run is the only 30 minutes I get to myself all day!
WR: What type of run is your favorite and why?
C: I love running with the stroller. For one thing, I have a place to put my stuff! Water, phone, keys, jacket – it all goes in the stroller, nothing to weigh me down (except that 30-pound kid to push). Second, it's really great to spend time with one of the kids while getting in a good workout – pushing the stroller is a great upper body and core workout. Aside from running with the stroller, I love long runs – I find that I learn something new on every long run about myself, my hydration or nutrition, my mental endurance, and I enjoy pushing myself.
WR: What's your favorite race memory?
C: Crossing the finish line of my first marathon – I immediately declared that I wanted to do that again. Unfortunately my second marathon (between my 1st and 2nd babies) wasn't as much of a strong finish. I've been doing half marathons since they are still a big goal but take a more manageable amount of training time out of my busy life. I'm hoping to tackle marathon #3 at some point soon, but this year I'm going to focus on triathlon training.
WR: What do you hope your readers will get from reading your blog?
C: I hope my enthusiasm for my active lifestyle and my weight loss success motivates others. I like to keep my blog positive, but a realistic glimpse into my crazy life and the adventure each week in balancing it all. I'm a total klutz, so I hope that everyone can laugh at the silly things I do, but also be inspired to be active and fit exercise into their daily life.
WR: If you could run with any celebrity, who would you choose and why?
C: Bradley Cooper, although I have no idea if he's a runner! He once came to my aid when my car was broken down in the middle of the road, and I'm forever a huge fan.
WR: Are you currently training for a race?  If so, which one?
C: Yep – I'm running in the Disney Glass Slipper Challenge in February (a 10K on Saturday the 22nd, then the Princess Half Marathon on Sunday the 23rd). Then I have the ZOOMA Annapolis half Marathon in May. In the summer, I move into my first full triathlon season – I have a duathlon, an Iron Girl sprint triathlon, an Olympic distance triathlon, and then my big race – a half Ironman!
WR: Best running advice you've received or given?
C: Follow a training plan or join a group with a training schedule. Previously, I would sign up for things without learning about the training process – years ago, I biked the MS150 (a 2-day, 150-mile bike ride) as an out of shape non-biker, who hadn't trained very much and was riding a borrowed men's bike that was too big for me. I finished the 150 mile ride, but got injured two different ways, and it took a long time to recover. So when I started marathon training I joined a group with a coach and learned so much about how to build up mileage and let your body adjust.

Want to read more? Head over to You Signed Up For What?!