9 Tips for Hot Weather Running
Trying to beat the end-of-summer heat while getting your run on? Read these tips to power through your next steamy session!
Heading out the door? Read this article on the new Outside+ app available now on iOS devices for members! Download the app.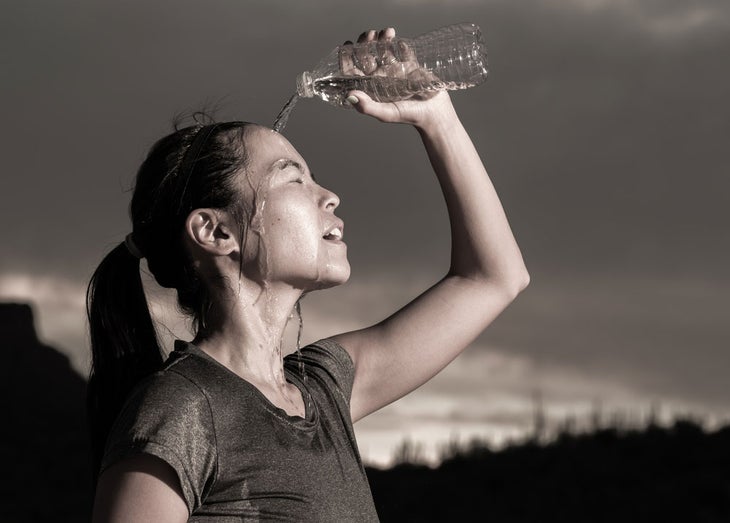 You're not imagining things—running in the heat is tough! Although it varies from runner to runner, in general, the warmer the weather, the more dif cult it is to run longer and stronger.
It might seem like a doomsday scenario now, but remember that every completed workout (regardless of the pace) is progress. In fact, running in the heat will play to your advantage in the long term. As you're forced to deal with the demands of hot weather, your mental game strengthens and your body becomes more efficient at cooling itself. When you take your newfound hot-runner strengths to cooler climates, you will rock every run.
The key is to work with the heat rather than trying to beat it—Mother Nature will win that battle every time. The most important thing to remember is to train according to how your body feels. On a sweltering day, if you try to complete your long runs at a planned pace (or a calculation you found in a training book), you will most likely run too hard. Focus on your effort level rather than your pace to get stronger without experiencing burnout, and use these tips to make every steamy run more enjoyable!
Run before (or after) the sun.
Strong rays will make your run more  super early or run after dark on the hottest days.
Dress the part.
Wear loose-fitting clothes, a visor, sunglasses and sunscreen.
Take a break.
Keep your body cool by adding one-minute walk breaks every five minutes during your long runs. As you become stronger, shorten or skip the breaks.
Perform long runs on a loop.
Repeat a short, 30-minute-ish loop course. In one spot, leave a cooler with cold fluids, ice cubes, fuel and a dry towel. Stop at your station during every loop to keep your core temperature in check.
Run with an ice-dana.
Wrap a bandana around your neck and stuff the back of the scarf with ice cubes. Refill with ice every time you reach your cooling station.
Run indoors.
On extremely hot days, consider running speed workouts on an indoor track or treadmill. You will reap the full benefits of your workout without the heat cramping your style.
Be flexible.
Modify your workouts if needed. An easy workout is better than overexerting yourself or not running at all.
Acclimate with hot yoga.
These classes are a practical way to prepare for the heat while improving strength and flexibility. Schedule them at least two days before or after your long runs to avoid fatigue and dehydration.
Pay attention to your body's stress signals.
If you feel dizzy, lightheaded or experience cramping, stop running and seek shade. Carry your phone so you can call a friend to pick you up in an emergency.
____________________________________________________________
Jenny Hadfield is the co-author of Running for Mortals and Marathoning for Mortals. You can find more of her training programs, tips and running classes at coachjenny.com.