7 Running Tips For Moms To Fit Running Into Their Lives
New moms! We have a few tips on how to make running part of your schedule again (it will help you relax and get solo time, we promise).
Heading out the door? Read this article on the new Outside+ app available now on iOS devices for members! Download the app.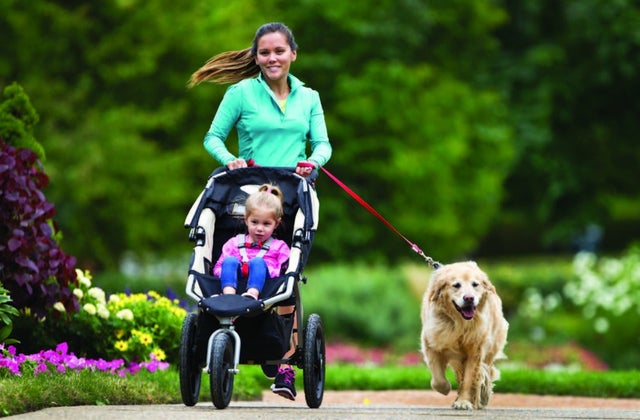 Finding time and motivation to run is tough for all of us. For running moms, it is even more difficult. But the benefits and the happiness derived from being active is worth the effort. We have a few tips so running moms to effectively fit in a run into their hectic schedule.
Get a solid stroller
Farel Hruska oversees the Stroller Strides program, a running group for new parents. She says that in order to run comfortably with a stroller, you need to find a model that matches your height, has good suspension for the comfort of your baby, thick wheels with the option to lock the front wheel and a safety strap for your wrist.
Make running part of your mom schedule
Kara Douglass Thom, the author of the Go! Go! Sports Girls book series, suggests running laps around the soccer or baseball field when your kids are at practice. "Watch them for five minutes then go for your run and come back for the last five minutes," she says. "They saw you watching them, and you got your run in. Everyone's happy." Carly Fauth, a running mom in Milford, Mass., put her son in a day care 2 miles away from home. "I would leave the stroller at his day care and run home," she says. "At the end of the day I would run back to get him and run home again pushing him in the stroller."
Enlist someone to hold you accountable
With two young kids, mountain-running champ Kasie Enman discovered her drive was lacking. "Sleep deprivation, raging hormones and an overhaul of perspective can turn motivation to train on its head," she says. Luckily, her coach keeps her on track by prescribing work-outs and helping her stay focused. Having a person to talk training with can make the difference between staying fit and staying home. Don't have a coach? Ask a running buddy to be your post-baby confidant.
Turn stroller running into a game
Farel Hruska, national fitness director for Fit4Mom, says if kids are fussy in the stroller, "Stop occasionally and do strength work (like pushups, squats and lunges) while you sing to your baby." Laurie Kocanda, co-author of Hot (Sweaty) Mamas, advises bringing a treat to dole out at the halfway point. "Play a game of 'I Spy' on the run and use the time to notice colors, shapes and nature," she says. "Or turn your run into a scavenger hunt. Print out words and pictures for your kids to spot while you're out and about. Let them cross off or shout out the objects they find along the way."
Make nap time "run time"
For the first few months after her son was born, actress Kristin Cavallari would plan her workout around his nap. She'd go to a quiet gym and let him sleep in the stroller while she ran on the treadmill. Marathoner Deena Kastor used a similar tactic: "The only way Piper would fall asleep is when my husband would walk her up and down the stairs 100 times! When it was my turn, I took to walking with an exaggerated bounce on the treadmill with her in my arms. She fell asleep in my arms, and I passed her to my husband and increased the speed of the treadmill."
Work on your pusher form
Hruska recommends focuing on your form as you push your baby. When you take the stroller out for a spin, "keep your shoulder blades back and down and keep hips fairly close to the stroller's handlebar," she says. "Instead of leaning over as you push, engage the lower body to power your movement. Keep your wrists neutral and occasionally swing each arm." Make sure you continue to swing your arms (switching off pushing arms) to prevent tightness in the neck and shoulders.
Cherish solo workouts
When you do alone, make that run about you, advises Hruska. "You need that time to be alone to recharge yourself," she says. "You will be better for all those around you for it. Cavallari says at first it was hard to leave her son. "But I always felt better afterward and was excited to get back and see him. I need to work out not just for my physical health, but my mental health as well."