Do These 6 Exercises to Strengthen Your Upper Body
Do these moves to strengthen your upper body to run faster, stride more efficiently—and score a super-toned back and biceps.
Heading out the door? Read this article on the new Outside+ app available now on iOS devices for members! Download the app.
A runner's gams get all the glory. We thank our quads and calves for carrying us through the finish line and rub them down after a tough workout. While strong legs are important, a toned and strong upper body can improve your running more than you might think.
When you run, your arms do more than just swing back and forth. If you have ever watched an elite runner race, you'll notice her running cadence matches the movement of the arms like perfect clockwork. That's because she's using her entire body to run as fast and efficiently as possible.
With every foot strike, your arms save your legs energy by helping drive your body forward. A strong upper body will power you through tough workouts and races while helping you maintain good form as you train to boost your endurance.
RELATED: 4 Ways to Improve Your Running Form Without Thinking About It
6 Upper Body Strength Exercises
These six moves, when done correctly, can help your run form. Here's when, why, and how to do them:
Perform exercises two to three times per week, preferably on cross-training or easy running days.
Warm up with 5 to 10 minutes of cardio (easy running, cycling, rowing, uphill walking) and cool down with 5 to 10 minutes of easy stretching.
During your workout, always focus on breathing and good form.
When using weights, choose ones that are heavy enough that you feel a deep burn around the 10th rep.
Perform two to three sets of 15 reps of each exercise.  
Chest Press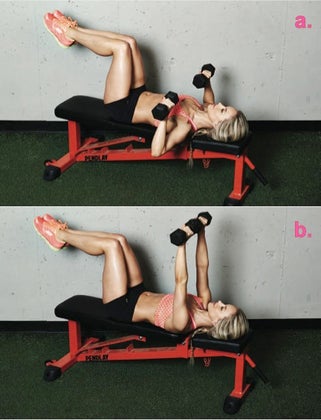 (a) Lie down on a flat bench with a weight in each hand and your feet in the air, knees at a 90-degree angle. (b) As you exhale, slowly raise each weight above your chest. When your elbows are almost straight, turn your palms inward as you continue to straighten the elbows until the weights touch and palms face each other. As you inhale, slowly spread the weights apart and rotate palms forward to return to the start position. Perform 15 reps.
Front and Lateral Arm Raise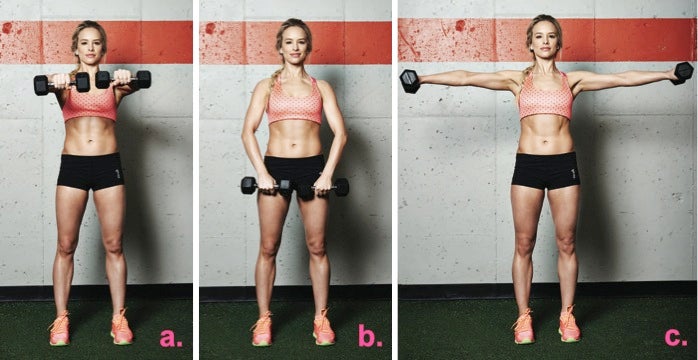 (a) With a weight in each hand, stand with feet shoulder-width apart. (b) Slowly raise both weights in front of you until your hands are in line with the shoulders. Return the weight to the start position. (c) Now raise both weights to the side, forming a T shape. That's one rep. Perform 15 reps. (You may have to drop weight for this one, which is fine—our shoulders are often not as strong as other muscles, which becomes clear when we do these upper body strength exercises.)
Push-up on Ball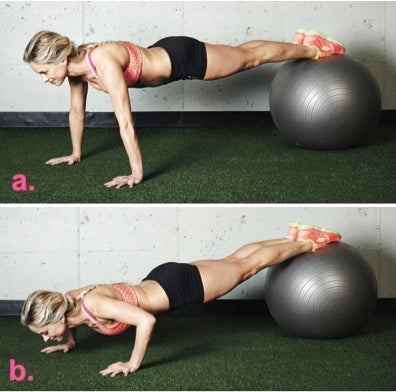 (a) Using a stability ball, get into a pushup position with your hands underneath your shoulders and your feet on the ball. (b) Exhale as you bend your elbows, slowly lowering your chest to the floor. Inhale and slowly raise your chest to the start position. Perform 15 reps.
Bench Dip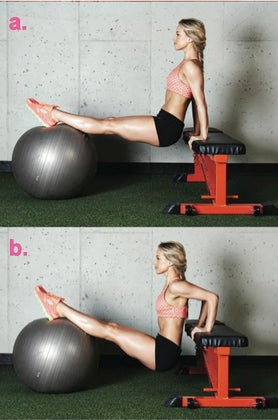 (a) With your feet resting on a stability ball, place your palms on the bench, fingers facing forward and bottom lifted off the bench. (b) As you exhale, bend your elbows to slowly lower your hips. When you feel the resistance, inhale and straighten your arms as you bring your hips to the start position. Be sure to keep the glutes and core tight. Perform 15 reps.
Bicep Curl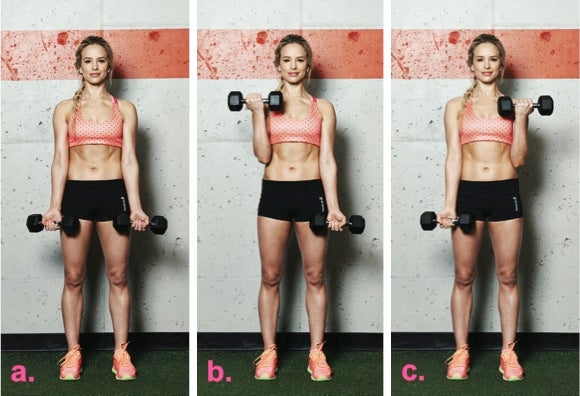 (a) With feet shoulder-width apart, hold a weight in each hand, palms facing forward. (b) Squeeze your bicep as you bring your right fist toward your shoulder, then return to start position. (c) Repeat on the left. Think power, not speed—an upper body strength workout builds muscle, not cardio fitness. That's one rep. Perform 15 reps.
Plank Row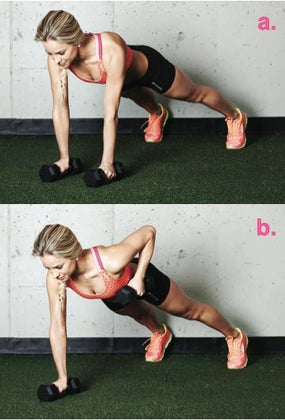 (a) Place yourself in pushup position with one weight in each hand, shoulder-width apart. (b) Without rocking your hips, contract the core and lift one weight off the floor as you bring your elbow toward the ceiling. Return the weight to the floor while staying in a plank position and repeat with the other arm. that's one rep. Perform 15 reps.