5 Tips For Your Very First Race
Some mental tips to get you prepared to toe the starting line for the first time.
Heading out the door? Read this article on the new Outside+ app available now on iOS devices for members! Download the app.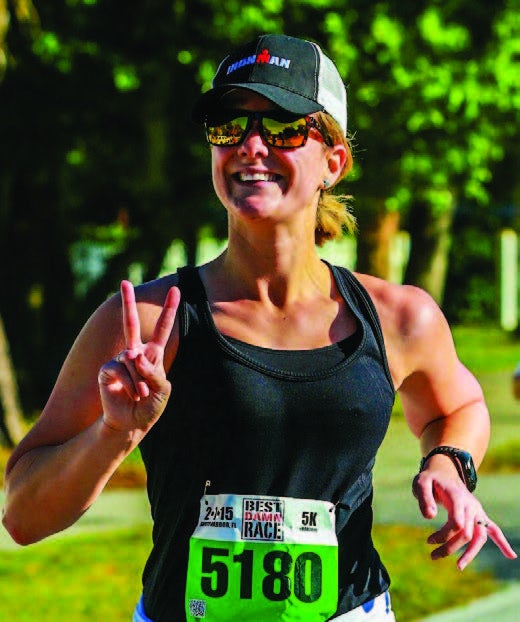 Certified running coach and personal trainer, Tori McGee, wasn't always a runner. In fact, she's only been running for six years, but she's quickly become so hooked on the sport, she's already added multiple marathoner, ultramarathoner and Ironman triathlon finishes to her racing résumé. The 28-year-old Healthy Eating and Physical Activity Program coordinator for the YMCA of Greater St. Petersburg, Fla., shares her enthusiasm for the sport (along with plenty of newbie tips!).
Kick It
"Running doesn't require a huge amount of equipment, but it is crucial to find a good pair of shoes. Invest an afternoon at your local run shop for a professional analysis and your feet (and the rest of your body!) will thank you."
Dream Big
"It's important to break your big goals down into smaller, achievable chunks when you first start running. And don't forget to celebrate the heck out of your milestone achievements. As my dreams got bigger, so did the amount of happy dances I did along the way!"
Related: 5 Great Races For Beginners
Pace-Keeper
"Using a GPS watch to identify your happy pace can be a game-changer for a new runner. It's a great tool to monitor how hard you're pushing and even to hold yourself accountable when you feel like slacking off."
Love Yourself
"It's so easy to get caught up in the comparison trap. Remember a mile is a mile at any pace and you're covering the same distance as every runner running the race. Strive to be better than you were yesterday and be proud of how far you've come!"
Related: Stop Saying I Think I Can't
Dedication, Not Perfection
"If I've learned anything from running, it's that it doesn't always go according to my plan. Setbacks, unplanned days off and time to mentally regroup are all part of the game. Just stick with your training. Dedication and a positive attitude are more than half the battle."