The Biggest Loser's Jen Widerstrom On Body Image
In preparation for her class at the SHAPE Body Shop on June 17, Jen Widerstrom discusses the importance of keeping a positive body image.
Heading out the door? Read this article on the new Outside+ app available now on iOS devices for members! Download the app.

Jen Widerstrom will lead a body-positive workout class.
All runners know that maintaining a healthy lifestyle is important. Most of us also recognize that cultivating a healthy body image is just as important as they ways in which we fuel and strengthen our bodies. On Saturday, June 17, SHAPE Magazine will present a Body Shop at the Hudson Loft in Los Angeles, a one-day pop-up fitness event benefiting the Movemeant Foundation. Featuring the theme "be the boss of your body," the event is geared toward encouraging confidence in young women by empowering them through fitness. This particular event will offer several workout classes for new and experienced athletes alike, led by trainers like Shaun T., Anna Victoria, Lacey Stone and others.
Jen Widerstrom, the fitness guru from The Biggest Loser, will lead participants through her JenBod Workout as the first class of the day. Widerstrom spoke with us to explain what participants can expect from her workouts and why she believes women of all fitness levels should feel great about their bodies.
Related: Nutrition Tips from The Biggest Loser's Jen Widerstrom
What does the JenBod Workout class involve? Can women of all fitness levels participate?
Last year, my classes were about power training for powerful days. Everybody thought it involved really heavy weights and got really scared. People came in excited, but really nervous. I changed the name this year to be much more accessible.
I train people full-body and full-scope: it's just body weight. All you really need is a smile and a willingness to try. It's for all levels.
What workouts do you think are best for runners and other endurance athletes?
It's going to sound counter-intuitive, but the one thing I do with my runners that are specifically trying to get better is work on power strength. Here's why: if you're just running, what starts to happen when the mileage grows is you start to need muscular endurance. You need that power so you can stay strong, powerful and athletic in the movement. When you train for power and strength as runners, as you get further along in that mileage then they're able to fall back on strength and push through those miles.
We're not deadlifting 200 pounds, but we are going to deadlift 65 to 95 pounds with power, which means we're doing it very athletically. We're not moving slowly–this isn't body building, we're not trying to build mass. We are moving the weight with velocity, which creates that power system.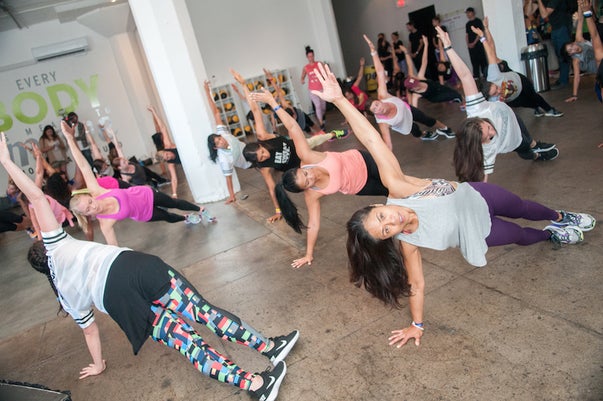 What does the event theme "be the boss of your body" mean to you?
It really comes down to respecting yourself. I think it means taking a good look at where your assets are and being willing to also acknowledge where your weaknesses are.
I'm not a great runner–I'm literally doing a 1-mile run three times a week, just for consistency. For any really good runner, they're like, "Really? One mile?" I'm like, "Well, yeah." Because I'm trying to be consistent.
It's also about accepting who you are. You're the only you there is. I'm the only me there is. No one else knows what your body feels like. It's important that we are proud of that.
What message would you like to pass along to young women facing body image issues?
There's a generation now of women who have become less literate in their bodies. They're self-conscious of what they're going to look like when they try something: will I look stupid, will I fail, will it be hard? These fears discourage women from trying and learning.
My encouragement to women that are struggling is that you have to start slow. Start with one thing you want to try. I think what people who are self-conscious about their physique need is evidence that they can move past it. You just have to believe that you can do more.
When I started with my 1-mile run, I started by walking. I needed evidence that I could walk a mile, and then I started running a minute and walking a minute. All I was doing was creating evidence that I was capable of it. Meanwhile, I started feeling empowered. Instead of worrying what your body looks like, why don't you be excited about what it can do for you? Look at what it's capable of. It's the most magnificent machine there is on the planet. Start to look at what it can do for you instead of what it looks like.
Body Shop is a great place to start. You can be a rock star with fitness, going four or five days a week, or you can be a beginner. It's a really safe place to start and to take that first step.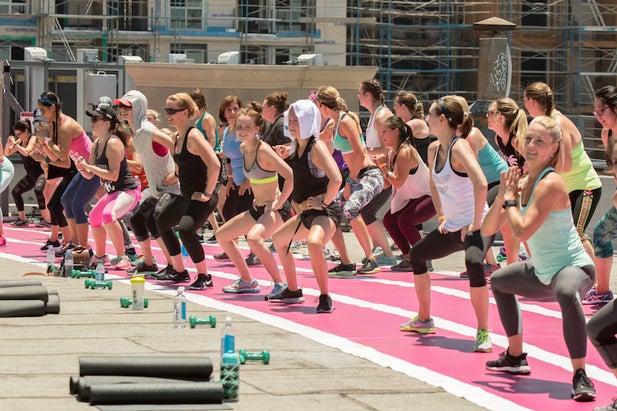 All photos are of the 2016 SHAPE Body Shop event and were taken by Rebecca Zisholtz. Photos provided by SHAPE Magazine.
Related:
Why "Imperfect" Selfies are Perfect for Runners
A Cross-Country Runner's Real Confession About Body Image