4 Types Of Intermittent Fasting That Could Work For You
Does fasting seem crazy? It doesn't have to be if you do it the healthy way.
Heading out the door? Read this article on the new Outside+ app available now on iOS devices for members! Download the app.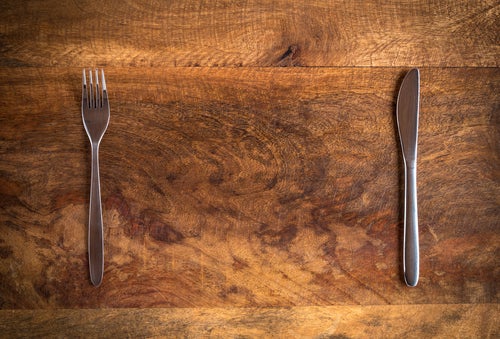 If you've heard of intermittent fasting and immediately thought, There's no way I can do it, you're in good company. While many people aren't able to forego their sacred (and quite commonplace) three meals per day, thousands of others are jumping on the intermittent fasting train. This phenomenon has us dying to know what exactly is compelling fitness-minded humans of the world to voluntarily skip meals—sometimes fasting for up to 36 hours at a time. The evidence supporting the health benefits of intermittent fasting stacks pretty high. While most studies have been on animals, the findings are interesting:
Intermittent fasting fights obesity and type 2 diabetes
Improves circulating glucose, lipid levels and reduces blood pressure
Reduces side effects of chemotherapy and is part of a cancer-fighting diet
Cleanses your body of cellular garbage with autophagy
If this sounds appealing (who doesn't want to fight off cancer and be healthy?), I'll spell out four proven-to-work fasting methods. These range from somewhat easy to more challenging.
Alternate Day Fasting
Also known as Up Day/Down Day, this method suggests you fast for one entire day by restricting your diet to only 500 calories. The following day you may consume whatever you want—as long as you adhere to the healthy number of calories that your body needs without overeating. You then alternate, eating normally for one day, and fasting the next.
The 5:2 Diet
This is similar to alternate day fasting, although a tad less extreme. The 5:2 Diet suggests you eat just as you normally would 5 days out of the week. For the other 2 days, limit your calorie intake to 500 calories. The order of the days that you fast holds no importance, but most people prefer not to fast two days in a row.
The 16/8 Method
This method is an eating schedule that permits eating every single day. However, you must restrict yourself to an "eating window" of eight hours out of the day, resulting in an everyday fast of 16 hours. The diet doesn't necessarily matter what time of day this "eating window" takes place. However many people find that skipping breakfast is easier than skipping dinner.
The Warrior Diet
If you're looking to give intermittent fasting enthusiasts a run for their money, The Warrior Diet comprises only eating raw vegetables and fruits throughout the day, while feasting on one large meal at dinner time. While most don't believe that this is a balanced, nourishing diet to keep up for long periods of time, it's known to improve the Parasympathetic Nervous System's ability to help the body in recuperating. It has also been found to promote relaxation and digestion.
Is Intermittent Fasting For You?
If you're still wondering whether this type of eating is for you, here are some quick tips to help:
Drinking non-caloric drinks, such as water, sugar-free tea, black coffee and diet soda, won't break your fast. So drink all you want!
Eating green, leafy vegetables and fruits throughout the day on fasting days will lessen hunger pains.
Drink more water than you usually do to stay hydrated and to fill your stomach.
Stay busy and harness your energy into things that keep your mind occupied.
Increase your protein intake every chance you get.
Try it out for 3 weeks before calling it quits—this is when it becomes easier.
Intermittent fasting is not for everyone, but it is a positive choice for some runners. See which method works best for your body and for your schedule. Incorporate these tips into your new intermittent fasting diet. It's a doable lifestyle to live if you want it.