Everything You Need To Know About GI Issues On The Run
Race-day gurgles are a pain in the gut. Prep yourself from the inside out with these doctor-approved tips for managing GI issues.
Heading out the door? Read this article on the new Outside+ app available now on iOS devices for members! Download the app.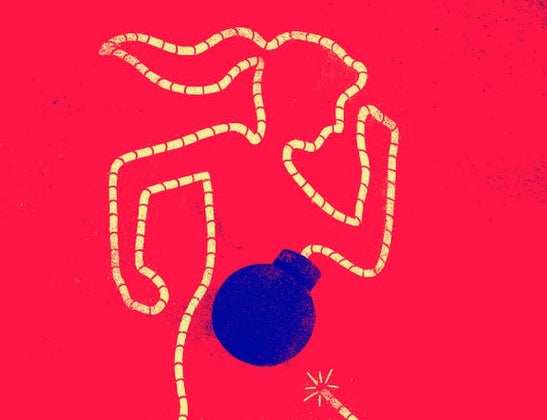 As if pre-race anxiety isn't annoying enough—add in the tummy troubles nerves often bring, and you may have a recipe for mid-race disaster. From abdominal cramping to a mini sprint to a porta-potty, gastrointestinal (GI) issues while on the move are common problems for runners.
So what do you do when your belly screams louder than your legs? Dr. Brigid Boland, a fellow at UCSD Medical Center and avid runner, shares her tips on how to avoid an unexpected visit to the porcelain throne—and why it's sometimes best to wear dark- colored pants.
Why do so many runners experience GI issues?
Dr. Boland: It's largely related to the fact that tummy troubles are so common in the general population. Many people have a form of irritable bowel syndrome (IBS), and when you add extreme exercise, you stress your body in different ways that can reduce blood flow to your intestines. Running in particular (with all the up and down movement) can simulate bowel activity and trigger that need to use the restroom quickly, which is obviously inconvenient.
How can you avoid bathroom emergencies during a race?
Dr. Boland: The key is to identify any foods that may trigger a GI episode during a run and avoid them the day before a race. Foods that have artificial sweeteners commonly cause issues. Other things are more person-specific—a lot of people have trouble with certain fruits and vegetables.
Eating more than 30 minutes before your race is optimal, and it's important to set pre-race habits (like using the restroom a few times the morning of ) to calm nerves and the intestine.
Are there any diets you recommend for runners who experience regular GI issues?
Dr. Boland: A lot of people respond well when they avoid gluten. One pitfall is that there are now a lot of processed gluten-free foods available, and these can actually irritate the stomach.People also have fewer symptoms following the FODMAP diet. If someone is having a lot of issues with gas and bloating while they run, it is worth checking out the list of foods to avoid.
Does your period affect the likelihood of GI issues?
Dr. Boland: A lot of women have a lot more issues around their period—the raging hormones will affect the GI tract more than usual. If you always have horrible symptoms on your period, treat them and adjust race-week diet or behaviors if needed. Some people take Imodium if diarrhea is higher during that week, and others adjust their diet if bloating is the trouble.
What should a runner do if GI issues do occur mid-race?
Dr. Boland: Using various breathing techniques and letting your mind overcome your body, that's the best way to make it through pain. Stomach issues can send you into a panic mode, so using any tools you can to calm your brain works best.
The nerves in your gut have a strong connection with your mind—focusing on your breathing rather than the pain is the best way to get through it in that moment. And, depending on the severity of the emergency, there are of course bath-rooms along the course!
Dr. Boland's Tips:
Calming Clothes
Black capris aren't just for yoga class. "Darker clothes would certainly be better if you're worried about an on-course issue," explains Dr. Boland. Even if only for peace of mind, being prepared for a potential worst-case scenario will allow you to relax and perform at your best on race day.
FOD-What?
Some nutritionists swear by the FODMAP diet to help their patients maintain blissful bowels. The acronym means "Fermentable oligosaccharides, disaccharides, monosaccharides and polyols." In simpler terms, the diet offers a number of do's and don'ts for all food groups, with the goal of minimizing bloating, constipation and gas by eliminating complex sugars and carbs. Do's include green beans, bananas, chicken and oats, while some don'ts are broccoli, apples, wheat pasta and honey. Learn more about what's good to munch (and what's not) by feasting your eyes on the complete list at ibsdiets.org/fodmap-diet.