I'm Tackling The Tone It Up Challenge And It's Crazy
Who else is tackling the 6-week craziness?
Heading out the door? Read this article on the new Outside+ app available now on iOS devices for members! Download the app.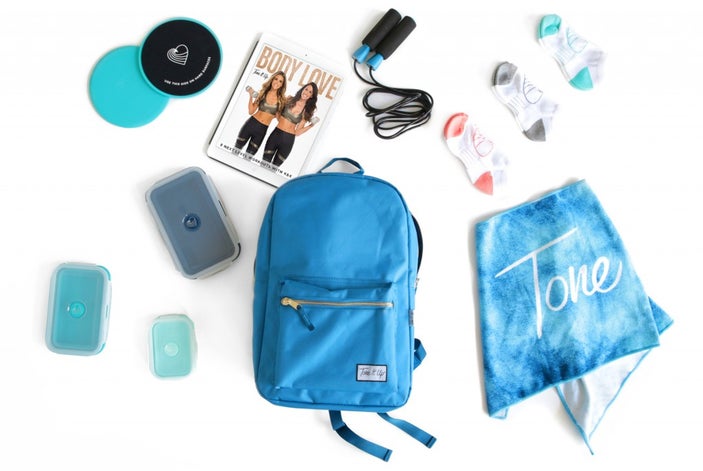 I was in that awkward post-Christmas, pre-New Year's week, where you don't know what day it is or what you are doing with your life. I had eaten my weight in Christmas sweets and alcoholic beverages and just felt gross—it was time for a fresh fitness start. Lately, I had been trying out at-home workout videos, but I still missed running and yoga.
Insert Karena and Katrina—you know the duo. They are in great shape and have built a fantastic community of women around their workout programs. I had gone to the Tone It Up (TIU) retreat last year and loved, so I was excited to take on the 6-week Look for Love Tone It Up Challenge. What is it? Six weeks of following the TIU clean eating and workout plan. The fitness plan comprises 5 daily moves plus an additional workout (cardio or a TIU instructed workout).
Not only was my quest about working off all the holiday indulgence, but it was also about refocusing on fitness in general, sleeping more, eating more meals at home (meaning I would actually have to cook—yikes!) and just feeling strong again.
I just finished week 1, and here are my main takeaways from the booty-kicking workouts:
The Tone It Up Challenge daily moves are hard, but they work.
Every morning you complete 42 repetitions of five exercises. At first this sounded extremely simple, because 42 reps of lunges just didn't seem that hard to me. But oh wow, how I was wrong! The exercises range from squats, lunges with sliding disks (see my impromptu version below), core work and HIIT moves (42 burpees?!). Each move had me shaking and burning more than the one before!
Bonus: Working out in the morning is something I have always wanted to do but never have the time. These daily moves work great to get your day going as a quick jolt in the morning.
The plan is dummy proof.
For this over-thinker, Type A, tell-me-what-when-where-and-how-to-do-it person, this plan is perfect. Karena and Katrina lay out the entire six weeks for you, leaving very little to the imagination. Each week is planned with grocery lists, recipe guides, weekly workout schedules and guidelines on approved treats and bubbly.
Bonus: I had two TIU approved glasses of Prosecco over the weekend, because priorities.
Those sliding discs (aka, discs from hell) though.
Because every muscle burns when in use, these tiny discs seriously take any workout move to the next level. Toss them into a reverse lunge, and you'll feel burning and shaking in muscles you didn't know existed (and will probably be sliding a few extra directions if it's your first time.)
 Bonus: TIU Tip! No sliding discs, no problem. You can use paper plates instead, like me! While this isn't the fanciest option, it totally gets the job done.
Perfect Fit Protein is LEGIT.
This protein powder (created by the duo is a total game changer. It's sugar-free, dairy-free, gluten-free and perfect for use in smoothies and baked goods. I avoid refined sugars and flours, so this fits well into my diet. Flavors come in vanilla and chocolate, plus some seasonal flavors! I have a tub of pumpkin spice and used it to create these Pumpkin Donut Holes over the weekend!
I'm Expanding my Tone It Up Challenge dictionary.
Because the social community is so strong, it was hard to keep up with all the acronyms and phrases, but I'm getting there. One week in and I am already using "booty call" to explain where I am going so early in the morning…
Phrases learned this week:
K&K: Karena & Katrina
TDM: The Daily Moves
Booty Call: The workout you do first thing in the morning!
Next up: Today marks the start of week 2! I'm not going to lie, getting out of bed this morning was way easier than last Monday. I was actually looking forward to seeing what the daily moves were today! Maybe this week I'll get the courage to do a #LookforLove Instagram post…