This Summer Soup Could Rehydrate You Post-Run
Watermelon is an unexpected ingredient that makes this soup unbelievably good.
Heading out the door? Read this article on the new Outside+ app available now on iOS devices for members! Download the app.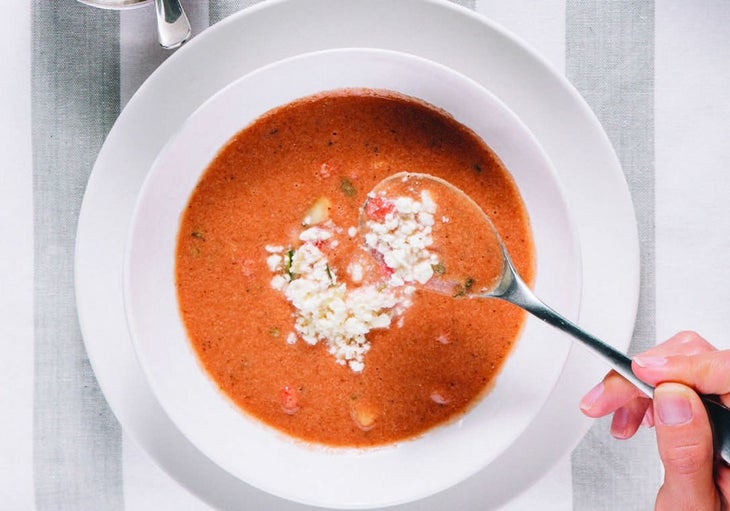 Want to add a surprisingly perfect snack to your post-run routine? Dip into an ice-cold bowl of soup. This refreshing recipe include nutritious ingredients, like berries and veggies, so you can refuel with a spoon.
Spanish-style gazpacho, made with raw tomatoes, bell peppers, cucumber and garlic, is sometimes called a liquid salad. This variation, which uses watermelon as the base, makes a lighter, sweeter soup. Since watermelon and cucumber both contain more than 90 percent water, these ingredients help you rehydrate in a tastier way than plain H20. The breadcrumbs lend complex carbohydrates, while the almonds and feta add protein.
Watermelon Gazpacho
Serves 4
1 clove garlic
¼ cup slivered almonds, toasted
¾ cup fresh, light breadcrumbs, toasted
4½ cups watermelon, roughly chopped
¾ cup cucumber, roughly chopped
2 Tbsp. chopped fresh chives
2 Tbsp. red wine vinegar
¼ tsp. hot sauce
1 tsp. salt
1½ tsp. jalapeño pepper, finely chopped
2 Tbsp. fresh mint, chopped
½ cup crumbled feta
Place garlic and almonds in the bowl of a food processor fitted with the metal blade. Process until finely chopped, about 30 seconds. Add breadcrumbs and process just to combine. Add 4 cups watermelon, ½ cup cucumber and chives. Process until smooth. Pour into a bowl.
Add vinegar, hot sauce, salt, jalapeño and mint, and stir to combine. Finely dice the remaining ½ cup watermelon and ¼ cup cucumber; stir into the soup. Cover the bowl and chill for at least 2 hours or overnight. Top each serving with 2 tablespoons feta before serving.
VARIATION: For a gluten-free option, replace the breadcrumbs with crushed rice crackers.
GARNISHES: More chopped chives or a mint sprig.