This Recipe Is A Must-Try For Your Post-Run Chocolate Milk
Heading out the door? Read this article on the new Outside+ app available now on iOS devices for members! Download the app.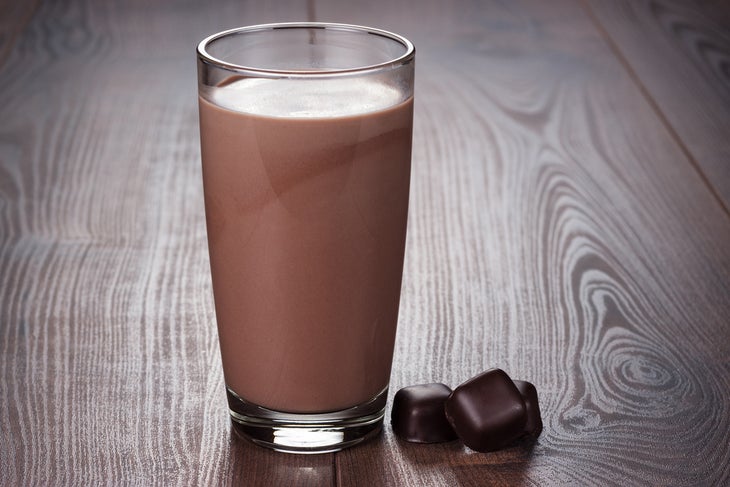 Courtesy of Fit Mix Mom
Aaahhh, chocolate milk! An all-time favorite for adults and kids alike.
For me, nothing beats a tall glass of chocolate heaven after a hard run! Good thing it's a great refueling post-workout snack with a nice dose of protein, calcium and antioxidants for a tired body.
There are some disappointing drawbacks, however. Whether you buy it ready-made or stir in chocolate syrup at home, refined sweeteners, corn syrup and preservatives are usually abundant in store-bought brands.
The good news? You can make your own healthier, all-natural chocolate syrup at home! I've got the secret sauce right here. It's quick and easy, and you'll get all the delicious taste and benefits of cocoa without all the crap! Bonus: You'll enjoy a major hit of fresh choco-aromatherapy as you make it. So make this your go-to recipe—with no preservatives and half the calories, sugar and carbs.
Sound good? Drooling yet? Well here ya go!
Healthy Homemade Chocolate Syrup

Ingredients
1 cup water
3/4 cup pure cocoa powder or cacao powder
1/2 cup pure cane sugar (or other natural sugar of choice)
3/4 tsp. pure stevia powder (not Truvia or other brands with fillers; I use Nature's Candy)
1 pinch sea salt
1-1/2 tsp. pure vanilla extract
Directions
Combine all ingredients except vanilla in a saucepan. Bring to a simmer on medium-high heat, stirring constantly. Keep stirring and let simmer for about a minute. Remove from heat and stir in vanilla. Pour into a jar or container and store in fridge.
Shake before each use. Use however you would chocolate syrup—for chocolate milk, on ice cream and fruit, in coffee, etc.
For chocolate milk: Stir in 1-3 Tbsp. per cup of milk, according to preference.
Recipe by Lindsay at Fit Mix Mom—free workouts, healthy recipes, motivation, humor and more! Follow on Facebook, Instagram and YouTube.