The 4 Steps To Restructuring Life After Breast Cancer
Straight from the doctor, here are some steps to bouncing back after a hard diagnosis.
Heading out the door? Read this article on the new Outside+ app available now on iOS devices for members! Download the app.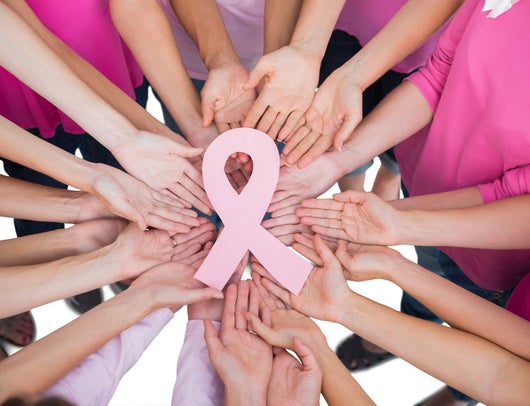 Reconstructing your life after an initial breast cancer diagnosis can seem like a daunting task. With friends, family and other resources on your side, it doesn't have to be like running alone or losing a race. Reconstructing your life after diagnosis and treatment is a four-step process.
1. Consider breast reconstruction options.
Women need to know what options are available to them to continue on their healing journey. According to a University of Michigan Medical Center study, seven out of 10 women don't know their breast reconstruction options after being diagnosed with breast cancer.

There are a number of options out there for women who want to regain their feminine figures after mastectomies. There are silicone or saline implants, complex tissue flap procedures, or the newer, natural fat transfer option. There's also AFT, where a woman's own fat is used to reconstruct her breasts.
Of the available options, many women find they prefer the aesthetic possibilities of AFT. In an outpatient procedure that's virtually scar-free, fat is taken from the thighs or abdomen and tiny droplets of it are inserted into the breast cavities left after a mastectomy. Women who use the fat transfer are left with breasts that look and feel natural without the complications that can accompany implants. Breast reconstruction is an important step in a woman's healing process.
2. Stay active.
Staying active is a key part of reconstructing your life after a breast cancer diagnosis because it can aid the healing process both physically and emotionally. Some activities can even help reduce the onslaught of lymphedema, which can often occur after breast surgery if lymph nodes were damaged or removed during the mastectomy.
I often tell my patients—the breast cancer survivors who undergo the fat transfer procedure—to wait at least a month before restarting their running and/or workout routines. In the interim, walking is an exceptional way to exercise as you rebuild your strength and ease back into a routine.
My wife, Michelle, was diagnosed with breast cancer in 2010 and now competes on a breast cancer survivors' dragon boat team. This serves as both exercise and therapy for her, as the women share their experiences and battle scars.
3. Support a cause.
For the runners out there, there are various races that support breast cancer research and treatment. Michelle and I participate in the Susan G. Komen Race for the Cure, which hosts events throughout the country every year. In Florida, The Donna is another big race with the goal of raising funds for breast cancer research. Here's some more ideas.
4. Build a support system.
Whether it's someone to cheer you on during a race or to help you through your breast cancer treatment and subsequent reconstruction, having a team to support you and cheer you on in your journey is important. A support system can offer advice, a shoulder to lean on or a little motivating competition as you train and rebuild your life.
From reconstruction to staying active and supporting others, the healing process takes time. Don't feel defeated if the journey isn't exactly as you'd planned. You'll get there.
Did you appreciate this post? Here's some more about the cause:
Why Women's Running Is Headed To Las Vegas!
10 Things I Learned About Running Because I Had Breast Cancer
Dr. Jeffrey Hartog is the director of The Breast Center at the Bougainvillea Clinique in Winter Park, Fla. Internationally trained, he specializes in fat transfer to the breast and presents nationally and internationally on the subject. Dr. Hartog has received recognition not only for his skill as a surgeon, but also as a visionary in the field of plastic and reconstructive surgery.