Spring Vegetable Ragout
This delicious and healthy recipe is full of fresh seasonal veggies. Perfect for dinner tonight!
Heading out the door? Read this article on the new Outside+ app available now on iOS devices for members! Download the app.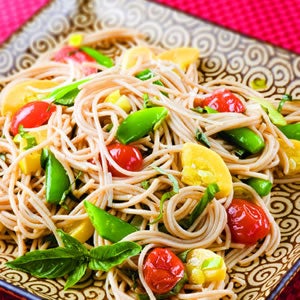 *Content courtesy of acefitness.org
Spring Vegetable Ragout
Italian ragus tend to be long-simmered dishes, but a French ragout is a quicker affair, a thick, cheesy stew. Tossed over pasta, this one is a true fusion, a halfway point between ragu and ragout. This ragout is filled with fresh, seasonal veggies you can find available now. It is high in calcium, fiber, and potassium. And the best part- it comes together in 35 minutes!
Total time: 35 minutes
Serves 2
Ingredients
4 ounces whole-wheat spaghetti
1 tablespoon extra-virgin olive oil
1 small leek, white and pale green parts only, halved, washed and thinly sliced
1 small yellow summer squash, quartered lengthwise, then cut into 1/2-inch pieces
4 ounces sugar snap peas, halved crosswise (1 cup)
16 grape or cherry tomatoes, halved
1/2 cup vegetable broth
2 tablespoon minced fresh basil leaves
1/4 teaspoon freshly ground pepper
3/4 cup finely grated Parmesan cheese
Cooking Directions
Step 1
Bring a large pot of water to a boil. Add spaghetti and cook until just tender, about 9 minutes or according to package directions.
Step 2
Meanwhile, heat oil in a medium saucepan over medium heat. Add leek and cook, stirring frequently, until softened, about 2 minutes. Add squash and peas; cook, stirring often, until crisp-tender, about 3 minutes. Add tomatoes and broth and bring to a simmer, stirring often. Simmer until the tomatoes begin to soften, about 1 minute. Add basil and pepper; cook, stirring, until the tomatoes are juicy, 1 minute more. Remove from heat and stir in cheese.
Step 3
Drain the pasta; add it to the ragout and toss well to combine.
Nutrition Info per serving: Calories: 481, Carbohydrates: 62g, Fat: 17g, Protein: 24g, Fiber: 12g, Potassium: 675mg