"Runner Face" Is A Thing And Here's How To Protect Your Skin
A studio in the UK has created a Runner Face "workout" to help rejuvenate skin and protect if from the damage it faces while we run.
Heading out the door? Read this article on the new Outside+ app available now on iOS devices for members! Download the app.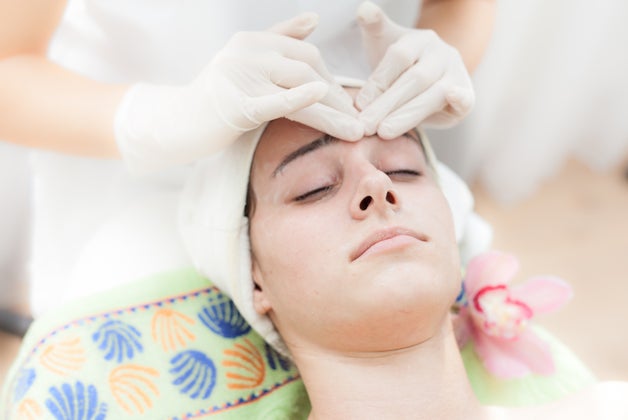 Have you ever seen a race photo of yourself and it looked as if your boobs were about to hit the floor and your face had aged about 30 years? On an upwards bounce everything is great, but once you're in the downward part of your stride, everything goes…well, south.
Gravity isn't kind.
The delicate skin on our chest and face can take as much of a beating as our knees, hips and ankle joints. While there are supportive bras for a reason, there's not much to stop the skin on your face stretching and sagging. Not only that, but runners are less likely to have excess fat in our faces, which can make us look gaunt and older. However, the positives of running on our overall wellbeing mixed with fresh air and Vitamin D for our skin outweigh any detrimental effects.
FaceGym in London recently launched a workout for "Runner Face," designed to combat sagging skin in runners using their
"sculpting regimen" utilizing a combination of a "Face Ball, EMS device and deep massage."
I tested out the "workout" halfway through Boston Marathon training, after months of 5 a.m. runs that had left me and my skin exhausted and was surprised with the results. The name suggests a workout, however I was able to lie back and (mostly) relax for the 50-minute procedure.
Alongside a concoction of tonics and lotions that rehydrated my tired lackluster skin, a number of tools were also used, including the aforementioned ball, electrical pulses (that actually hurt a bit), as well as the therapist's hands (which felt more like getting a treatment from my three-year-old niece and was therefore not a particularly relaxing experience). It probably didn't help that I was sitting on a busy Selfridges shop floor; the FaceGym flagship salon on King's Road is probably more calming.
However, I did leave feeling rejuvenated, and whether it was from improved circulation or from being repeatedly slapped in the face (for want of a better word), my skin did have more color to it and felt more plump when I left the chair than when I first sat down.
The session also highlighted some of the detrimental effects that running has on your face that you can control and the precautions we can take to reduce the damage to our skin, because obviously we're not going to give up running!
These include…
Wearing sunglasses while running to avoid squinting/frowning.
Always wearing sunscreen—even when running outside in the winter—to reduce sun damage.
Moisturizing after runs using an anti-aging or lifting/plumping day cream to rehydrate skin (even if you feel like you're super sweaty). I love Liz Earle Skin Repair Moisturizer and Sarah Chapman Skinesis Skin Recovery eye cream.
Consider wearing a hat or visor during the summer months to protect your face.
Smile in your race photos (ignorance is bliss, right?).