Make Your Fourth Of July Delicious With These Tips
Independence celebrations call for some top-notch BBQ skills—follow these guidelines to be a master of the grill this Fourth of July.
Heading out the door? Read this article on the new Outside+ app available now on iOS devices for members! Download the app.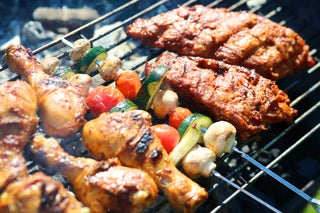 There's no better way to spend the warm summer evenings than outdoors entertaining guests. But what's so embarrassing is when your grilled chicken turns out charred and not edible. We've all been there.
From thawing and cooking techniques to spices and cookware, become a grill master that will wow your guests. Leanne Ely, New York Times best selling author of the Saving Dinner Series, has tips and tricks to help you meal prep and grill with ease.
 The Three Commandments of Thawing Safety
Thou shalt thaw overnight in the fridge, never at room temperature.
Thou may quick thaw. Fill a sink with cold water—not hot—and place your frozen bagged-up food in the water. Works fast, gets it done and is safe.
Thou shall not microwave. Microwave thawing is iffy at best. There is this phenomenon called hot spots, when some areas of the food will cook while others are still cold.
Related: Healthy Recipes For Cooking Challenged Athletes
Barbecue Brilliance
It is imperative to preheat the grill in order to ensure cooking time and prevent overcooking.
Play around with fun cooking tools. Try a hole-y wok burner, an amazing tool to stir-fry veggies on the grill with. Also a hole-y cookie sheet that is great for cooking the fish without losing it through the slats.
Invest in proper cookware. Lousy tools give you poor results. Proper spatulas and tongs are essential to cooking delicious and flavorful foods. Get a wire brush for cleaning, as keeping the grill immaculate will improve what you're eating immensely.
Related: BBQ Black Bean Burger Recipe
Frozen Favorites
There are some hidden gems in frozen foods that can not only help reduce cooking time, but are also just as flavorful as the fresh ingredient, but will last you much longer.
If you're buying pre-packaged frozen flavors and veggies, such as onion, garlic, basil, bell peppers and peas, read the labels to make sure that the item is the ONLY ingredient.
If you can't find these items in a grocery store, make your own. Using basil as an example: Simply chop the leaves and add a little water to make into a paste (using blender or processor). Pour it into ice trays and wait for it to harden. Then put into a plastic bag.
And if you're looking to wow your guests, give this BBQ Beef Kabobs recipe a try.